The lives of queer people in the South are typically portrayed in only one depressing mode of representation, according to filmmakers Rosie Haber and Lauren Cioffi, so they decided to do something about it.
The duo created the series "New Deep South" in collaboration with The Front. The series seeks to dispel stereotypes of LGBTQ living below the Mason-Dixon Line -- particularly Mississippi. While the series' first episode debuted in 2015, the third and latest episode was unveiled at this year's Tribeca Film Festival.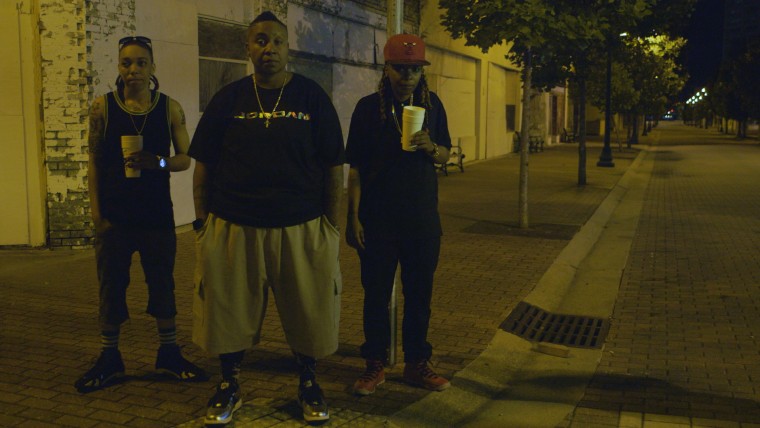 "The rest of the country sees queer life in the Deep South as being really tragic and utterly challenging and ultimately ending in suicide," Cioffi told NBC Out. "So, what I wanted was to sort of elevate these stories and sort of celebrate them in the way that I saw them flourishing."
Cioffi, who lived in Mississippi for several years, and Haber originally went down to the state to explore so-called "stems," lesbians who oscillate between more masculine-presenting "studs" and more feminine-presenting "fems." But after story canvassing in a gay club, their focus evolved.
"You find all queer stories in a gay club," Haber said. "Even though there's the internet now, if you go to a gay club, you're going to find something."
"Especially in Mississippi, which I find is one of the most 'down low' states," Cioffi added, using a term to describe gay and bisexual people who are closeted in public. "You go to Jackson and you have to go 10 layers below the surface to find anything going on. We had to dig in the club to find the one person who led us to the next."
Among those featured in the series are Keeta and Toni, a young couple who appear in the first episode of "New Deep South" -- "Instababy."
Released in 2015, "Instababy" picked up audience awards at the Los Angeles Film Festival and the New Orleans Film Festival for its portrayal of the same-sex couple's quest to have a child.
"Instababy" was followed by "Kayla," a 10-minute episode that explores the evolution of transgender teen Austin as he considers what transitioning would mean in the heart of the Mississippi Delta.
In the episode, Austin, who has since decided to continue to go by male pronouns and present as male, talks about his struggle with his gender identity and how he hopes to walk across his high school graduation stage as "Kayla" regardless of the reaction of others.
"I really wanted to shoot someone in the Delta, because I think it's one of the hardest places to live in America," Cioffi said.
Ahead of this year's TriBeCa Film Festival, Cioffi and Haber put a rush on the third episode in the series, "House of JXN." The episode is about rainbow families, which are chosen families LGBTQ people create to form a sense of belonging and security when they find themselves abandoned by their biological families. While a version of these families is portrayed in feature-length works like "Paris Is Burning" and the recently released "Kiki," the "New Deep South" episode shines a different light on the subject by focusing on cisgender women and transgender men.
"The thing with 'House of JZN,' is it's more of an introduction [to rainbow families], because that story is so big," Haber explained. "It's a story that you would need to be down there for a year or two years. It was a very brief introduction to the characters, which we totally acknowledge."
Related: New Series 'Other Boys' Shines Spotlight on LGBTQ Men of Color
The duo hopes to expand the episode into a series dedicated to rainbow families, but in order to do that, they want to bring on collaborators and directors who are part of the community.
"Neither of us were born in the South. Both of us are white, so that's certainly something we wanted to acknowledge," Haber said.
Until that happens, however, Cioffi and Haber will have their hands full rolling out "House of JXN" with stops in Mississippi and likely New Orleans this summer. Their ultimate goal is to open people's eyes to a different side of LGBTQ life in America's Deep South.