Sydney Valencia was eager to vote in the Chattanooga, Tennessee, primaries on July 20. She was also nervous. After transitioning last year, she was going to vote for the first time as a transgender woman.
Valencia pulled up the Queer the Vote 2018: Hamilton County ride-share app on her phone, which she had learned about through a local LGBTQ group, and requested a ride. Soon after, a rainbow-flag-adorned-SUV rolled up to her condo and whisked her to the polls.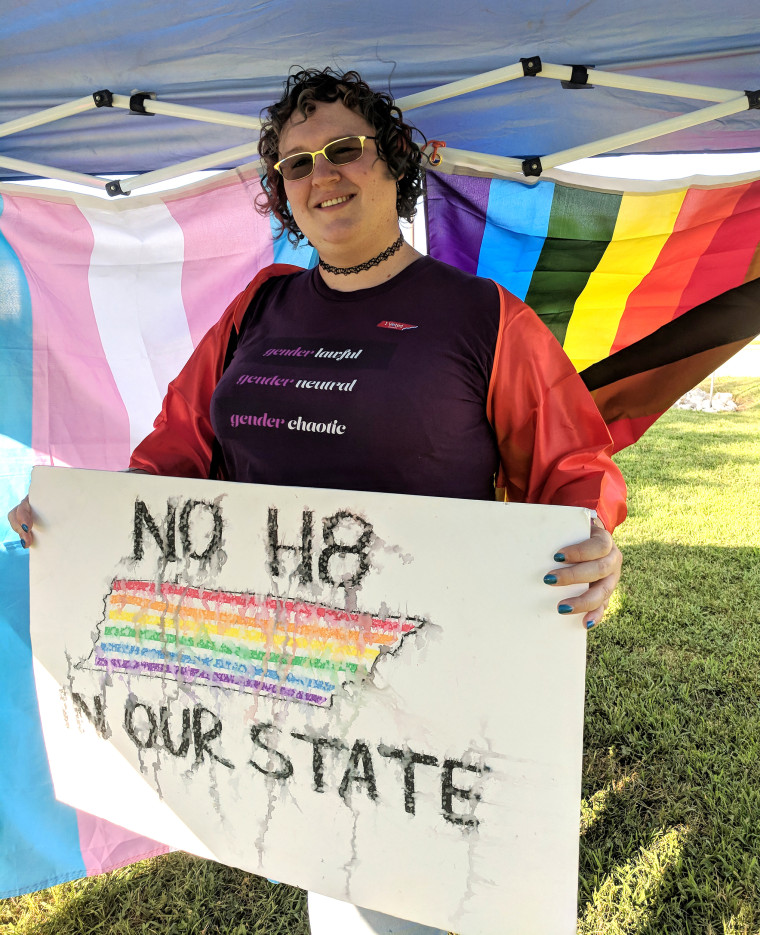 "It was pretty easy," Valencia, 32, told NBC News. "I put in the request, and I got a call, and they came and picked me up and brought me there."
A local activist group called the Chattanooga Queer Community Forum created the app. The group is fighting to pass an equality ordinance in the city, which voted predominantly Republican in the 2016 elections.
The app did more than help people get to the Hamilton County polling center in Chattanooga — it included a non-partisan voting guide with responses from the candidates concerning their stances on LGBTQ issues. It ranked each candidate on their views with a simple scorecard.
"We had hundreds and hundreds of views on the voting guide," said the group's executive director, Samantha Boucher.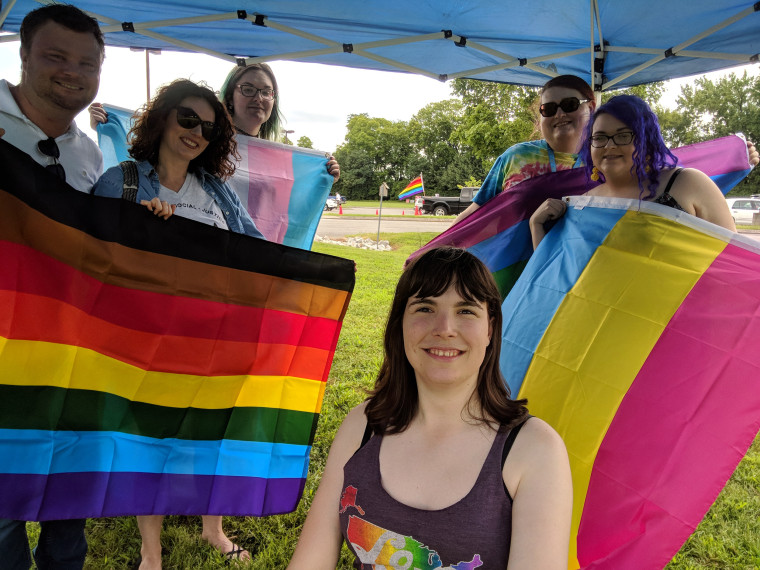 Boucher, 23, said the ride-share picked up about half a dozen voters. She said it was a test run for another ride-share the group plans to organize for the midterm elections in November. The advocate anticipates the app will be especially helpful for transgender people, who often find it difficult to vote.
Large numbers of trans people live in poverty, do not own a car and may fear getting harassed on public transportation, all which can prevent them from heading to the polls on Election Day, according to Dru Levasseur, a senior attorney with Lambda Legal.
"The experiences transgender people face when they go into something like this where they are asked to show identification, there is a lot of anxiety," Levasseur said. "We've definitely heard horror stories where people have been turned away or have been harassed by poll workers, because they don't look like their identification."
Currently, 34 states have laws that require voters to produce some form of ID to prove their identities at the polls. In eight of these states, including Tennessee, the law requires a government-issued photo ID like a driver's license or passport in order to cast a ballot. According to a new report from the Williams Institute, a think tank at the UCLA School of Law, more than 78,000 transgender voters in these eight states alone could face disenfranchisement in November.
Tennessee, a reliably conservative state, does not allow gender markers to be changed on birth certificates, according to the Transgender Law Center. And those who want to update their driver's license need a court order for a name change and a doctor's note to update their gender marker, according to the National Center for Transgender Equality.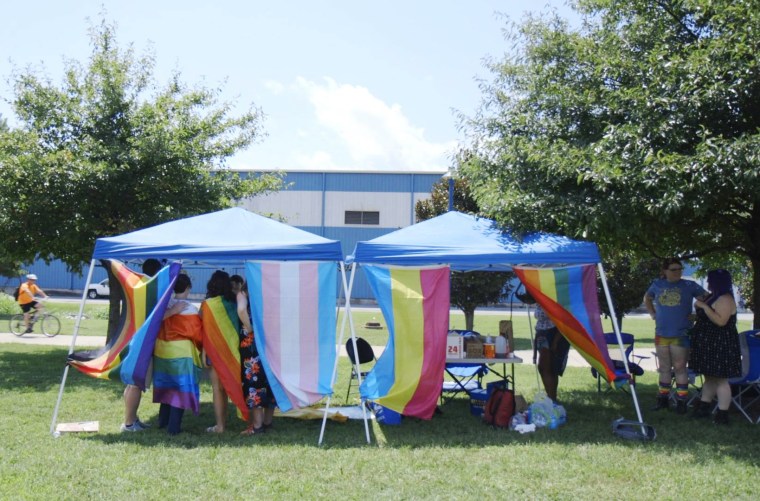 Chari Starr, 32, volunteered to drive the SUV that delivered LGBTQ voters to the polls in Chattanooga. She said the ride-share provided a sense they weren't alone.
"Any time you interact with government agencies as an LGBT person, it can be stressful," said Starr, who is transgender.
Starr recalled a trans voter who posted a worried comment in the app when she requested a ride.
"She was like 'You know, this is my first time going out, and I need a little bit of support,'" Starr said. "We basically filled the truck with every trans person that we could in our group, and we picked this girl up and brought her to the polls."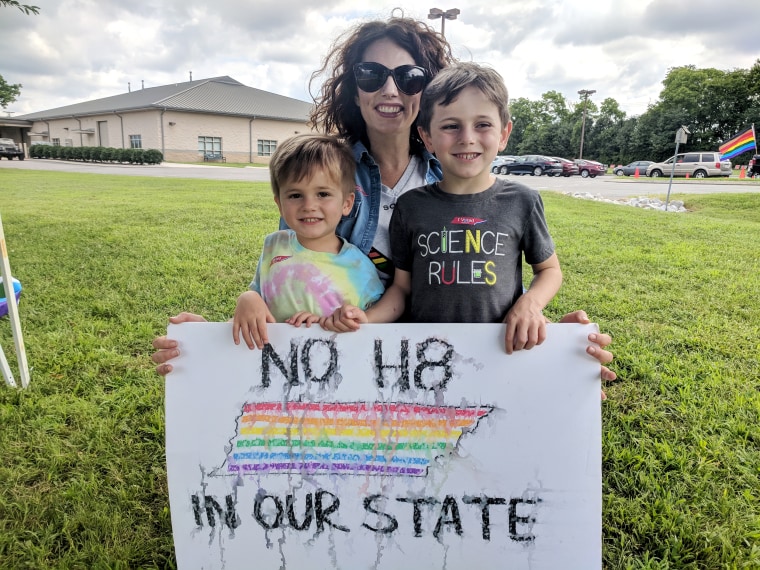 Boucher said the group couldn't afford to rent vehicles, so they depended on volunteers. She said a local LGBTQ-owned business donated the SUV, and Chattanooga Moms for Social Justice — a group of about 1,400 self-described "soccer moms" fighting for social justice — donated several mini vans as backup. The moms also volunteered to accompany LGBTQ voters into the polling center.
Taylor Lyons, co-founder of Chattanooga Moms for Social Justice, said about 100 people — many of them first-time voters — wandered into the group's tent outside the polling center to be escorted in.
"I wanted to be able to be a support and show our local LGBTQIA community the kind of love and support that I would show my own children," she said.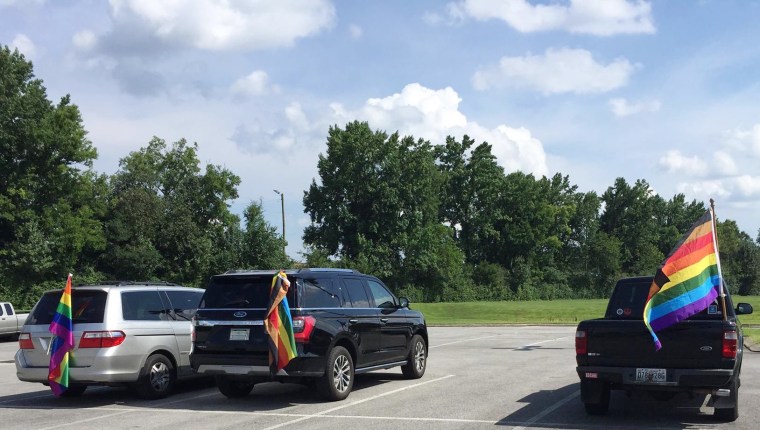 After Valencia was dropped off, she said she felt confident enough to go into the polling center alone. But when she looked at her voter registration, she was shocked to see her name listed as "Mr. Sydney Charlotte Valencia," she recalled. She showed the poll workers her updated driver's license and passport, which had her gender listed as female. She asked them to change the honorific, but they told her they would need a court order to do so, she said.
"I was floored," she recalled, "I couldn't believe it."
A representative from the Tennessee Secretary of State's office told NBC News in an email that, due to a state statute, it does "not have the authority to change the name or gender of a person's existing voter registration without a court order."
Despite her discomfort, Valencia said she cast her ballot. "Overall, it felt good to actually put my vote in and hopefully it makes a difference," she said.
Boucher, a software developer by day, said she and the other volunteers hope to help activists across the South create their own ride-share apps.
"Building this kind of political power, I think, is really important to making sure LGBT rights and issues are actually gaining traction here locally," Boucher said.