Nearly half of gay men living in the UK get their sexual education from pornography, according to a new survey conducted by London-based gay men's health charity GMFA, and the results shed light on the lack of sex ed available for the LGBTQ community.
"If students are turning to their peers or the internet, there is absolutely no quality control. They're not being taught effectively how to maintain healthy relationships, or how to avoid risky behaviors putting them at risk for STIs," Sejal Singh, a communications manager for LGBTQ research at the Center for American Progress, told NBC Out.
Although the survey was conducted in the United Kingdom, the status of LGBTQ-inclusive sex education in the U.S. has yielded similar results.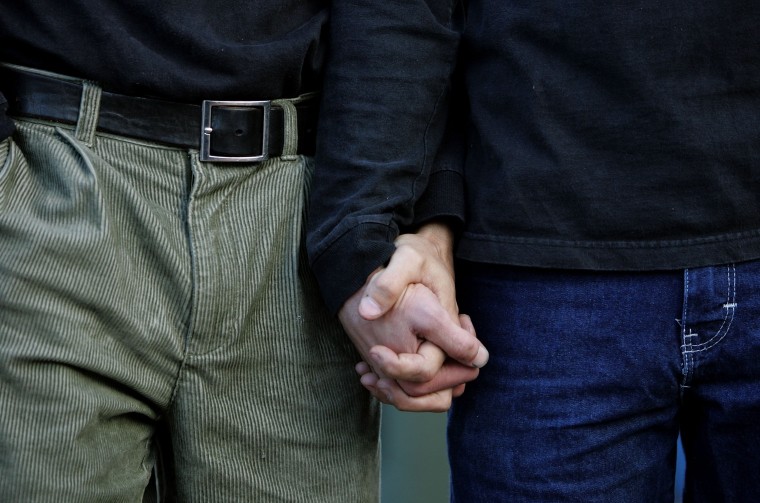 Only nine states in the U.S. require that sexual education be inclusive of all orientations. Four states, however, require that LGBTQ identities be illustrated as deviant and undesirable, according to information compiled by the Guttmacher Institute. Only 12 percent of millennials, according to a Human Rights Campaign report, said their sex education classes included mention of same-sex relationships.
"Alabama educators, for example, are legally required to emphasize that homosexuality is unacceptable and criminal, even though sodomy laws were struck down more than two decades ago," Singh said.
According to Singh and the Center for American Progress, a lack of comprehensive and inclusive sexual education can have detrimental, systematic effects on the not just the LGBTQ community, but on public health in general as well.
"Men who have sex with men account for eight in 10 HIV diagnoses amongst young people ... Trans woman are also particularly affected by HIV," Singh said. "In states like Alabama, LGBTQ students are taught during sexual education to consider themselves less than, which is part of the reason why LGBTQ youth are four times more likely to commit suicide."
Comprehensive sexual education often also includes education on consent. As a result, the lack of inclusive education also puts LGBTQ people at greater risk for dating and sexual violence -- even LGBTQ youth.
A majority of Americans believe LGBTQ-inclusive sexual education is appropriate for teenage students. According to the Center for American Progress, 93 percent of junior high school students believe LGBTQ-inclusive education is appropriate for their age group. And a study released by Rutgers and conducted in partnership with GLSEN, the Human Rights Campaign and Planned Parenthood found 78 percent of parents supported discussion of sexual orientation as part of sex education in middle school, and 85 percent of parents supported inclusive sex ed for high school students.
"Every state should require that sexual education be medically accurate and LGBT-inclusive," Singh said. "National sexuality education standards have become more widely adopted in some schools, and that is progress that must be continued. That progress is also strongly supported by medical experts, including the Department of Health and Human services. Sexual education should obviously be age-appropriate, but talking about equality and inclusion is appropriate for all ages. People should be aware of these identities, and it is never too early to teach compassion and empathy."