Suppose we could venture into the past, catch up with LGBTQ people of decades or centuries ago and have a chat with them about their lives. Imagine what hidden historical gems might be discovered, what amazing contributions uncovered and what pointed realities unearthed.
Absent the ability to travel through time (sorry, Doc Brown, we're not there yet), would it perhaps be conceivable instead, to converse with their ephemeral (but fabulous) spirits? That's what San Francisco documentary filmmaker Stu Maddux had been wondering, and he's created a new online documentary series that explores the possibility. "I thought to myself, there must be LGBTQ ghosts -- what stories they might tell us?!" Maddux told NBC OUT.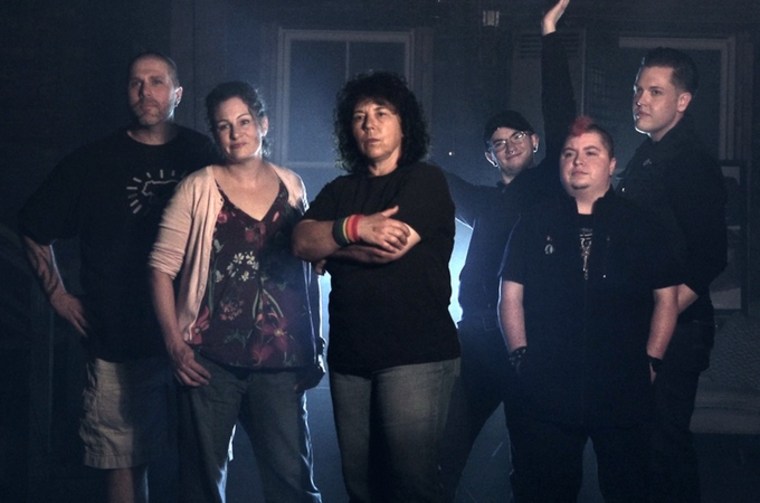 Finding these apparitions is what his new show, "Queer Ghost Hunters," is all about. The series tracks the adventures of the Stonewall Columbus Queer Ghosthunters in Ohio, "the first known group of its kind," according to Maddux. The group selects sites that show "evidence of queer people having been there," Maddux explained, "and they do research before heading out to these places." Along with the quest for poltergeists, there's also LGBTQ history weaved throughout the series.
One of the first locations Maddux explored with the group was the infamous Ohio State Reformatory --the prison used to film "Shawshank Redemption." Early 20th Century records uncovered by the ghost-hunting group's investigators found scores of gay men were incarcerated there on "sodomy" charges, and the notorious jail is rumored to be haunted by the anguished souls of its inmates.
"Some of these young men died in custody there," Maddux said, signifying this would be a likely location to find their ghosts.
Members of the Stonewall Columbus Queer Ghosthunters approach their missions with a mix of curiosity and whimsy, Maddux noted. "Even though they really believe in what they're doing, they're also aware of how bizarre it all looks." He said the group has documented "a number" of ghostly contacts.
"The ghosts of these people seem to still be there and ready to talk," Shane McClelland, co-founder of Stonewall Columbus Queer Ghosthunters, told NBC OUT. "But they've been waiting for an understanding voice."
Katy Detrow, a preschool teacher and fellow ghost hunter, said the group's missions can even have a cathartic effect. "Sometimes it feels a little like group therapy," she said.
The quest for these otherworldly spirits can also be fun, Joe Appelbaum, the show's co-producer and Maddux's husband, noted. "It's the perfect combination of real findings and funny moments wrapped into a campy version of ghost hunting shows."
While the show is purposely lighthearted, Maddux said it is also a foray into "very real history." And its premiere date, October 1 -- the first day of LGBT History Month -- is perfectly timed.
Reflecting on a time in the not-so-distant past, when LGBTQ individuals in the U.S. were forced to hide themselves from a hostile society, Maddux said he hopes "Queer Ghost Hunters" will give these "ghosts" a voice to educate the living.
And with Halloween just around the corner, "Queer Ghost Hunters" promises to be a frightfully quirky way to discover our rich -- and sometimes poignant -- history with just a touch of the chills.