In honor of LGBTQ Pride Month, the administration of New York City Mayor Bill de Blasio published on Tuesday the city's first-ever LGBTQ Health Care Bill of Rights. The information details health care protections on local, state and federal levels for the lesbian, gay, bisexual, transgender and queer community and will be distributed on posters, wallet cards and in the city's health centers and clinics.
"Pride Month is not only a time to celebrate how far we have come, but also decide how we are going to move forward together," Mayor de Blasio said in a statement emailed to NBC Out.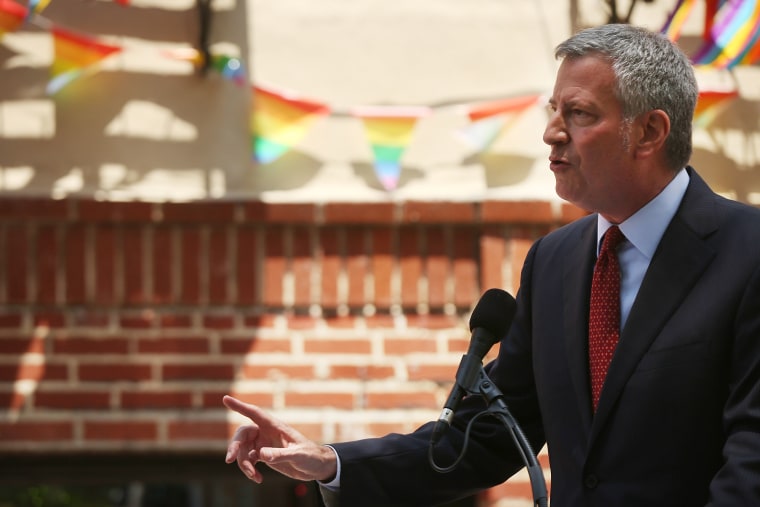 The LGBTQ Health Care Bill of Rights includes a 10-point list that touts residents' rights to "receive compassionate, judgment-free and comprehensive care that is mindful of your sexual orientation, gender identity and gender expression," among nine other rights.
"As the city celebrates Pride, we have a clear message for all New Yorkers: It is your right to be treated with dignity and professionalism by your doctor, no matter who you have sex with or what your gender identity is. If you are not treated respectfully, find a new doctor," NYC Health Commissioner Dr. Mary T. Bassett said in the statement.
Alongside the "bill of rights" released by the mayor's administration, the city's Health Department launched the "Bare It All" ad campaign, aimed at fostering an open line of communication between doctors and patients to discuss issues impacting a patient's health, including one's "sex life and drug use." The NYC Health Department also surveyed local providers to assemble a directory of more than 100 LGBTQ-knowledgeable providers that can be accessed via the NYC Health Map.
"We need to empower LGBTQ people with the knowledge that their health matters and with strategies to access the best possible culturally responsive health care," said Dr. Demetre Daskalakis, the deputy commissioner for the NYC Health Department's Division of Disease Control. Dr. Daskalakis, a self-proclaimed "queer health warrior," is featured in some of the "Bare It All" campaign posters set to appear on the subway, MTA bus stands and online in both English and Spanish.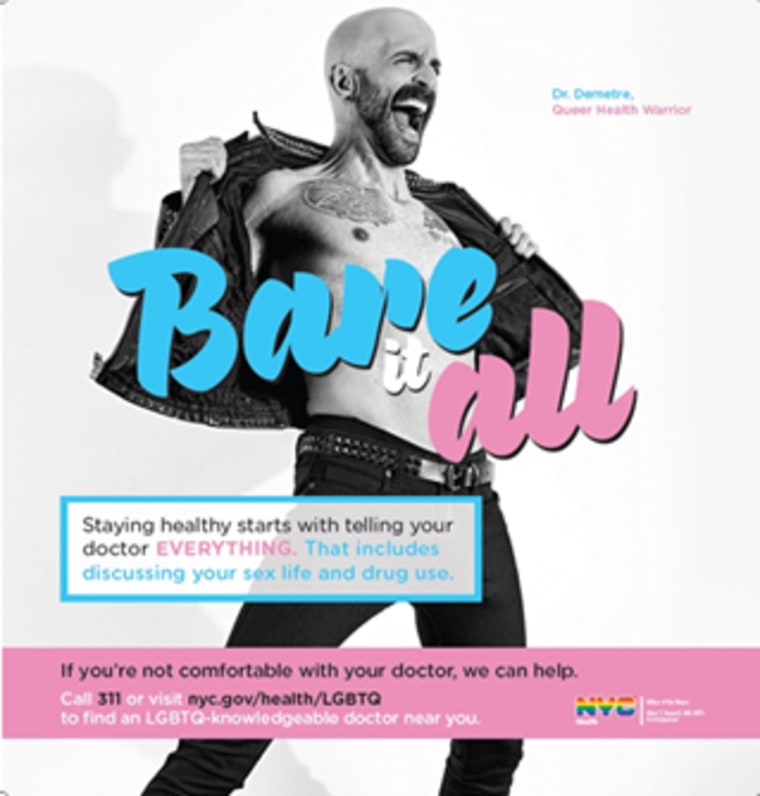 "Bare It All" and the LGBTQ Health Care Bill of Rights are part of the city's greater charge to End the Epidemic, an initiative aimed at decreasing the annual number of new HIV infections in New York City to 600 by 2020.
Related: LGBTQ Community Would Be 'Hard Hit' by Trump's 2018 Budget
In June 2016, New York City became the first municipality to launch a campaign supporting the right of transgender individuals to use the bathroom consistent with their gender identity or expression. Mayor de Blasio said he hopes the city will continue to lead the fight to protect the rights of the LGBTQ community.
"New York City has long been a leader in the fight for LGBTQ equality, and these ads are further evidence of the city's unwavering commitment to ensuring all New Yorkers have access to quality, affordable and judgment-free health care regardless of their gender identity or sexual orientation," he said. "We have no tolerance for discrimination, and are proud to stand with the LGBTQ community because we know the fight is far from over."