It was a night of tailored suits, briefs paired with clear rain coats, harnesses mixed with lace and plexiglass shawls. The 10 designers who presented at Thursday night's dapperQ fashion show highlighting "queer style" represented an ethos of inclusion: Come as you are, in whatever style suits you best.
For the fourth year in a row, the show boasted that it was the biggest LGBTQ-centric fashion show of the season, with more than a thousand in attendance at the Brooklyn Museum for the decidedly political evening. The show's theme was "R/Evoltuion," a play on "the constant evolution of queer style as its own aesthetic, its revolutionary roots and its power to be leveraged as a tool for resistance," Anita Dolce Vita, the owner of dapperQ and executive producer of the show, told NBC News.
Over the past eight months in office, the Trump administration has instituted policies that put it at odds with advocates of LGBTQ rights. In February, the administration rescinded an Obama-era policy from the Departments of Justice and Education that jointly advised schools to allow transgender students to use the restrooms that matched their gender identity. In July, President Trump tweeted that transgender services members would not be permitted "to serve in any capacity in the U.S. Military." Then, last week, the administration said it would side with a Colorado baker who refused to serve a same-sex couple.
"'R/Evolution' is an act of defiance. It is our space to stay visible in the face of attempts at erasure," Dolce Vita explained. "It is in honor of all efforts of resisting, to the activists being arrested in protest to the individuals whose impactful act of resisting is smashing the binary by getting up, getting dressed, and just existing."
By the time the show began, it was standing-room only. Gabby Rivera, the writer behind Marvel's lesbian Latina comic series, "America," and the novel "Juliet Takes a Breath" warmed up the crowd by opening up about her relationship with fashion.
"It has been riddled with shame and awkwardness … That ache about my presentation bubbled in my heart," Rivera said. "Now we wear our 'chose' clothes."
The show featured 10 different designers: Audio Helkuik, Nicole Wilson, Bindle & Keep, Clio Sage, Kris Harring, Sir New York, SDN Brooklyn, Stuzo, The Tailory New York and TomboyX + Clear Coated. Among the models were activists, artists and influencers who ran the gamut of sexual orientations and gender identities, as well as race, body size and ability.
The theme of the night was evident throughout the collections. Kris Harring's collection featured an array of gender-neutral evening wear, inspired by "the deconstruction and reimagination of the classic tuxedo." The line's debut was characterized by clean lines, modernized suit jackets and pants with transparent fabrics.
"I believe a lot of people, no matter their gender presentation or sexual identity, would identify with clothing that was unattached to a gender. People want to be able to dress in accordance to how they feel and choose items simply based on what they like," Harring said. "Gender neutral is the future, and I'm excited to be a part of the conversation."
The designers behind Stuzo also eschew gender throughout their garments, which featured floral sets, velvets and imported quilts.
"It's very important for us that the beautiful pieces we create also fits your body regardless of gender or sexuality," Stoney and Uzo, the designers behind the line, wrote in an email. "Whatever form you choose to exist in, we celebrate you! 'Live your truth.'"
With more feminine designs, Auston Bjorkman, the designer behind Sir New York and no stranger to fashion week, debuted a new line called SALT with Jessie Levandov of Debris.
Inspired by the healing "alchemy" of the mineral, the line is "decidedly more paired down, more organic and more refined in the color palette, silhouettes and drape of the clothing with a slightly more feminine-of-center vibe," Bjorkman explained.
"Fashion is and always has been deeply political. Representation is deeply political. Who gets to be visible? Whose stories get to be told? Who is represented and who has agency in that representation?" Bjorkman added. "These are all critical questions we need to be asking ourselves and holding the industry accountable to."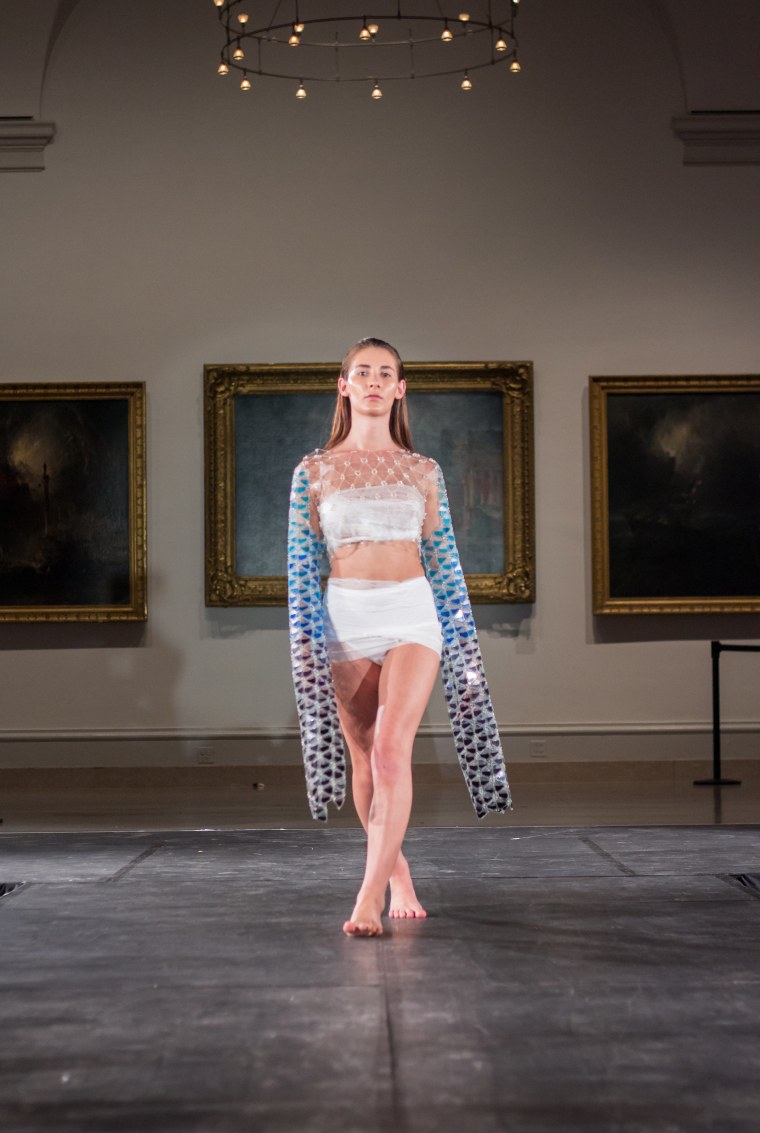 The sense of urgency around the political moment extended to the models — a mix of those who've walked many a runway along with queer activists and influencers in the community. For Juliet Evancho, who recently sued her school district for the right to use the restroom that aligns with her gender identity, it was a meeting of her interests in modeling and activism. Evancho walked for Clio Sage wearing a plexiglass shawl.
"It's a different way to advocate for rights ...The way I look at it is this: It's an honor to do this," Evancho said. "Of course, New York Fashion Week is a huge thing and not a lot of time do you hear about the [queer] undertones — a lot of designers and a lot of models are part of the LGBTQ community, and it's not something that gets a lot of talk about. We are everywhere and in every industry, and we deserve to be heard."
Ericka Hart opened the show, modeling for designers The Tailory New York and underwear line TomboyX + Clear Coated, and is no stranger to the media, either. Hart, a sexuality educator, was famously pictured topless at last year's AfroPunk Festival, showing her scars from a double mastectomy due to breast cancer. While she's modeled at breast cancer awareness events before, she wanted to participate in "R/Evolution" to bring awareness to a different audience.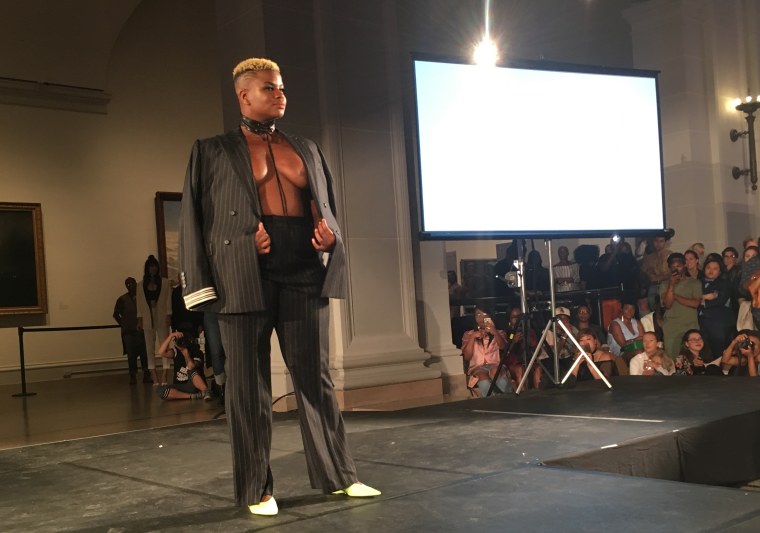 "It's also important for people to see survivors outside of marketing and awareness campaigns," Hart said. "Folks could see my scars, so they could also see all of the intersections where I sit as a black queer femme. See us beyond our disability or chronic illness. I want people to see and celebrate my blackness and queerness and as it informs what I see for myself."
Throughout the show, the audience cheered and clapped as the models walked down the runway. In keeping with the theme of resistance, for the finale, the models walked to a remix of Beyonce's hit song "Formation." Dolce Vita closed out the night by walking to the end of the runway, putting her fist in the air and then dancing to Kendrick Lamar's "Alright."
"To have an event that celebrates us and showcases our beauty and affirms that who we are, as we are, is enough, could quite possibly save someone's life," Harring said. "It's much, much bigger than the clothes."