LONDON - A Nigerian LGBTQ activist was granted asylum in Britain after a 13-year legal battle to prove her sexual orientation, a drawn-out process that rights groups called a "miscarriage of justice."
Aderonke Apata, 50, who was given asylum last Thursday, had been trying to remain in Britain for more than a decade, but her case was refused several times after a judge ruled she was pretending to be a lesbian.
"I'm extremely overwhelmed with joy and gladness to know that now I'm safe and can live freely as a human being," Apata said in a statement on her Facebook page.
"As you rejoice with me for being safe, kindly remember that there are many people still in the same position that I was in for over 13 years," said Apata, who founded African LGBTQ charity African Rainbow Family.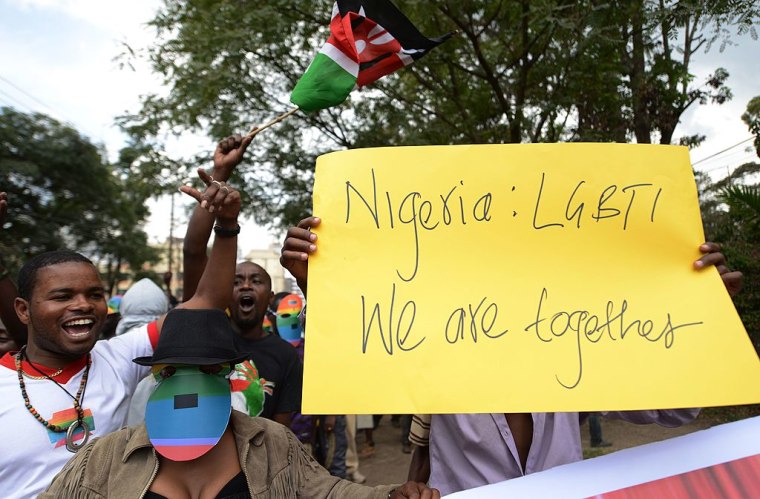 African countries have some of the most prohibitive laws against homosexuality in the world: Same-sex relationships are a crime across much of the continent and can lead to imprisonment or the death penalty.
Apata ran away from her husband after she was pressured to marry which led to a Sharia court sentencing her to death for adultery and witchcraft. She then fled to London, where she claimed asylum for the first time in 2004.
Rights groups celebrated the decision to grant Apata asylum but said more needed to be done to protect LGBTQ asylum seekers.
"Our dear friend Aderonke Apata has finally been granted refugee status after years of fighting for justice," said UK activist group Right to Remain. "She is a true inspiration."
Paul Dillane, executive director of LGBTQ rights group Kaleidoscope Trust and a witness in Apata's case, said her decade-long legal battle was an "egregious miscarriage of justice."
"Seeking asylum is not a crime and LGBT people fleeing persecution must be protected under the law. In my years of working with refugees, Aderonke's case stands out as an egregious miscarriage of justice," Dillane said in a statement to the Thomson Reuters Foundation.
Related: Seeking Refuge in Kenya, LGBTQ Ugandans Find Themselves in Limbo
The Home Office said it "remains committed to improving the asylum process for those claiming asylum on the basis of their sexual orientation and gender identity."
Apata said the practice of assessing Africans' sexual orientation claims based on Western standards was problematic.
"They expect an LGBT person to have used sex toys, to go to gay clubs," Apata told the Thomson Reuters Foundation in May.
She has worked with several gay rights groups across Britain and is helping other LGBTQ Africans who are going through the same process.