/ Source: Associated Press
RALEIGH, N.C. — North Carolina voters who've soured on contentious laws addressing gay rights, voter ID and abortion might muster enough political muscle to replace Republican Gov. Pat McCrory with a Democrat in November. But the GOP lawmakers who approved them almost certainly will keep control of the legislature.
Even ousting the governor who signed them wouldn't necessarily cancel the laws Republicans passed or stop future legislation.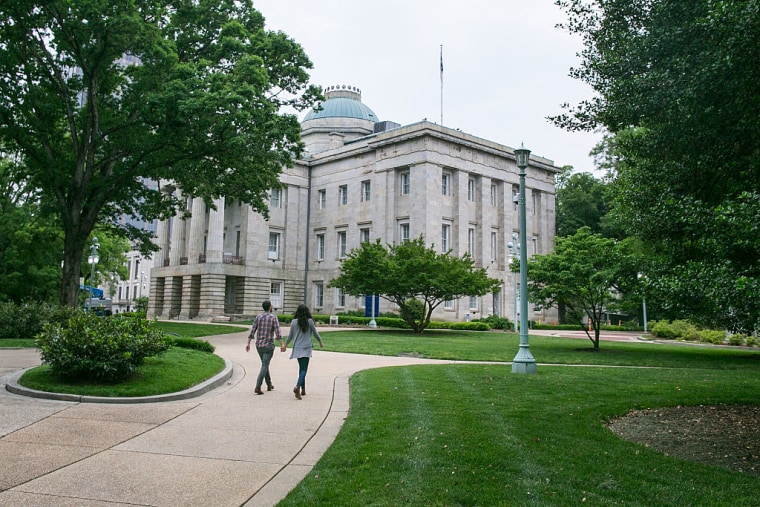 So Democrats in the legislature instead are seeking a smaller prize — narrowing GOP majorities in one or both chambers, so Republicans no longer have the veto-proof margins they've held since 2013. That would allow Roy Cooper, the attorney general seeking to unseat McCrory, to stop legislation he and fellow Democrats find objectionable if he's elected.
Many Republicans hold safe seats, thanks to favorable district lines they drew and a recovering state economy.
But if Democrats win four more seats overall in the 120-member House or five seats in the 50-member Senate, they could sustain Cooper's vetoes on partisan issues, giving them and the new governor bargaining power.
"We have noticed a sense of hopelessness among Democrats, but we are able to give them hope," said Rep. Grier Martin, a House Democratic leader working on fall elections. "The fact that we've got the ability to erect a stop sign is something that people can understand."
RELATED: In North Carolina, Who Moves First on LGBTQ Laws?
Democrats are focusing on swing districts around North Carolina's two largest cities, Raleigh and Charlotte — where rural-suburban real estate is filling up with shopping centers, subdivisions and newcomers from out of state who have no local political allegiances. Many have registered to vote as unaffiliated with either party. The number of unaffiliated voters has more than doubled since 2004, comprising nearly 30 percent of the electorate — nearly on par with Republicans.
Democrats say a dozen House seats and seven or eight Senate districts are winnable.
If the legislature can uphold Cooper's vetoes, then it's "a whole new world out there," said Carter Wrenn, a longtime Republican consultant. "In the urban and suburban areas, the winds are blowing pretty good for Democrats."
One such place could be the 88th House District, just south of downtown Charlotte, where McCrory lives and won two-thirds of the votes in 2012. Democrat Mary Belk is challenging GOP Rep. Rob Bryan. She hopes disappointment with McCrory flows to her race.
She notes that McCrory, a former Charlotte mayor perceived as a social moderate when elected governor in 2012, signed House Bill 2, the law that limited anti-discrimination rules for LGBT people and decreed which public restrooms and locker rooms transgender people can use.
Because of the law, the NCAA and Atlantic Coast Conference last month withdrew championship events from North Carolina, including the ACC football title game in Charlotte.
"Everyone without exception talks about how (North Carolina's) reputation has been tarnished," Belk said. "People in this district feel betrayed."
RELATED: Will NCAA, ACC Pullout of North Carolina Be Final Straw?
Interviews with independent and Republican voters at the Mayobird, a lunchtime spot minutes from McCrory's neighborhood, show he's lost some support that could affect other races. Statewide polls show McCrory statistically even with or trailing Cooper.
"In light of everything that's transpired I find myself undecided," said Amie Rucker, 33, a Republican who voted for McCrory four years ago. Rucker said she'll have to study the 88th District race further.
Bryan, who voted for House Bill 2 last March, has been elected twice with 55 percent of the vote. Bryan said voter perceptions about the law and about McCrory, even if mistaken, could affect down-ballot races like his.
With Republicans likely to keep House control, Bryan said replacing him would reduce the influence of district voters to rework H.B. 2 or hammer out other legislation.
Belk "doesn't have a seat at the table," Bryan said. "I'm already sitting there working for compromise."
Republican lawmakers believe they still can retain veto-proof majorities — three-fifths of the members in each chamber — once citizens hear the "good things that have happened" since they took charge, said House Majority Leader John Bell of Goldsboro. He points to policies reducing tax rates and putting the state on firmer economic footing.
Still, Bell said, Republicans "have some challenges out there, especially in our urban areas."
Before 2011, Republicans hadn't controlled the legislature in 140 years. Democrats almost exclusively controlled state government during the 20th century, and lived in the Executive Mansion for 20 straight years before McCrory's election.
Should Cooper win, he and other Democrats would likely have to negotiate with the same Republican leaders now in charge, who for years have accused Cooper of failing to do his job defending laws they passed.
If elected governor, "I'm going to stand up to this legislature when I think they're wrong, but I want us to move forward and I think we can find areas of agreement," Cooper told The Associated Press.
Whatever November's results, Democrats could get more help next year. Federal judges in August struck down boundaries for nearly 30 General Assembly seats as illegal racial gerrymanders and ordered new maps. Such redistricting, if ultimately required, almost assuredly will benefit Democrats.