Just two weeks after repealing and replacing its controversial and costly HB2 "bathroom bill," North Carolina lawmakers have introduced legislation that seeks to invalidate same-sex marriages in the Tar Heel state.
"Marriages, whether created by common law, contracted, or performed outside of North Carolina, between individuals of the same gender are not valid in North Carolina," House Bill 780 states.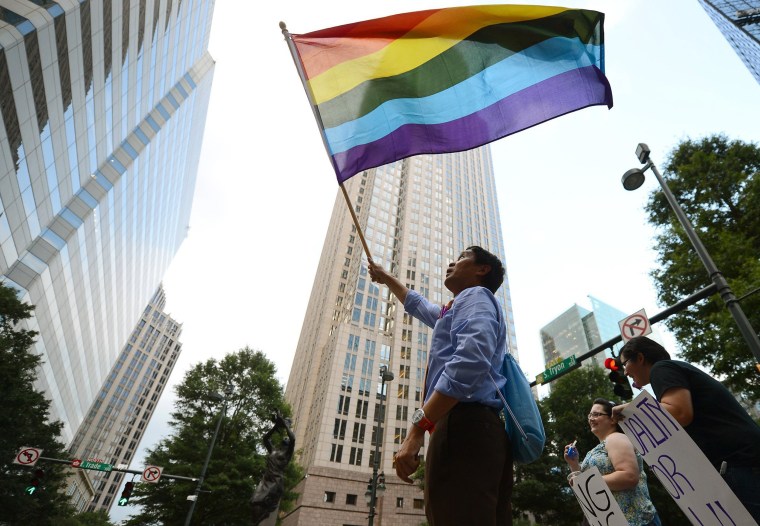 The Republican-sponsored bill, titled the Uphold Historical Marriage Act, asserts the U.S. Supreme Court "overstepped its constitutional bounds" when it struck down North Carolina's constitutional ban on same-sex marriage.
"The General Assembly of the State of North Carolina declares that the Obergefell v. Hodges decision of the United States Supreme Court of 2015 is null and void in the State of North Carolina, and that the State of North Carolina shall henceforth uphold and enforce Section 6 of Article XIV of the North Carolina Constitution, the opinion and objection of the United States Supreme Court notwithstanding," the bill reads.
Rep. Deb Butler, one of the only openly LGBTQ lawmakers in the North Carolina General Assembly, called the legislation "despicable."
"Nothing surprises me out of this legislature anymore," Butler told NBC Out. "As if we haven't already been in the national spotlight for all the wrong reasons this year with HB2, we're now going to prove just how draconian and ridiculous we are."
"It seems that these alt-right legislators don't learn from mistakes made, and they feel this sort of damaging and disruptive behavior is somehow going to get them reelected, and I think the contrary will prove true," Butler added.
Related: Texas Bill Allows Recusals for Issuing Same-Sex Marriage Licenses
Even though the North Carolina House and Senate have a veto-proof majority, Butler doesn't think the bill will get very far.
"I can't fathom my more moderate and rational Republican colleagues would allow such a thing to happen," she said. And should the controversial bill make its way out of the North Carolina legislature, Butler said "the courts are not going to sustain such nonsense."
Michael J. Gerhardt, a constitutional law professor at the University of North Carolina at Chapel Hill, agrees.
"It could pass, but it doesn't matter because it is plainly unconstitutional," he told NBC Out. "It is directly contrary to what the United States Supreme Court has said on this subject. It violates the rights that the United States Supreme Court has recognized, so as a result, I think it would be struck down by any court in this country."
The bill's sponsors, Representatives Larry Pittman, Michael Speciale and Carl Ford, did not respond to NBC Out's requests for comment.