Maxim Neverov, 16, was asked in late July to go to the police station in his hometown, Biysk, a small city near Russia's southern border. Accompanied by his father, Neverov eventually discovered he was called — and subsequently detained — because of images he had saved to a photo album on the Russian social media platform Vkontakte.
Then on Aug. 7, two weeks after he was detained, Neverov became the first minor charged under Russia's so-called gay propaganda law.
"The photos showed guys hugging. I didn't publish them, just saved them in an album," Neverov told NBC News this week in an email. "One of the photos said, 'Love is better than f-----g.' I saved them and forgot about them — just as tens of thousands of teenagers do all across Russia."
Neverov said he deleted the images from his account after he was detained. He also said he did not admit guilt during his detainment, referring to an article in Russian law that prevents someone from testifying against himself.
"I never thought they would charge me according to this," Neverov said of the law. "Biysk officials don't like what I do, and instead of fixing things that I and many people don't like, they fine these people."
Russia's "gay propaganda" law, passed in 2013 by the Russian legislature, makes any act or event that authorities deem to promote homosexuality to minors illegal and punishable by a fine. Neverov was fined 50,000 rubles ($736) — more than the average monthly salary in Russia.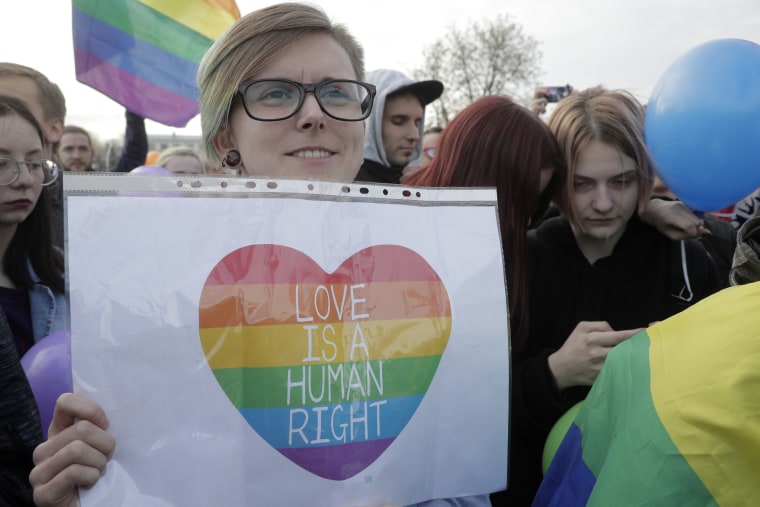 Since its inception, the legislation has been used to prevent gay pride parades and detain LGBTQ activists. The passage of the law has also been accompanied by an increase in anti-LGBTQ violence in the country, activists and researchers have claimed.
In 2017, the European Court of Human Rights, of which Russia is a member, ruled against the controversial legislation.
"By adopting such laws, the authorities had reinforced stigma and prejudice and encouraged homophobia, which was incompatible with the values of a democratic society," the court said in a statement when it made its decision.
Neverov now joins the growing crowd of LGBTQ activists detained and fined due to the propaganda law. Just last week, around two dozen gay activists were detained in St. Petersburg after protesting the city's rejection of their application to hold a gay pride event.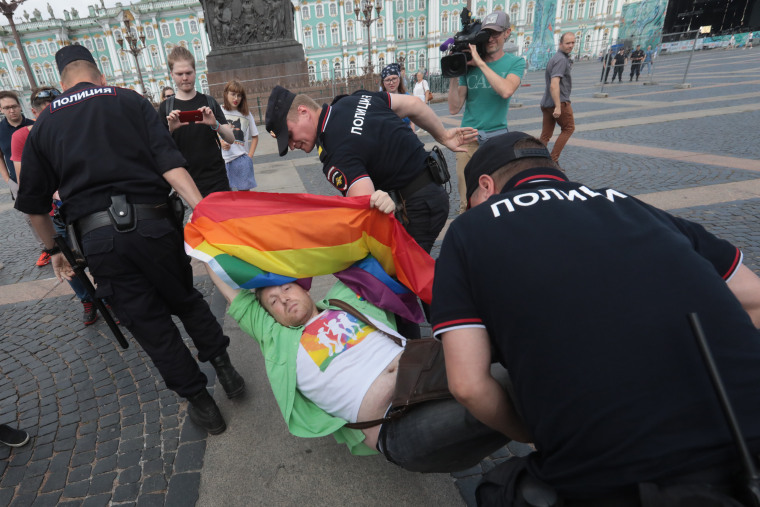 Prior to Neverov's detainment on July 24, authorities were already familiar with him because of his activism. Their interest in the teen grew after he became involved with Protest Biysk, a group that organizes civil rights projects.
In May, Neverov was the lead organizer of a performance called "Gays or Putin." As part of this performance, he submitted 12 applications to city officials for a wide range of public events — some in support of LGBTQ rights and some in support of Russian President Vladimir Putin, including one that satirically called for Putin to be recognized as a saint.
Not only did authorities reject all of Neverov's applications, but, according to Neverov, they published his phone number and address on the internet.
"It is very difficult to talk about the rights of LGBTQ people in Russia, because the whole state machine led by Putin despises this community," Neverov lamented.
The Russian LGBT Network, an organization with chapters throughout the country, has assisted Neverov after his detainment. Svetlana Zakharova, the network's communications manager, said the advocacy group believes the charges against him are because of his political work.
"It's nonsense," Zakharova said, referring to the charges. "Neverov is a schoolboy who cannot work, yet the fine he is supposed to pay is double the average salary of his city."
Zakharova said if Neverov and his family are unable to pay, then the Russian LGBT Network will raise the money for the fine.
Artem Lapov, Neverov's lawyer, told NBC News the charges against Neverov violate his right to freedom of expression. He also said there were a number of procedural violations involved in his client's case, including the inability of his Neverov's supporters to attend a supposedly public hearing about the case.
Lapov said he is ready to appeal Neverov's case all the way to the European Court of Human Rights.
Since the charges were filed against him last week, Neverov's situation has been brought to international attention. ILGA-Europe, an LGBTQ advocacy organization with a presence across the continent, condemned the charges against Neverov as persecuting a politically active youth.
"Young people in the region are stepping up their participation in social and political movements despite the risks," the organization said in a statement sent to NBC News. "As a result, they are being targeted in many different ways."
"It is important to remember that 16-year-old Maxim joins a whole array of outspoken or simply critical young people (LGBTI and non LGBTI alike) who have been targeted with different charges/laws in Russia," ILGA-Europe continued. "Some of them — like 18-year-old Anna Pavlikova — are even facing criminal charges, not administrative fines."
In its latest LGBTQ equality ranking of European countries, ILGA-Europe ranks Russia 45th out of 49 countries.
Rachel Denber, deputy director of Human Rights Watch's Europe and Central Asia division, called Russia's gay propaganda law "profoundly discriminatory and wrong."
"We have been calling for the law to be repealed ever since it was adopted," she said.
Denber noted there have been a number of cases over the past few months in Russia's Altai Krai region, where Biysk is and "where local officials have gone after people who are active online and were government critics."
"He's not the only one," Denber told NBC News. "I'm not sure if it's coincidental or not, but it's definitely worth noting."
Despite the charges and the fine, Neverov said he will continue to be politically active, noting he became an activist because he was "tired of watching what was happening in the country."
"It's terrible," he said. "In our country, people are tortured and killed in prisons, schoolchildren are intimidated only because they oppose Putin's regime."
"Protest Biysk is sure that if the administration is so afraid of us, then we need to continue," Neverov added. "We have everything that is needed: people, ideas, desire."
However, he noted one thing missing is "money to implement these ideas," so he said the next step is raising funds to work on projects related to political prisoners.
As for fear of the Russian authorities, Neverov said that ship has sailed.
"I wasn't afraid," he said of being detained. "The police have not scared me for a long time."
Correction: A previous version of this article misstated the title of Neverov's performance. It is "Gays or Putin," not "Gays for Putin."