Jamie Green-Ferguson has a message for those who choose to believe otherwise: "Atlanta Pride, contrary to popular belief, is not a white LGBTQ organization."
Green-Ferguson is the executive director of Atlanta Pride, the organization responsible for producing the annual Atlanta Pride Festival during LGBTQ History Month. This year's event takes place from October 13-15.
Over the years, some have considered the yearly event to be a predominantly white celebration. Part of this perception is a result of there being two prides in the city: the Atlanta Pride Festival and Atlanta Black Gay Pride, which takes place during Labor Day weekend. As far as Green-Ferguson is concerned, there is room for both events — and even potentially a need.
"There is a very real need for spaces that are exclusively for LGBTQ or same-gender-loving black people. There is a real need for people to have that space, because many queer communities are really a microcosm of the communities they frequent," she told NBC News. "Black prides are necessary, are legitimate and important."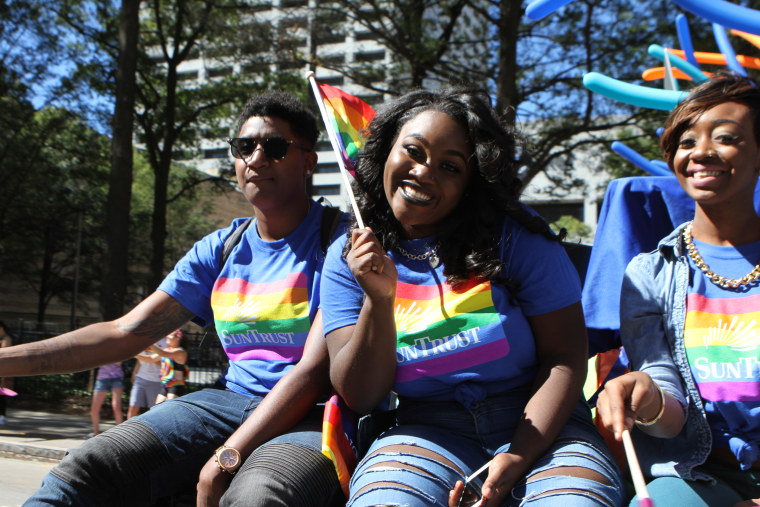 Atlanta Black Gay Pride grew from the efforts of a former Atlanta Pride board member, Duncan Teague, who saw value in holding a black gay picnic in the city. The picnic led to the development of In the Life Atlanta, the organization responsible for creating Atlanta Black Gay Pride.
"I think there is a perception that there is competition between the events. However, I do not believe there is," Green-Ferguson said. "I think the community is big enough for us to embrace multiple events. It would be incredibly difficult for any one event to cater to all of the need of the community."
However, Green-Ferguson admits there are efforts to ensure that Atlanta Pride is not oblivious to the issues impacting LGBTQ people of color. For the past three years, there has been a conscious commitment to doing work around racism and racial justice. And this year, Atlanta Pride sponsored a series of community talkbacks called "Let's Talk About." The talkbacks created a space for the airing and discussing of concerns of often-marginalized members of the LGBTQ community.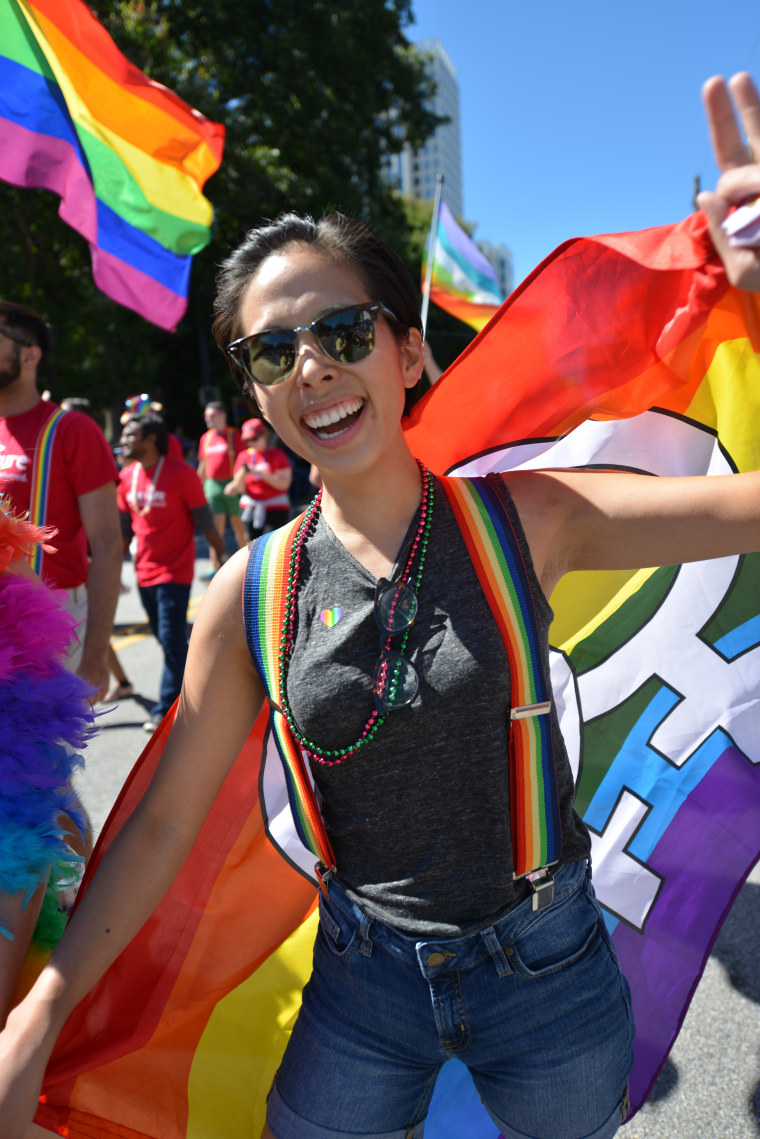 During the time of unrest in Ferguson, Missouri, for example, Green-Ferguson said the leadership of Atlanta Pride felt there was a need to create safety and justice for members within the LGBTQ community.
"A third of our members are people of color. Almost half of the attendees of Atlanta Pride [Festival] are people of color and almost half are black. One of the things I always say is, 'If people do not know we are as diverse as we are, then we are not doing a great job of telling that story,'" she said. "Myself and others in the committee have gotten into arguments about whether we should be talking about race. We believe we have to be intersectional. Unfortunately, that lens has not made its way to other parts of the world. We are a little bit different here in Atlanta, but [that] does not also excuse us from continuing to do the work."
Nayasia Coleman, who moved to Atlanta in 2008 for college, has attended both the Atlanta Pride Festival and Atlanta Black Gay Pride for the past several years. She has been more actively involved in the Atlanta Pride Festival for at least the past two years.
"At one point, I took a break from Atlanta Black Gay Pride, because there wasn't a strong enough focus on social justice during a tumultuous time for the black community," she told NBC News. "The same critique could be used for Atlanta Pride. In the recent years, both prides have attempted to be more socially aware, and Atlanta Pride has tried to increase their diversity of members and of those they book for the actual festival."
This year, Coleman will be coordinating efforts for students at the university where she works to attend the Atlanta Pride Festival. She said sharing this experience with the students she supports through her work in student affairs is fulfilling.
"For a lot of them this is their first time at Pride and being a part of that for them is an amazing feeling," she said.
As a lesbian woman of African descent, Coleman admits that she does see the Atlanta Pride Festival as a much more white-dominated space.
"They don't want to be that, but that's how many people of color see them. But because I know it is 'supposed' to be for me, I hold on to it being an inclusive space for all LGBTQ [people]," she said. "It is a strange place to be in. I believe that the organization itself is trying to get away from that early LGBT movement aesthetic that didn't include marginalized populations within the community."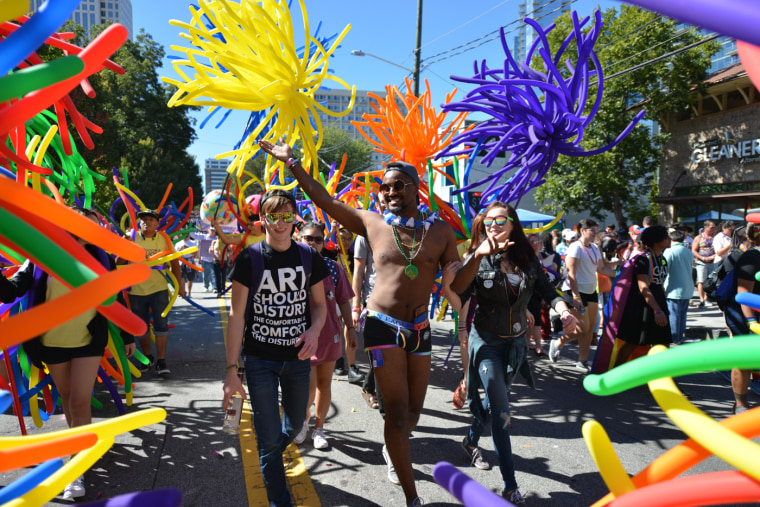 Coleman also admits that she does not see the existence of the Atlanta Pride Festival and Atlanta Black Gay Pride as divisive.
"Wherever there is a void, people of color will find a way to fill it. I believe that there is nothing wrong with exclusive spaces for marginalized groups," she said. "The population didn't feel represented by the mainstream LGBT movement, so they created their own. I see it as survival."
Moving forward, Green-Ferguson pledged to continue working to ensure that all LGBTQ people of color feel represented by Atlanta Pride. She said that may mean holding more "Let's Talk About" events, continuing efforts to diversify the representation of people of color on the organization's board and making sure the annual festival's entertainment lineup is diverse.
"It is most important," she said. "We are definitely invested in the work."
For Coleman, having more diverse voices at the table is the ideal solution to Atlanta Pride's declaration of commitment.
"Diversity and inclusion is about more than having a few performers of color there to entertain, but reaching out and inviting folks to the table at the early stages of the planning process," she declared. "That means a diverse, paid staff and programs throughout the year that challenge the many 'isms' we work so hard to say we want eliminated."