Every morning Lidia Brown applies her "war paint." It consists of sparkly black eyeliner, a dab of pink lip gloss and a smear of BB cream. It has been a year since she began her gender transition, and the New York University sophomore said makeup helps her feel more comfortable in her own skin.
Brown is part of a growing number of transgender, gender-nonconforming and male-identified people who are seeking out gender-inclusive makeup products, and companies — both old and new — are responding to their demand.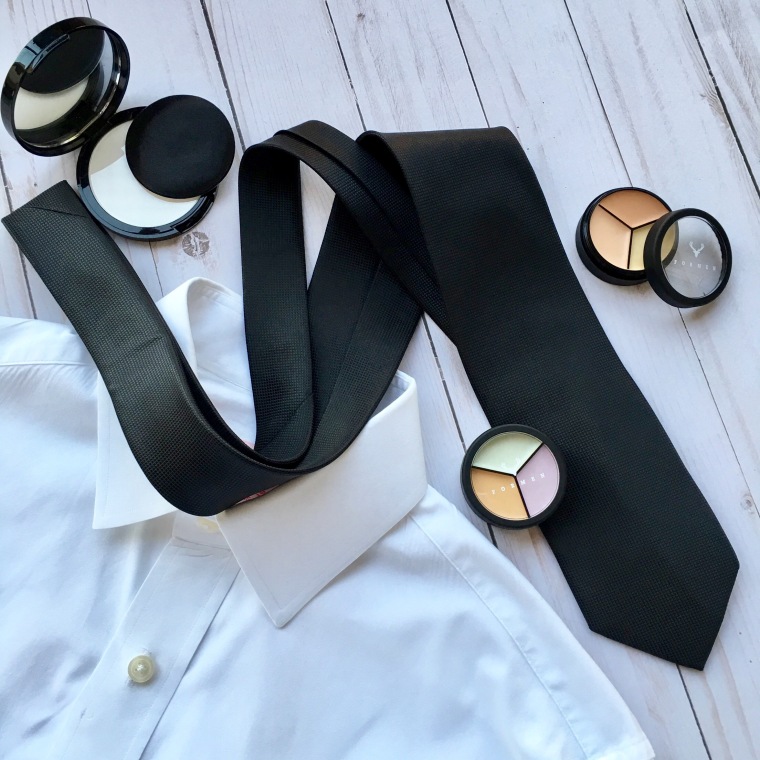 About 30 percent of Generation Z "beauty consumers indicate that they have used a genderless beauty product," according to Lauren Goodsit, a global beauty analyst at market research company Mintel.
"The younger generation is both tolerant and open-minded. Their values and attitudes pave the way for a new wave of brands that are inclusive of both men and women," Goodsit told NBC News.
While a number of legacy brands are using their marketing campaigns to usher in gender-inclusivity, several new makeup brands are launching products specifically targeting transgender women, gender-nonconforming people and cisgender (non-transgender) men.
New York-based beauty brand Fluide, which launched in January 2018, offers "makeup for all gender expressions, gender identities and skin tones," according to its website. Its mission statement asserts the company was "created with the belief that makeup is a tool of transformation and a powerful means of self-actualization."
Among Fluide's models is gender-nonconforming advocate and writer Jacob Tobia, who sports a full face of makeup and a visible 5 O'Clock shadow on the company's website.
Fluide co-founder Laura Kraber said her company "wants to evolve the mainstream conception of beauty by promoting positive self-image."
Across the pond, London-based makeup artist Jessica Blackler, 21, launched the first makeup line in the U.K. specifically targeted to the transgender community.
Blackler said she was inspired to create JECCA Makeup in 2017 due to the "crazy" amount of social media requests she received from transgender people across the U.K. asking for makeup tips.
"Many wanted to know how to do eyeshadow or how to hide beard stubble," Blackler said.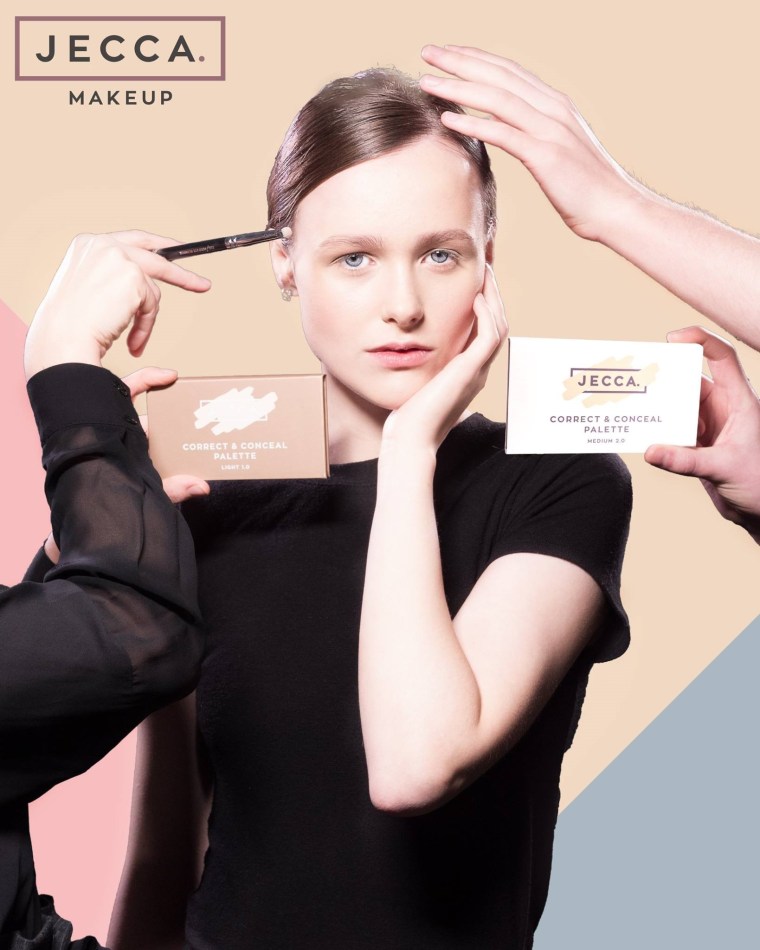 First she started offering makeup lessons to trans women to help with some of their unique makeup concerns, but then she decided to go a step further and create products specifically for the community.
JECCA Makeup can be used by anyone, but Blackler said its Correct and Conceal Palette, which retails for $24, was specifically formulated by chemists to banish the blue-green undertones that result from facial hair shadows. According to Blackler, her peach-toned palette is the first concealer in the U.K. market to tackle this common issue faced by many in the trans community.
Andrew Grella, founder of Canadian makeup company Formen, said his makeup line is created by men for men. In an interview with NBC News, Grella said he wanted to fill a gap in the beauty market, a market overwhelmingly catered to the beauty needs of cisgender women.
Since launching in 2015, Grella said that his online sales have increased by 200 percent.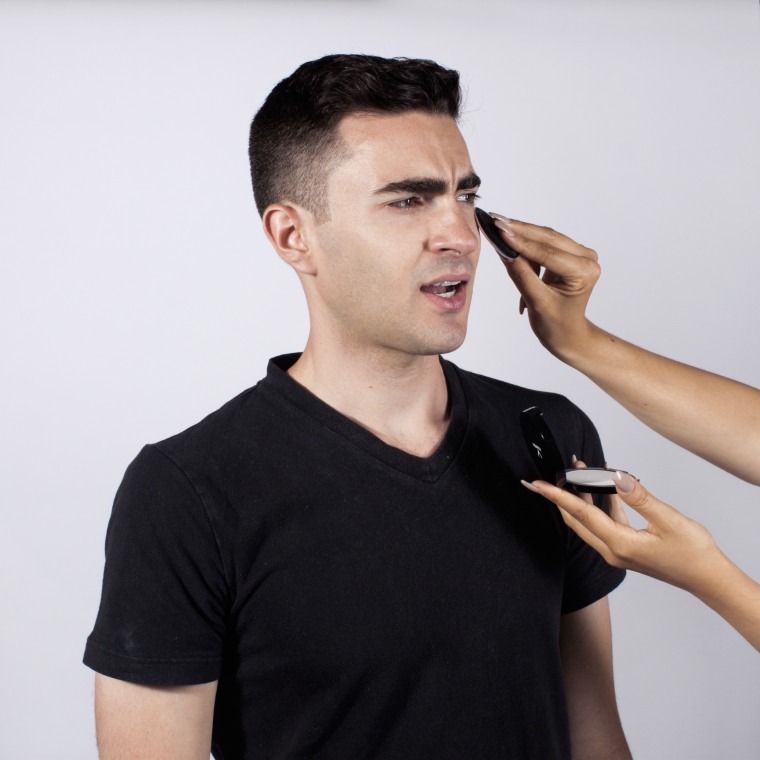 While many men and women share similar beauty issues, Foremen said his products are engineered to tackle skin issues unique to cisgender men. Foreman's $35 Invisible Blotting Powder attempts to "control excess oil that accumulate on the face." Men sweat twice as much as women, according to The International Dermal Institute.
When asked about the unique skin needs of cisgender men, University of Miami dermatologist Dr. Shasa Hu said "most men have a higher density of sebaceous (sweat) glands and produce more oil than women." This, she said, means that when men apply foundation, they might have a harder time making the foundation last due to overactive sweat glands.
While a number of legacy beauty companies — like L'Oreal, Mac and Covergirl — have used marketing to show their gender-inclusivity, a few have done so through products. For example, Tom Ford has a concealer for men; Clinique has a men's face bronzer; and Calvin Klein sells "manscara."
The global male grooming market is currently estimated to be worth $21 billion a year, and it is expected to reach $29 billion by 2024, according to market research company Statista.
When it comes to makeup, not everyone is convinced there is a need for different products based on one's gender identity or gender expression. Among them is Paul Heaton, owner of U.K.-based makeup and styling studio Born, which specializes in "trans beauty and feminization."
"There is no difference in the makeup I use on my clients than any cisgendered woman would use," Heaton said. "I use a mix of high-end brands, such as MAC, Urban Decay, Bobbie Brown and Illamasqua, along with drugstore products."
Rather than applying several of layers of foundation to cover clients' facial hair shadows, Heaton said he uses a color-correction technique where he applies pink hues under the foundation in order to cover the blue-gray hues.
One of Heaton's makeup tricks is to always use a "dense, round brush" when applying foundation. "This gives a better finish, as a trans woman's skin will be a different texture than a cisgender woman," Heaton said.
Dr. Hu, the Miami dermatologist, said, "When a person undergoes hormone treatment, they begin to have higher levels of estrogen, and a lot of times their hair growth will decrease." However, Dr. Hu added, even with estrogen, most trans women will not see a significant difference in skin texture and complexion.
Brown, the New York University student, said she finds the burgeoning market for gender-inclusive makeup products encouraging. While she cherishes some of her beloved makeup products, like her sparkly eyeliner, she said she still has a hard time finding a concealer that works for her skin.
"I want those days to be over," Brown lamented, "the days of going to multiple makeup stores and always leaving empty-handed."
With products on the market geared toward consumers other than cisgender women, Brown said she feels like "someone is looking out for people like me."