"Hate is everywhere," said Brazilian filmmaker Leandro Goddinho, whose latest project, "Before It's Too Late ("Antes Que Seja Tarde"), is one of six short films selected for "Postcards From Brazil," a special program screening at this year's NewFest, New York's premier LGBTQ film festival. Running from Oct. 23-29, the 31st annual festival will be showing more than 160 films from roughly 30 countries, but its program on Brazil carries specific and topical weight — spotlighting a nation newly under far-right leadership that has attempted to censor queer media.
"I'm sure the New York audience will connect with my film's subjects, because these are universal themes at the moment," Goddinho told NBC News. "Hate has taken over our daily lives, and it seems that Trump has opened the doors for new world leaders to feel comfortable inflicting hatred on the population by spreading homophobic, sexist and racist words. Our president sees your president as an idol — a model."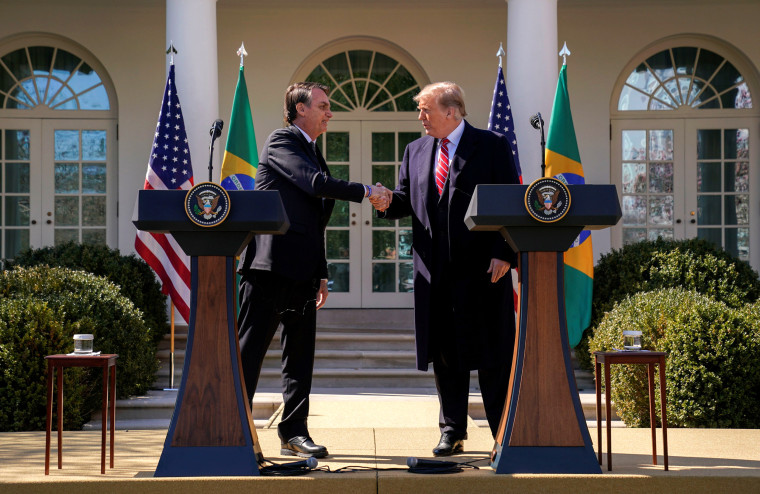 Brazil's president, Jair Bolsonaro, assumed office Jan. 1 and has been criticized as a "neo-fascist," with far-right views and policies on everything from women's rights and climate change to racism and LGBTQ rights. Prior to ascending to the presidency, he served in the country's Congress for decades and was particularly vocal about his distaste for gays: He famously said that he would rather his son die in an accident than be gay, and in 2013 he proclaimed, "Yes, I am homophobic — and very proud of it."
In recent months, Bolsonaro has gone so far as to suspend and withdraw funding for LGBTQ-themed screenplays and productions, forcing Ancine, the country's national film agency, to cancel state investments in queer films and television series — potentially for the foreseeable future. This essentially means that the shorts selected for "Postcards From Brazil" would likely not exist if their creators tried to make them today.
"In Brazil, we are living in a time when the reputation of artists is badly destroyed," Goddinho said. "It's necessary to emphasize the importance of art as a cultural manifestation of society, writing a story that serves as a metaphor for the institutions of a country and its most hidden forces."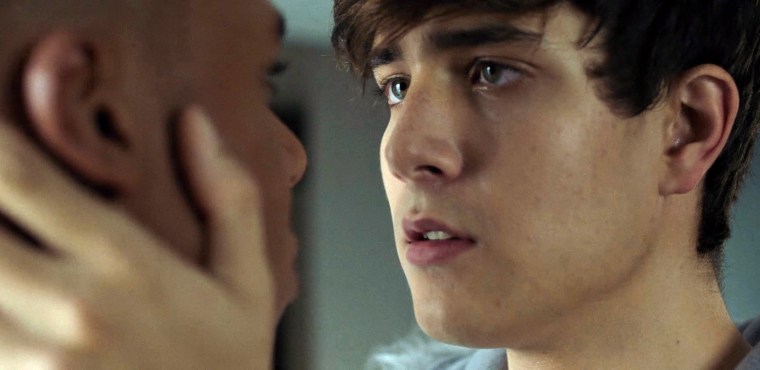 The filmmaker said he wrote "Before It's Too Late" — a love story between two teenage male celebrities, set against the current political backdrop — during the election process that led to Bolsonaro's victory, adding that, like one of his characters, he, too, suffers from anxiety and depression. However, Goddinho added, "My film is not about [Bolsonaro, whom he refused to address by name]. It's about the spread and trivialization of evil."
While irrevocably entwined with the state of the nation, each film in "Postcards From Brazil" is not an explicit response to Bolsonaro's election.
"Within this program, we see queer voices, trans voices, lesbian voices and even asexual representation, so it's showing the wide breadth of the LGBTQ community itself in Brazil," Nick McCarthy, NewFest's director of programming, told NBC News.
McCarthy did, however, note that he and his team noticed an intensified "activistic spirit" this year among the usual influx of Brazilian submissions and felt "a responsibility" to have a Brazilian-focused program.
"I think there's a balance here of the political and the personal," he explained. "Film is a medium that travels, and human storytelling universally relates to what happens to our community around the world."
"Postcards From Brazil" also includes "Selma After the Rain," director Loli Menezes' intimate reunion of a transgender woman and her aging mother shot in breathtaking black and white; "The Orphan," a poetic tale of a queer black child whose experience in foster care is achingly depicted by director Carolina Markowicz; "Infinite While It Lasts," the rare exploration of asexual dating directed by Akira Kamiki; and "From the Other Side," a film from real-life couple and directing duo Bob Yang and Frederico Evaristo, which contrasts the Taiwanese ruling in favor of same-sex marriage with Brazil's hostile environment for queer people.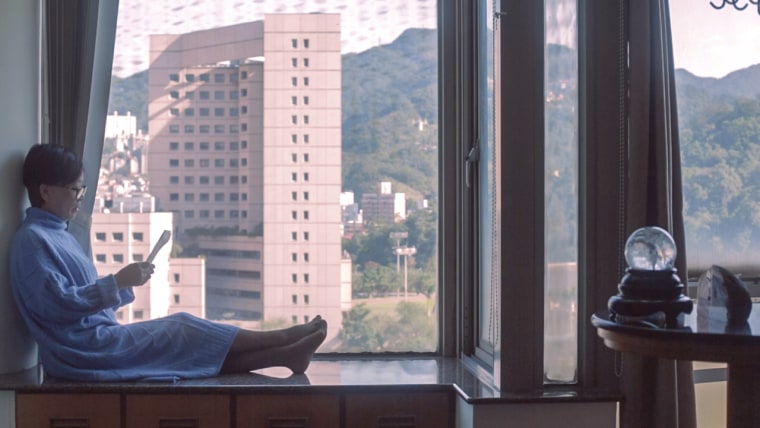 "We're very thankful that NewFest is putting a spotlight on Brazil," said Yang, whose entire crew consisted of him, Evaristo and Yang's mother, who plays the film's central character. "Our goal is to create stories that are both political acts and experiences that touch people's hearts, and this selection is reassurance for us to continue to write and produce positive LGBT narratives, while spreading a cry for help."
For Menezes, making her film was an exercise in allyship. "I am a privileged person," she said. "I'm a medium class, white, heterosexual woman. I've never been abandoned or not accepted, so making this movie helped me to be more human, to put myself in another's place, and to feel and understand the other's pain. Having this film accepted at festivals around the world, like NewFest, makes me feel happy and fulfilled."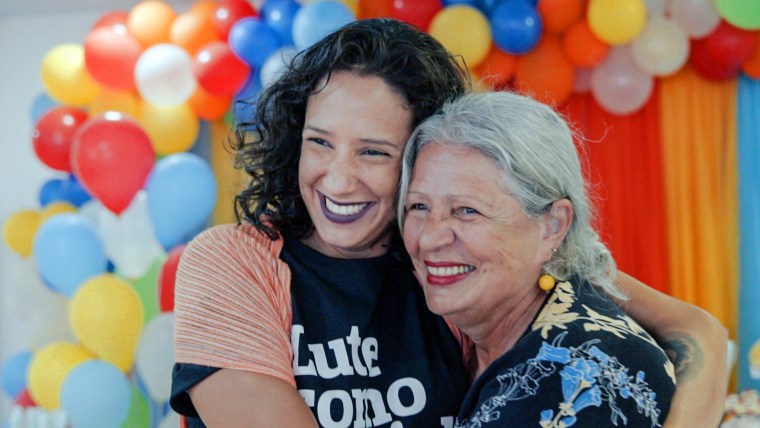 The final film in "Postcards From Brazil," and its sole documentary, is "Marielle and Monica," a eulogy-turned-call-to-action that brings the program's personal and political fusion to its apex. Directed by Fabio Erdos, and set in the wake of the March 2018 assassination of councilwoman Marielle Franco, the movie follows Franco's grieving yet emboldened lover, Monica Benicio, who ardently carries on Franco's activism. A queer black woman who boldly rallied in support of oppressed Brazilians, Franco became a symbol of hope for a vast, intersectional community of people, and with Benicio as an on-screen guide, Erdos takes us inside Franco's legacy and the effect of her (still unsolved) murder.
Erdos, who believes Brazilian democracy will be weakened until the truth behind Franco's death is revealed, said the film goes far beyond Franco's death.
"I hope the NewFest audience leaves the program understanding that Brazil's government and president see the indigenous, the black Brazilians and the LGBTQ+ community as lives that don't matter," Erdos said. "But more than that, I hope they leave the program understanding that there's also an incredible amount of people in Brazil who are resisting and dedicating themselves to saying that these lives, these families and these communities do matter. We show a growing counter-resistance movement that can inspire us to strengthen our own actions and resistance in whatever fight we're in."
With "Postcards From Brazil," McCarthy said he hopes the festival's New York City audience will feel a connection with those across Brazil — and beyond — and feel inspired to take action in some way.
"I want this program to empower the audience to speak up more about what's happening on a global scale for the LGBTQ community, so we can strengthen our support of our siblings throughout the world," he added. "We can see these stories in a theater together, but they don't stop there — they can be further shared by the people who witness them."