An Oklahoma mother's offer to stand in as the parent for LGBTQ couples if their own parent or parents choose not to on their wedding day has been shared thousands of times on social media.
Sara Cunningham, a 54-year-old mother of two and an ordained minister, wrote her Facebook post after hearing from several same-sex couples without a supportive parent on their wedding day.
"It was posted out of frustration," Cunningham told NBC News from Oklahoma City.
The Facebook post included an image of Cunningham back in 2013 raising her right hand and wearing a necklace with a photo of her gay son and his partner at the time.
Just days before her now-viral post, Cunningham said several women had shared with her emotionally devastating stories at a same-sex wedding rehearsal in which Cunningham was participating.
One woman recounted how her mother asked to be given "a heads up" when it was time for her daughter to kiss her bride, presumably so her mother could turn away. Another woman shared how her mother chose not to attend.
"That's what prompted the post, and I had no idea I would hear from so many in the community," Cunningham said, including "parents from all around the world that are willing to stand in."
Cunningham said her own story of not initially accepting her son as gay is a big part of what triggered her advocacy and support for the LGBTQ community.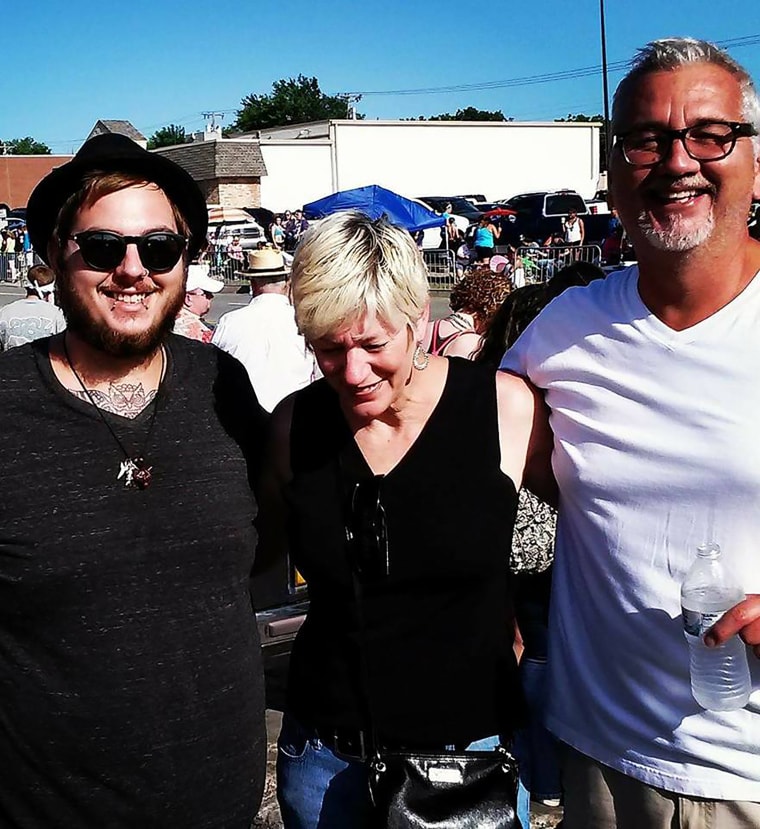 "His whole life he came out to me, but I thought it was a phase," she said.
In 2014, Cunningham's son Parker "came out" to her about his relationship with a man.
"When he turned 21, that's when he said 'I met someone, and I really need you to be okay about it,'" Cunningham recalled.
That's when Cunningham said she went into a deep depression and stayed in her room not accepting reality.
"I wrestled with my faith as if I had to choose between my faith and my son," Cunningham added. "I reexamined everything I believed."
Her mindset changed when her son lay beside her and told her why she needed to support him.
"I've sucked it up being your son for 21 years. I need you to suck it up and be my mom," she recalled her son saying.
Cunningham then sought out resources to learn more about the LGBTQ community and eventually became an advocate, even self-publishing a book about her experience.
A pastor from Expressions Church, an LGBTQ-affirming church near Cunningham's home, reached out to her after learning about her struggle. She started attending after serving at a conservative church for 20 years.
As a part of Expressions Church, she founded a group called Free Mom Hugs that offers resources for and about the LGBTQ community for schools, churches and hospitals.
In 2015, she and her husband met a same-sex couple on vacation in Virginia Beach that asked her to officiate their wedding the following year. Cunningham's pastor ordained her so she could grant the couple's request.
Cunningham traveled to Mississippi to marry the couple in 2016 and has been officiating other weddings for LGBTQ couples ever since.
"We're lucky to have each other and be in each other's life," Parker Cunningham said of his relationship with this mom. "We have to represent parents giving their children a chance."
Since her viral Facebook post, Cunningham said she has received roughly 100 private messages of encouragement, along with "horror stories" from same-sex couples whose parents do not support them.
"Everyone needs their mom," she said, regardless of whether their child is gay or straight. Cunningham also has a son who is straight.
"To deny that on the most important day of their lives is devastating," she added. "I wanted to make the day better."