It's easy to forget that figure skater Adam Rippon did not win a gold medal in Pyeongchang.
His final skate to "O" by Coldplay was executed flawlessly but did not feature the stunts necessary to nab a medal. This was apparent during his set. Yet viewers were, in the words of Johnny Weir, enraptured by his "spellbinding" routine.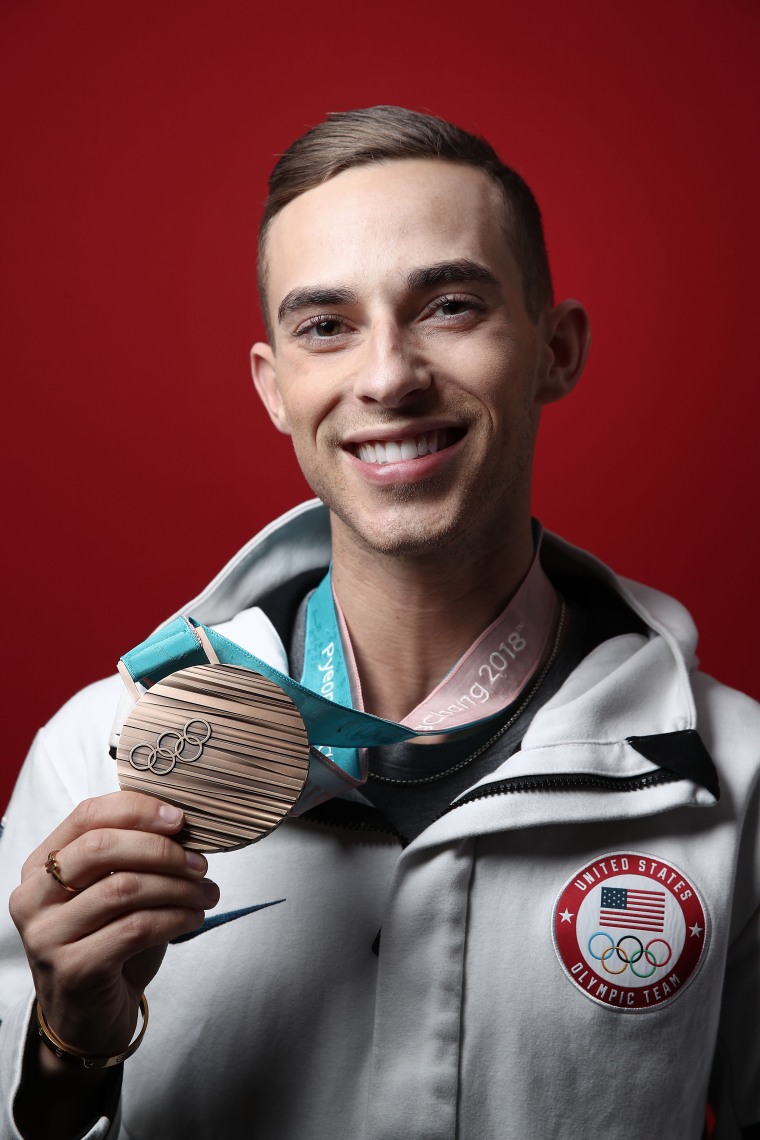 Rippon performed on the world stage last month, winning a bronze medal in the figure skating team event. For many athletes, a moment like that, the culmination of years of practice and diligent work, would be enough to define a career. But in Rippon's case, his moment had just begun.
"How does it feel?" Rippon pondered after being asked by NBC News how it felt to be "America's sweetheart," words he had used to describe himself during the Winter Games. "It feels great. I think it's awesome that somebody like me, with a personality like me, can be embraced by everyone. I think that's important."
When Rippon says "everyone," he is hardly exaggerating. In the weeks since the Winter Olympics concluded, the openly gay 28-year-old has become something of a cultural force, particularly in the LGBTQ world.
His witty one-liners, paired with his graciousness in interviews, won over the hearts of many, including celebrities like Reese Witherspoon, Tyra Banks and Britney Spears.
"I used to not like the person that I was ... Which is crazy, because I'm so cool."
Adam Rippon
Rippon's infectious personality became such a big part of the Olympics that he was offered a job as an NBC correspondent, which he ultimately declined.
For many LGBTQ people, this was perhaps the first time they had seen someone as flamboyant and unabashedly gay as Rippon be accepted to such a high degree, and Rippon said he hopes to continue inspiring people.
"There are some people that are going to be turned off by your authenticity," Rippon told NBC News. "And that's okay. You shouldn't worry about those people. Keep the focus on how you feel about yourself."
"I used to not like the person that I was," he added. "Which is crazy, because I'm so cool."
Rippon has found himself in the role of LGBTQ advocate not only because he is out and gay, but also because he hasn't shied away from politics.
Prior to competing, he made headlines by publicly clashing with Vice President Mike Pence, who was selected to represent the United States in the official Olympic delegation at Pyeongchang.
Rippon said he would rather not meet with Mike Pence, due to his alleged support of conversion therapy, a contentious practice that claims to be able to change someone's sexual orientation.
"You mean Mike Pence, the same Mike Pence that funded gay conversion therapy?" Rippon said in an interview with USA Today. "I'm not buying it."
Pence hit back, with his press secretary telling NBC News Rippon's statement, "is totally false with no basis in fact."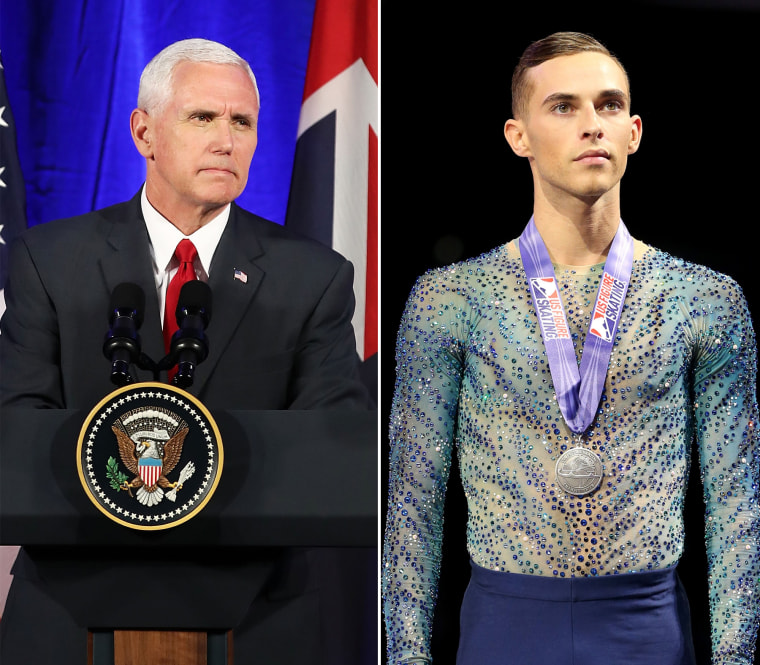 Now, however, Rippon is more open to a meeting, albeit with some conditions. He said he didn't want to meet with Pence before the games because it would have been a distraction.
"I felt it was in my best interest to not take the meeting at that time," he said. "But now that the Olympics are over, if that opportunity were still available, I'd like to take advantage of it. I think it's important to speak up for those people who feel they don't have a voice."
Rippon added, however, that he would like to bring people with him who are most affected by the Trump administration's policies.
"If I were to have the opportunity to meet with Mike Pence, it is not a conversation just for me, it's a conversation for so many people," he said. "If I had that opportunity, I would like to go with people whose lives have been affected."
"I think everyone deserves to have the full human experience," he went on. "To get married, to join the military if they are a trans man or a trans woman to serve their country, and I think that if I were to have that opportunity, I'd really like to share that."
The future isn't clear for Rippon, who is in the midst of a whirlwind press tour that has landed him on every couch from "Ellen" to "Watch What Happens Live" with Andy Cohen.
At the moment, he is spearheading a campaign with LGBTQ advocacy group GLAAD on a youth engagement program.
"GLAAD is helping get all of these young kids get together, and we give them the tools to go back to their communities and give back and be role models, be ambassadors, be leaders for their communities," he said.
"I know if I had a young role model, someone I looked up to, someone I related to growing up, my life would have been so different," he said. "I think I would have gone through a lot less self-hating."
Rippon has played coy with any grand plans he might have ahead of him. Perhaps he doesn't have any, and perhaps that's part and parcel to why so many people, LGBTQ or not, find him easy to relate to. He's an authentic, kind, funny person, who is also gay, and also an Olympian.
As for his present popularity, Rippon said he is trying not to think about it too much.
"I've realized that all of this doesn't matter," he said. "Fame is relative, success is relative, what really matters is what do you think of yourself. Are you proud of the things you've done?"
But for now, he has our attention. People continue to watch, spellbound.