VALLETTA, Malta — At age 24, Alex Mangion became Malta's first transgender politician when he won a local office on the conservative Nationalists' ticket, a striking combination in a country that until recently had been a last bastion in western Europe of social norms largely dictated by the Catholic church.
The Nationalist Party recruited Mangion to run for town council with an eye toward grooming him as a candidate for next year's Parliamentary election. The party, which governed Malta for a quarter-century, hopes to reverse its stinging, landslide 2013 loss to socialist archrivals who returned to power with an agenda heavy on LGBT rights.
"The Nationalist Party's having a transgender person in the party made people realize it's not conservative" any longer, Mangion, now 26, said as he strolled along a harbor promenade wearing a blue suit and tie typical of his profession.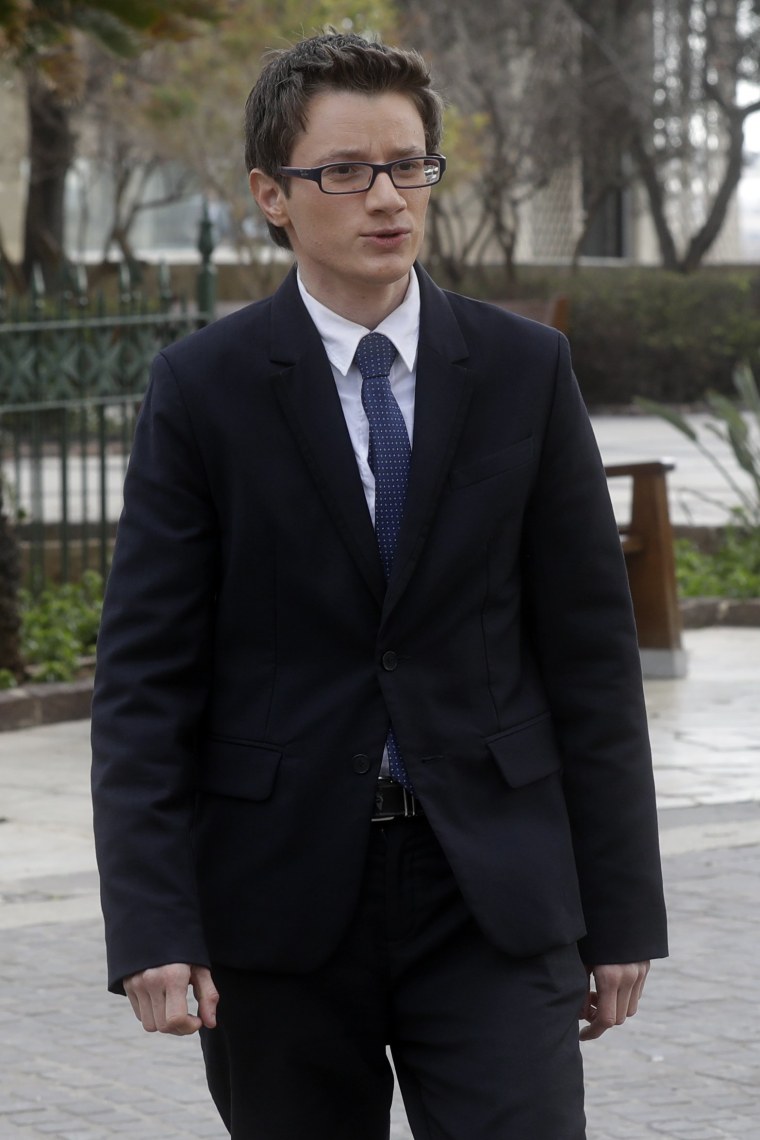 Mangion has notched a personal achievement as well: He was the first person in this tiny nation to be able to update the gender on his official documents without undergoing surgery or hormone treatment thanks to the passage of comprehensive transgender rights legislation. In 2015, the Nationalists' sided with the socialist Labor Party to ensure unanimous approval of the bill.
Other nations are taking note of Malta's remarkably rapid transformation from conservative outpost — divorce remained illegal in the country until 2011 — to increasingly liberal standard-bearer.
"There are countries which we had looked up to 'til now and that are said to be very progressive," Helena Dalli, Malta's minister for civil liberties, said in an interview Wednesday evening. "But they are asking us now, such as Belgium for instance, whether they can take our model of law, the gender-identity law, so they can model their own law on ours."
The conservative Nationalists are a microcosm of the evolution underway in Malta, an island nation of some 420,000 people where it seems just about everyone knows everyone else's business and generations of gay people lived undercover to avoid the moral judgment of neighbors and colleagues.
To Mangion's dismay, his party abstained from voting on a 2014 civil unions law because of objections to allowing same-sex couples to adopt children. Then, two months ago, Malta became the first European nation to ban gay conversion therapy.
The ban, which carries fines as high as 10,000 euros and jail terms of up to one year for offenders, won accolades from Maltese psychologists treating clients suffering under the weight of social norms that regarded homosexuality as sinful or as a kind of stigma.
Kyle Knight, a New York-based researcher for Human Rights Watch, said that what's particularly admirable about Malta's LGBTQ rights laws is "not just the result as much as the process" that led to their creation.
Members of the LGBTQ community, other advocates and a local human rights group served on a council set up in 2013 to advise the government. Legislation was accompanied by directives that covered how LGBTQ people in prison should be treated and how schools should deal with bullying of transgender or gay students.
When Knight was recently asked in Japan how schools should handle anti-LGBTQ bullying, "We copied and pasted these (Maltese) guidance documents and we said, 'Look, this is how you do it,'" he recalled.
Once Malta legalized civil unions for same-sex couples, Steve and Manuel Aquilina had a wedding and now are enjoying new possibilities after two decades as a couple.
Steve Aquilina, who produces Manuel's popular cooking programs on Maltese TV, realized just how far his country's LGBTQ community had leaped when they were vacationing and stepped up to the passport control booth in Italy, another country influenced by Catholic teachings.
The official behind the glass, noting the same last names, asked if the two men were brothers. When they explained they were married, Aquilina recalled, the official told them, "You are lucky."
"Aroma Kitchen" is beamed into Maltese homes when families are sitting down for dinner. On the episode he taped Tuesday, Manuel showed off a gluten-free version of a traditional Carnival dessert and eggplant rollups stuffed with couscous and spinach.
While doing his part to improve a national cuisine that leans more toward overcooked fish and soggy potatoes — leftovers from Malta's past as a British colony — he also is cutting a role as a public gay figure. Maltese viewers know he is wed to Steve, who doubles as floor manager on the set.
"They're accepted like everyone else," said Victor Anastasi, a dairy consultant who appeared on the Tuesday episode to promote Maltese milk. "We're a Catholic country. But eventually the church has to come to terms" with a changing society.
For generations of Maltese, being gay or having a gay family member entailed grappling with the moral judgments of fellow parishioners and pastors.
Joseanne Peregin recalled the sleepless night a dozen years ago after her-then 17-year-old son, Christian, sent her a text message saying: "I am gay." The teenager was sitting next to her in a car when he sent the text.
Devoutly Catholic, Peregin helped found a support group for parents of gay children. She recalled hearing a bishop once say: "'If you're gay, excommunicate yourself. Go, there is no place for you in the church.
But the stunning blow dealt to the church's prestige when Malta voters approved the 2011 referendum allowing divorce left the institution "severely damaged," she said.
The Rev. Rene Camilleri said while many Maltese are still believers and even church-goers, they "are not taking a package deal" of church teachings. Pope Francis says while the church should be welcoming to gays, marriage can only be between a man and woman.
Like the church, Malta still prohibits abortions. Camilleri, the Malta Catholic archdiocese official for evangelization, stressed his abortion opposition, but said in an interview he thinks "it's only a question of time" before abortion is legalized in Malta."
University of Malta sociologist Andrew Azzopardi suggested his country's membership since 2004 in the European Union also played a role in prodding social liberalization.
Strategically sitting in the Mediterranean between North Africa and southern Europe, Malta has historical, cultural and anthropological ties to both continents.
"We look North African, genetically we are very close" to North Africans, the professor said. But this liberal agenda "will give us reassurance that we can give our back to North Africa and feel that we are Europeans."
Dalli, whose civil liberties ministry was the creation of Prime Minister Joseph Muscat's Labor government, said it would have been difficult to imagine only a few years ago that Malta would be exporting its approach to LGBTQ rights to other European nations. Cyprus and Greece, though, have expressed interest in the Maltese model for transgender rights.
"I am very happy that what we have done here is serving as a model to other countries, and, in a good way, because more people are leading better lives," she said.