If you'd ask almost any LGBT senior if they are surprised by the violent act of terror on our community last night in Orlando, they'd most likely say no.
You see, while the young in our community have seen progress with non-discrimination bills passing city-by-city, state-by-state; seeing the end of "Don't Ask, Don't Tell," and marriage equality sweeping the nation, we seniors saw an earlier version of that struggle for equality, and it wasn't so pretty.
The President stated today of the violence in Orlando that "this was an act of terror and hate." Most in our community think our struggle began at the Stonewall Inn in June 1969, which was also a night of terror and hate from the New York Police Department.
What most don't know or appreciate is Stonewall represented the last straw, not the first.
Society had a systemic rule of violence against us as a people. Up until the late 1960's. If you met in public, you were arrested, usually for disturbing the peace or soliciting. At that time there were only three places for people to meet. Private parties, cruising spots (where you might be arrested) and Bars which usually had to pay off the police since it was literally illegal to serve known homosexuals. Then there were the very few gay & lesbian organizations, mostly in large cities who provided safety and help.
Each of these organizations had just a couple of "out" members. Add that up and you'll soon realize that up until the first Gay Pride in June of 1970, then called the "Christopher Street Gay Liberation Day and March," there were no more than 100 brave souls who were "out" in the nation. Here's why.
No matter what church, synagogue, or mosque you belonged to, we were immoral;
To the U.S. military and police, we were illegal;
To the psychiatric and the medical profession, we were mentally unstable;
and to government and professional organizations, unemployable.
How did these oppressors use violence against our community?
Police arrested us, some were imprisoned, some of those prisoners were used for medical experiments, at the advice of medical doctor's people were subjected to aversion therapy, others lobotomized.
There were the LGBT-friendly denominations like the Metropolitan Community Church (MCC) that were fire bombed, as were many clubs like "Pulse" - the most well-known being "The Upstairs Lounge" in New Orleans where 32 people died in 1973.
What have we learned by all that history?
That Pride unites us. We celebrate that from the ashes of Stonewall Gay Liberation Front (GLF) was formed and it's goal was to create community where once there was none. It created the first LGBT Yiouth programs, Trans organization medical and Legal alerts and the first LGBT Community Center in the nation. To celebrate that first year and to remember Stonewall we created that first Pride. If you have Pride in yourself and Pride in the community we have built together, then please be proud to march at our side. And with this violence it is more important then ever to march together, a community united in Pride.
We must never allow haters to have our silence. We will be out and proud.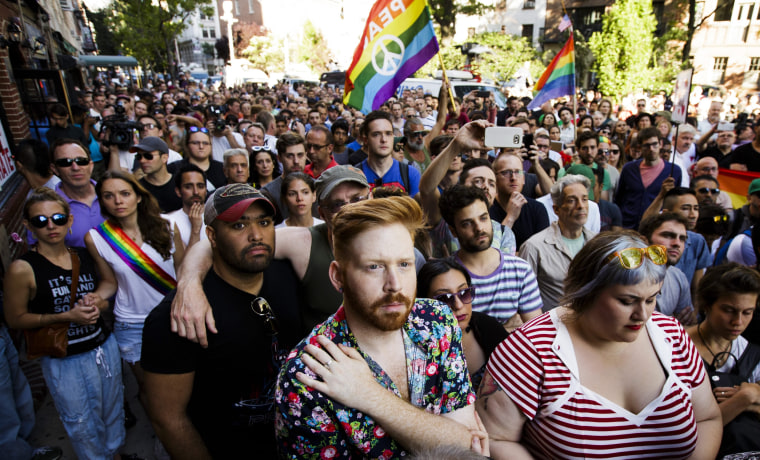 We must march for those who can't. Tomorrow, when the full list of those killed from this tragic act of hate are revealed, take a few minutes to look over those names, find one that speaks to you. Write it on a piece of paper, put it in your pocket and take it to your local LGBT pride celebration.
Mark Segal, former President of the National Gay & Lesbian Press Association and National Gay Newspaper Guild is the nation's most-award-winning commentator in LGBT media. His best selling memoir "And Then I Danced, Traveling The Road To LGBT Equality," is available on Amazon.com, Barnes & Noble or your favorite bookseller.