In 2010, Congress repealed "don't ask, don't tell," the pernicious Department of Defense directive that said that homosexuals who want to serve in the military have to keep mum. In 2013, the Supreme Court threw out the part of the Defense of Marriage Act (DOMA) that said that even if a state recognized a same-sex marriage, the federal government wouldn't. In 2015, the Supreme Court declared the rest of DOMA unconstitutional; gays and lesbians in every state of the union can now marry whomever they love. Even many LGBT people are stunned by how quickly America seems to have stopped seeing us as pariahs and started seeing us as practically first-class citizens. But the groundwork for this "overnight" transformation started generations ago, in the mid-20th century, when "gays" (as LGBT people were all called in the homosexual underground) began demanding better treatment from America.
In 1948, a gay leftist, Harry Hay, was inspired to start an organization to fight for homosexual rights after he read Alfred Kinsey's new book, "Sexual Behavior in the Human Male." It said that 37 percent of American men had had at least one adult homosexual experience. Hay assumed that gathering a few of them together to begin the battle shouldn't be so hard. But he could get no one to join him.
Then in 1950, soon after America entered the Korean War, he had a brainstorm. With a fistful of Communist Party-sponsored petitions demanding that the troops be brought home, he went to a gay beach in Los Angeles, where he had no problem getting 500 signatures. After each person signed the petition, Hay would ask, "Would you also be interested in joining a group to talk about Kinsey's findings on sexual deviancy?" Not a single one said yes. Evidently they thought it less risky to sign a petition sponsored by the Communist Party than to sign up for a group that would discuss homosexuality.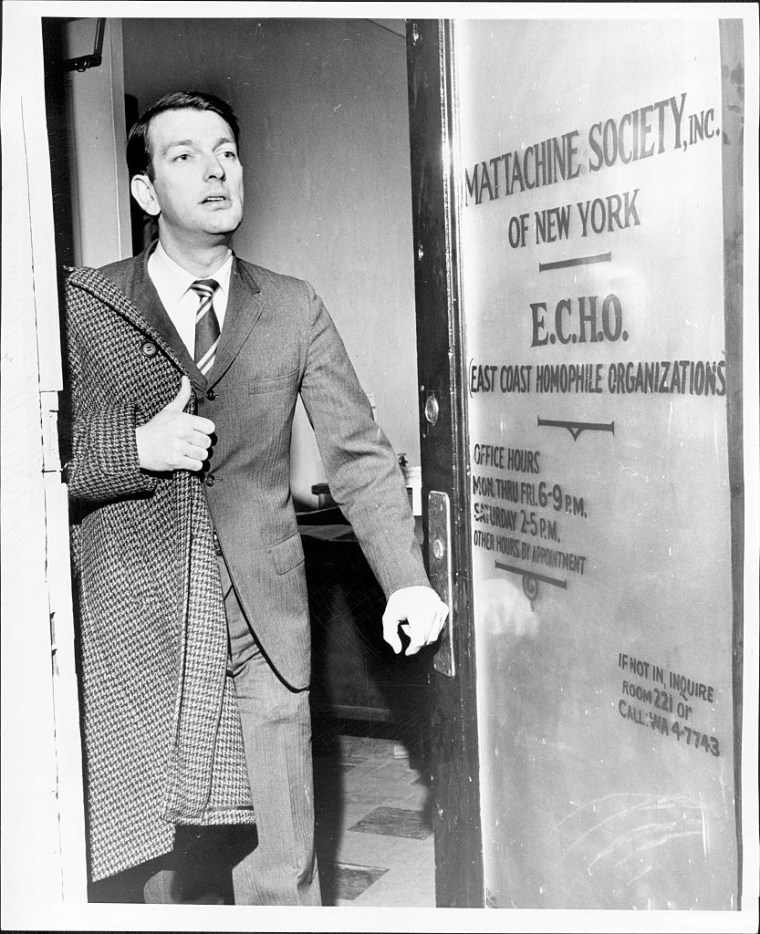 Finally, Hay was able to gather a half-dozen people with whom he formed the Mattachine Society. Membership was stagnant until something happened that had probably never happened before. Dale Jennings, a founding member, was accused of making sexual advances to an undercover vice squad officer, and he was arrested. That part wasn't unusual in mid-century America. What was unusual was that Hay and the Mattachines raised money among gays for Jennings' defense and had him demand a jury trial—at which Jennings told the jury that yes, he was a homosexual; but no, he did not make advances to the undercover officer.
In the past, gays who'd been arrested generally hung their head in court, pleaded no contest, paid a fine and slinked off. When Jennings was exonerated despite his admission that he was a homosexual, word spread: It was possible to tell a jury, "Just because I'm a homosexual doesn't mean that I'm guilty," and to get off scot-free. Mattachine chapters proliferated.
In 1953, out of a meeting of the Los Angeles Mattachine, a group of men and women got together to publish a "homophile" magazine, ONE. As soon as the Los Angeles Postmaster heard that ONE was being mailed to subscribers, he began looking for reasons to confiscate it. A 1954 issue included a short story called "Sappho Remembered" in which a woman spurns her male fiancé and goes off with another woman (the most graphic line has one woman touching "the delicate pulse-beat beneath the light golden hair" on the other's temple). "Sappho Remembered" and a few other innocuous pieces in that issue were enough for the postmaster, as well as the judges of a U.S. District Court and the Ninth Federal District Court of Appeals to agree that ONE was obscene. ONE's lawyer appealed to the U.S. Supreme Court, which had never before considered a case dealing with homosexuality. In 1958, the high court voted to reverse the lower courts' decision. Homosexuals, like other American citizens, were actually protected by the First Amendment.
An even more remarkable pre-Stonewall victory was the one that halted the dismissal of gay federal employees. In the midst of McCarthy-era hysteria, all known homosexuals who worked for the government were fired on the flimsy excuse that they were security threats: The USSR could blackmail them into giving away state secrets. In 1957, Frank Kameny, a brilliant Harvard Ph.D. in astronomy, was terminated from his civilian job with the Army Map Service after a security check revealed he'd once been arrested for "lewd behavior." But Kameny refused to go quietly.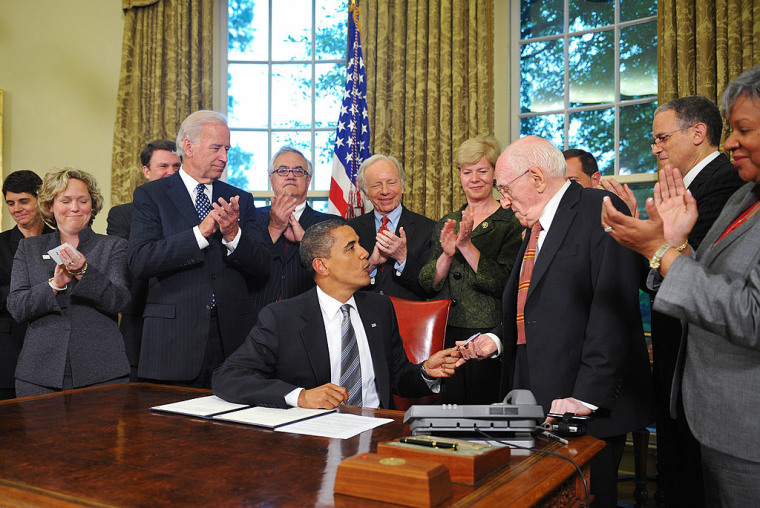 He appealed to the Civil Service Commission, which had the power to approve all federal hiring and firing. When he got no response, he appealed to Congress, to the Supreme Court, even to the President of the United States. He argued that his homosexuality was irrelevant to his job performance. When no one would listen, he started a Mattachine group in Washington, D.C., and he took the fight for gay civil rights further than it had ever been before.
In 1965, Kameny organized a series of pickets in front of the White House, the Pentagon, the State Department, the Civil Service Commission, even Independence Hall in Philadelphia. In an era when homosexuals were hiding in dark closets, Mattachine men and women outed themselves by marching in daylight with signs that proclaimed, "Sexual Preference Is Irrelevant to Federal Employment!" and "Equal Opportunity for ALL—ALL Means ALL!" and "First Class Citizenship for Homosexuals!"
Kameny also encouraged other gays who'd been discharged from government jobs to take their cases to court, and he helped write their petitions. His successes were astounding. By 1969, the D.C. Appeals Court was ordering that if there was no "nexus" between job performance and private conduct, homosexuals must not be fired from government jobs. The Chief Judge of the court, David Bazelon, even scolded, "Who is the Civil Service Commission to make Olympian pronouncements about morality and immorality?"
The landmark victories of Mattachine, ONE and Frank Kameny obviously didn't end most of the discrimination against LGBT people. But they were important opening salvos in the struggle to make us first-class American citizens.
Lillian Faderman is an internationally known scholar of LGBT history and literature. Her most recent book is titled "The Gay Revolution: The Story of the Struggle."