In any other election, the idea of an openly gay, avowed libertarian member of Silicon Valley's elite addressing the Republican National Convention on the same night as the nominee would seem, well, unconventional, to say the least. At this point, however, it's well understood that most things about this election — and the speaker in question, Peter Thiel — are just that.
Thiel, a co-founder of PayPal, made history Thursday night when he became the first person to publicly announce to the GOP convention that he is gay.
"Every American has a unique identity," said Thiel. "I am proud to be gay. I am proud to be a Republican. But most of all, I am proud to be an American."
The remarks were greeted with applause — a somewhat shocking turn of events considering the fact that the party had just approved one of the most anti-LGBT platforms imaginable, complete with opposition to marriage equality and bathroom choice for transgender people, as well as an endorsement of the medically discredited practice of "conversion therapy." Indiana Gov. Mike Pence, Trump's pick for vice president, is also a controversial figure within LGBT advocacy circles; last year, he signed a so-called "religious freedom" bill that was widely perceived to be a veiled attempt at enshrining anti-LGBT discrimination into law.
But Thiel seems utterly unconcerned with legislation like that. Nor does he seem to care about newer measures, like North Carolina's House Bill 2, that are specifically designed to keep transgender people out of the bathrooms that correspond with their gender identities.
"When I was a kid, the great debate was about how to defeat the Soviet Union. And we won," he said Thursday. "Now we are told that the great debate is about who gets to use which bathroom. This is a distraction from our real problems. Who cares?"
Thiel sent shock waves throughout the mostly Democratic Silicon Valley when news broke earlier this year that he would run to be a delegate for Donald Trump in California. The 48-year-old has called technological progress "the single most important issue" to him and the key to solving all the world's problems. Trump, by contrast, has said he would "close up" parts of the internet in response to terrorism, and proposed boycotting the nation's top tech company, Apple, until it agreed to help the FBI break into the iPhone of one of the San Bernardino shooters.
Related: 11 Out Republicans You Should Know
Most people don't fully understand what Thiel sees in Trump; he did not respond to NBC News' request for comment, and his words of support at the convention were somewhat vague. Thiel talked about the need to fix the country's "broken economy," end "stupid wars," and "rebuild America" with a non-politician like Trump.
But if there's any overarching commonality to draw between Trump and Thiel, it's that rarely do the two men say or do what's expected.
To be sure, there are other similarities as well, which taken together may explain Thiel's support for Trump. Both are, after all, hugely successful businessmen.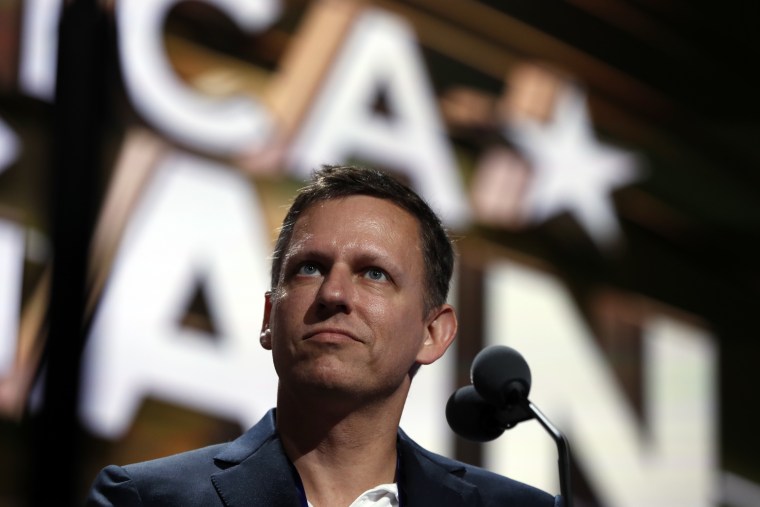 After putting his Stanford undergrad and law degrees to use by clerking on the 11th Circuit Court of Appeals and trading derivatives for Credit-Suisse in the 1990s, Thiel developed the online payments company PayPal, which eBay bought in 2002 for $1.5 billion. PayPal's founders and members, known as the "PayPal Mafia," went on to create some of the country's leading tech giants — including LinkedIn, SpaceX, Tesla, Yelp and YouTube.
Thiel also went on to do great things himself. In 2004, he made one of the earliest investments in Facebook -- a $500,000 gamble that turned into close to $500 million. The same year, Thiel co-founded Palantir Technologies, which creates data-mining software that helps government agencies track down terrorists and other criminals. He also founded three successful venture capital firms — Founders Fund, Mithril and Valar — the latter two named after fantasy objects and beings found in the writings of J. R. R. Tolkien, one of Thiel's favorite authors.
Related: Caitlyn Jenner Opens Up About Why She's a Republican
His hedge fund, Clarium Capital Management, initially saw huge success too, thanks in large part to Thiel's contrarian nature. As George Packer summed up in an illuminating profile of Thiel for The New Yorker, Clarium "bought Japanese government bonds when others were selling, concluded that oil supplies were running out and went long on energy, and saw a bubble growing in the U.S. housing market" prior to the 2008 crash. That contrarianism backfired in the wake of the financial crisis, however, and the company lost the faith of its largest investors.
Outside of his mostly successful business ventures, Thiel is perhaps best known for putting his money behind a host of social efforts that often reflect his political beliefs. Skeptical of democratic institutions — Thiel once argued that he no longer believed freedom and democracy were compatible — the billionaire alarmed some First Amendment scholars earlier this year when it was revealed that he had secretly bankrolled Hulk Hogan's legal fight against Gawker Media after the site published a sex tape of the wrestler. Thiel presumably had his own score to settle; in 2007 Gawker's Valleywag blog published a piece titled, "Peter Thiel is totally gay, people" before he was publicly out. A Florida jury recently awarded Hulk Hogan, whose real name is Terry Bollea, $140 million. And last month, Gawker Media filed for Chapter 11 bankruptcy.
Related: Tech Billionaire Peter Thiel Revealed as Backer in Hogan's Gawker Suit
Thiel is also vehemently opposed to any kind of government regulation, becoming an early backer of the Seasteading Institute, a libertarian nonprofit group that aims to create floating city-states which operate beyond the reach of governmental laws. He believes higher education is a bubble, and has given $100,000 grants to students so that they can drop out of college and start companies instead. Another passion project for Thiel: finding a way to live forever. He is the biggest investor in Halcyon Molecular, a company committed to discovering a cure for aging.
Like Trump, Thiel has found himself in hot water for his remarks on women, views that — again, like Trump — have earned him many fans in the "alt-right" universe. In a 2009 essay for Cato Unbound, Thiel said he longed for the days before women could vote — or as he put it, the last time "in American history during which one could be genuinely optimistic about politics."
"Since 1920, the vast increase in welfare beneficiaries and the extension of the franchise to women — two constituencies that are notoriously tough for libertarians — have rendered the notion of 'capitalist democracy' into an oxymoron," Thiel wrote. "In our time, the great task for libertarians is to find an escape from politics in all its forms — from the totalitarian and fundamentalist catastrophes to the unthinking demos that guides so-called 'social democracy.'"
Perhaps, more than any policy position, it is the Trump campaign's not-so-subtle promise to blow up the entire political system as we know it that most appeals to Thiel's disrupt-and-create philosophy.
But ahead of the convention, Gregory Ferenstein, author of "The Age Of Optimists," a book on Silicon Valley's politics, predicted Thiel wouldn't go there during the convention.
Related: Peter Thiel vs. Gawker: Case Highlights World of 'Litigation Funding'
"I think Thiel will talk about the value of being open minded and chastise coastal elites for having a narrowly liberal culture," Ferenstein said in an email Wednesday. "He'll probably also talk about some super libertarian monetary policy and the evils of regulation."
Gregory Angelo, president of the pro-LGBT Log Cabin Republicans, hoped Thiel would also acknowledge the historic nature of his presence as a gay man. Only two other openly gay people have addressed the GOP convention before, and the last time it happened 16 years ago, delegates from Texas silently protested by bowing their heads in prayer.
"The theme [on Thursday] is 'Make America One Again.' I don't think it's an accident that they're having an openly gay conservative addressing the convention on a night that is espousing that theme," Angelo said Wednesday. "I hope that at least at some point in his remarks, if he is talking about all the different groups that Trump is trying to unite, he makes some explicit reference to the LGBT community. That alone wouldn't just be something our members would appreciate around the country, but also an historic first."