Over the past four weeks, it has been virtually impossible to avoid the fact that another Easter holiday is upon us. Whether it be the bunny decorations in the center aisle of every store or the Peeps and Cadbury ads, big business is in full effect and nearly impossible to avoid. However, for Christians, there is a much more important part to Easter -- the death of Jesus Christ for our sins and his resurrection. But for LGBTQ Christians, especially for many in the black church, the Easter holiday is also a reminder of why so many lesbian, gay, bisexual, transgender and queer Christians have left the church or have struggled to stay.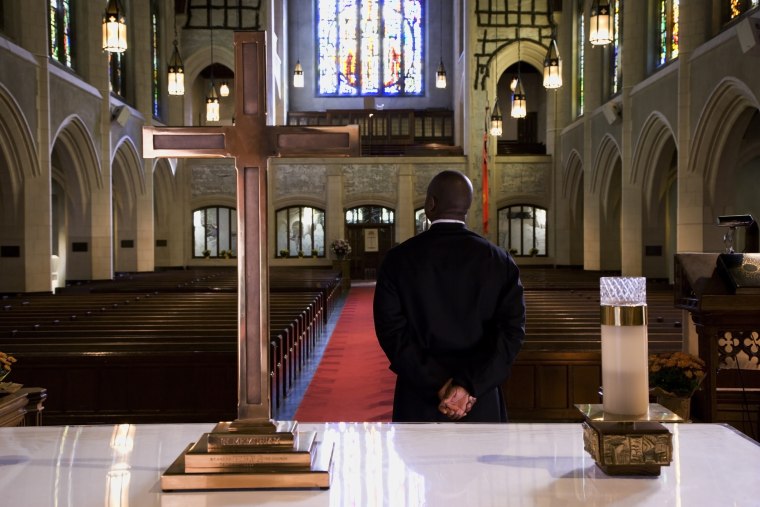 In an article titled "Gays in the Village", journalist Keith Boykin wrote about the paradox of the black church being both the most "homophobic" and "homo-tolerant" place in the black community. In this piece, he discussed how the black church operates under a "don't ask, don't tell" policy when it comes to homosexuality. The pastor may deliver a "hell and damnation" sermon on homosexuality from the pulpit, while the church's pews are filled with a number of LGBTQ parishioners. "Many of our black churches would stop running if the gay, lesbian and bisexual members dropped out," Boykin wrote.
This picture may explain why lesbian, gay and bisexual (LGB) Americans differ from the general public in their religious affiliations. According to a 2014 Pew Research Center study, only 59 percent of the LGB population said they were religiously affiliated, compared to 78 percent of the general population. And that number then decreased to 48 percent of the LGB population saying they identify Christian, compared to 72 percent of the general populations. In a separate Pew Research Center study from 2013, the vast majority of LGBTQ people said they regard major faith groups as "unfriendly" to their community.
While a number of the major of the major faith groups may be perceived as "unfriendly" to the LGBTQ community, there are denominations that take a more accepting approach. The Unitarian Church, for example, has long taken pride in being accepting of all parishioners. They were the first church to have an openly gay minister, James Stoll, who come out as gay in 1969, and by 1988, they accepted their first transgender clergy member. Since 1989, they have publicly stood as a "welcoming congregation" for those of all sexual and gender identities.
This year marks the 15th year that I will not be participating in an Easter Sunday service. Growing up as a member of the African American Episcopal (A.M.E.) Church and then converting over to Baptist, I often dealt with much of the "unfriendly" atmosphere that came with being openly queer and a member of the black church. I've been a part of the "don't ask, don't Tell" section of the black church, living in silence and secrecy with many of the other members of the church. Easter always remained the most important day for church in my family and most black families as it serves as the one day a year that ALL family was required to go. Although I miss the fellowship of church, I don't at the expense of not being allowed to show up as I am.
I've watched the timelines of my social media, flooded with posts of those attending sunrise service, with hopes and prayers of gratefulness for all that the Lord has provided for us. As I went to breakfast, I watched droves of church folk in there Sunday's Best, full of life, thankfulness and pastels. All of this serving as a reminder of a life that once was me, prior to my awakening and embodiment of my identity, which so often comes into conflict with the church and the never ending fight over my soul. For me, Easter will probably never be what it once was. However, I take solace in knowing that with or without the black church, my soul is at peace with the queer person I have always been, and the church will remain for those who need it.
George M. Johnson is a black queer journalist and activist. He has written for Ebony, TheGrio, JET, Teen Vogue, Huffington Post, Black Youth Project and VSB. Follow him on Twitter @iamgmjohnson.