Today, only eight Supreme Court justices returned from the court's summer recess. With the Senate leadership's continued blockade of Merrick Garland's nomination, there's a good chance the ninth justice will be nominated by either President Hillary Clinton or President Donald Trump. And if you're not filled with terror at the thought of a Trump appointee, read on.
Twice now, Trump has released lists of potential justices. Before we get to Trump's Supreme Court hopefuls, let's take a moment to look at his inspiration. He's called Justice Clarence Thomas his favorite member of the court, saying he's "very strong and consistent." He said Justice Antonin Scalia was "one of the best of all time"and had a "legacy of protecting Americans' most cherished freedom." He's even called Chief Justice John Roberts "disgraceful" and a "disappointment" to conservatives.
There's also who he asked for help in curating his selections. For that important job, he turned to the Heritage Foundation -- a conservative think tank committed to "traditional American values." When the Supreme Court delivered marriage equality nationwide in Obergefell v. Hodges, Heritage called it "unadulterated judicial activism." The organization's vile thoughts on persecuting transgender students are stomach-churning.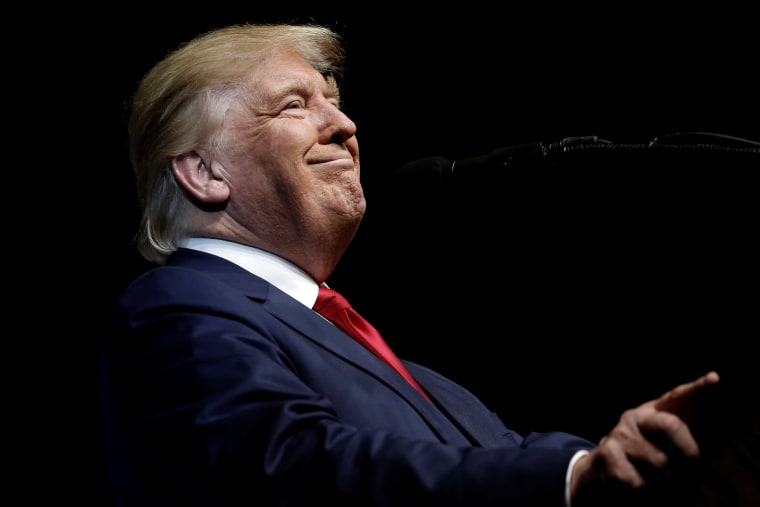 Then there are Trump's potential nominees themselves. His selections include Judge Diane Sykes, who ruled in favor of allowing discrimination against students engaged in "homosexual conduct." He's also named Judge Timothy Tymkovich, who defended Colorado's Amendment 2 -- a law that prohibited basic legal protections for gays, lesbians, and bisexuals, and was struck down by the U.S. Supreme Court in Romer v. Evans. In defending the anti-gay law before the Court, he called non-discrimination laws "special protection." He also compared same-sex attraction to "cockfighting" and "bestiality." Finally, Trump named Judge Edward Mansfield, who in 2012 ruled that an employer had the right to fire a female employee because he was too attracted to her, claiming it was a risk to the employer's marriage.
There are many cases working their way through the federal courts right now that could have serious repercussions for LGBTQ equality. Among these are cases that challenge whether gender identity and sexual orientation can be considered forms of sex discrimination, the application of the Religious Freedom Restoration Act to non-discrimination laws, and the ability of states to strip away municipal LGBT non-discrimination laws. One case that could soon be heard by the Supreme Court is that of Gavin Grimm, a transgender student who filed a lawsuit against Virginia's Gloucester County School District for refusing to allow him to use the restroom consistent with his gender identity. While the Supreme Court is not required to hear any particular case, it is only a matter of time before these issues are considered by the court.
RELATED: Supreme Court Begins New Term Marked by Uncertainty
Trump has pledged to appoint justices who will overturn marriage equality. He's offered a full-throated endorsement of HB2, saying he would "leave it up to the states." He's in favor of so-called "First Amendment Defense Act," which would allow individuals, many businesses and nonprofits to bypass federal protections and blatantly discriminate against LGBTQ families. And beyond seeking advice from organizations such as Heritage, Rick Santorum, Tony Perkins and James Dobson are among his campaign advisors.
And let's not forget, LGBTQ people are also Muslims, women, immigrants, refugees and people living with disabilities. Trump's judicial picks have undermined voting rights, women's rights, worker's rights and more with radical fervor. This is a candidate who attacked Judge Gonzalo Curiel because of his ethnicity, saying he was unqualified to oversee the fraud case against Trump University because "he's Mexican." (Judge Curiel is American. His parents came to the United States from Mexico.) This is also a man who settled a federal lawsuit in 1973 for racial discrimination in housing.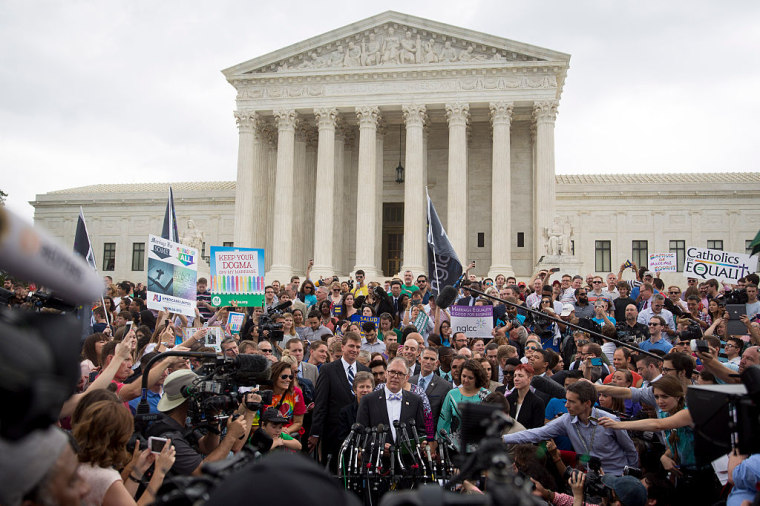 Trump is not unfamiliar with the courts, and the Supreme Court he could create would have dire consequences for LGBTQ equality. The Supreme Court has a sacred responsibility to uphold the rights of all Americans, and throughout our history the court has been instrumental in affirming the Constitutional rights of LGBTQ people. We saw this last year in the Obergefell decision, which was decided by a 5 to 4 vote and brought marriage equality to all 50 states. And we've seen it before.
Over the past 25 years, the LGBTQ community has benefited from the court's groundbreaking affirmation of constitutional protections due to LGBTQ people, including in Romer v. Evans, Lawrence v. Texas, U.S. v. Windsor and Obergefell. Notably, each of these rulings was decided by a razor-thin margin of just one vote. Your one vote for president on November 8 could decide who holds that one vote on the U.S. Supreme Court.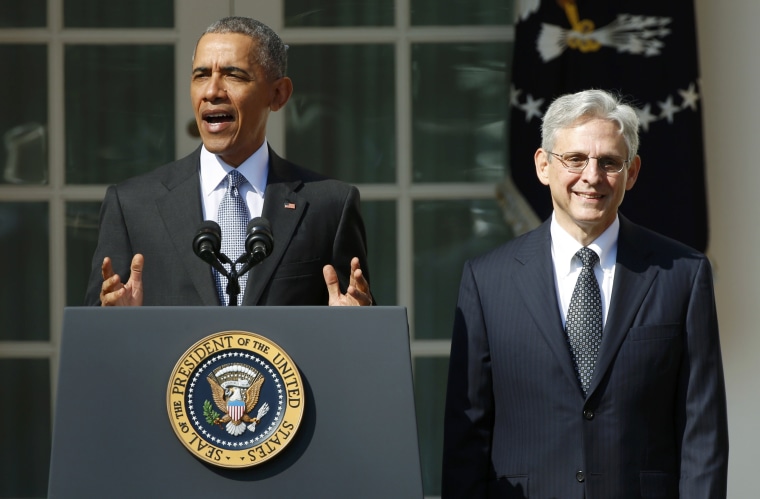 The Senate has an obligation to provide an up or down vote on his nominee, Judge Merrick Garland. And President Obama has left his mark on the nation's highest court, with the appointment of Justices Kagan and Sotomayor. The next president will have just as big an impact on the court -- and for LGBTQ equality.
This LGBT History Month, as we draw closer to Election Day, we must remember the central role the Supreme Court has played in advancing equality. And we must use that knowledge to work harder and dig deeper to elect Hillary Clinton as our next pro-equality champion in the White House. The stakes truly couldn't be higher.
Chad Griffin is the president of the Human Rights Campaign, the nation's largest lesbian, gay, bisexual, transgender and queer (LGBTQ) civil rights organization.