On Wednesday, I watched from the visitor's gallery in North Carolina's legislative building as the state's now famously extreme lawmakers came together for the fifth costly special session of the year. They spent the entire day, on and off the House and Senate floors, plotting about what should have been a simple task: the repeal of HB2.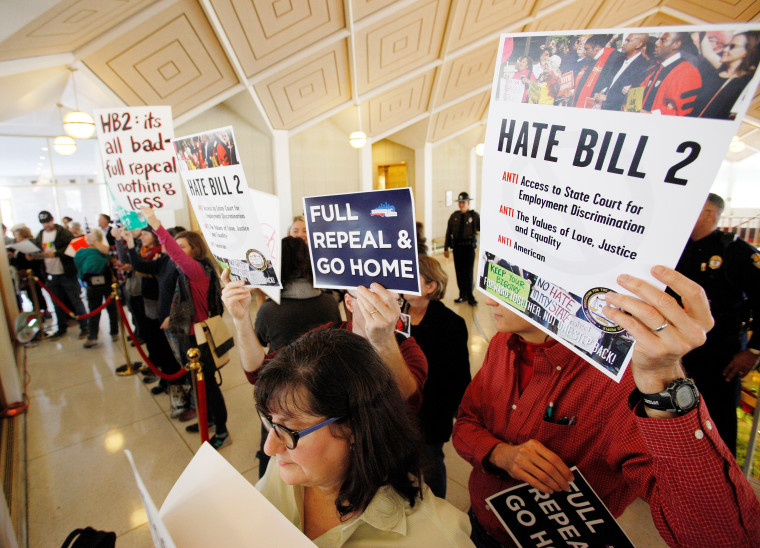 HB2 is the discriminatory and harmful law that has been terrorizing transgender North Carolinians and hurting the state's economy since March. As well as requiring that all transgender people in North Carolina use only restrooms that correspond with the gender marker on their birth certificates, HB2 also strips cities of the right to pass nondiscrimination ordinances and set their own minimum wages.
Passed with almost no discussion in a similar one-day special session in March and signed by Gov. Pat McCrory with little thought, HB2 has been in place for less than a year. In that short time, though, it has caused a disproportionate amount of devastation. Transgender North Carolinians, particularly children, have suffered under the heel of a law that stigmatizes them for who they are. The state's reputation has been internationally tarnished, and its economy has been gravely wounded after businesses, sports tournaments, and conferences took their money elsewhere.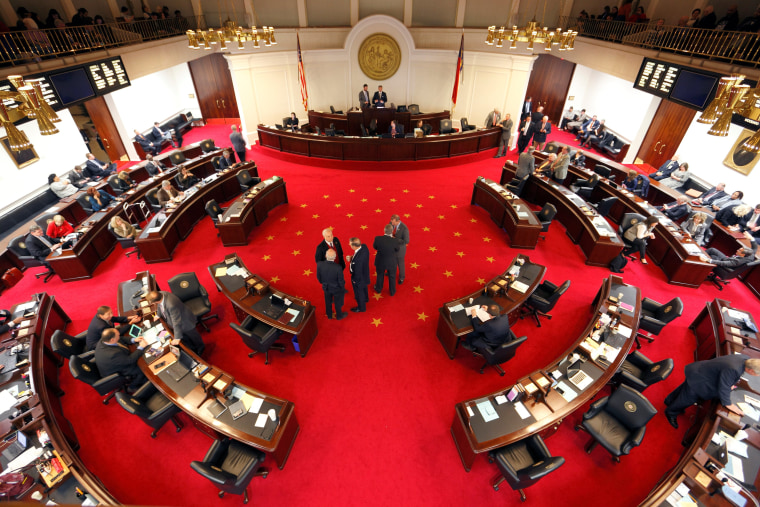 Although the people of North Carolina thoroughly repudiated Gov. McCrory's brand of extremist politics when they voted him out in November, some lawmakers clearly have not gotten the message. This week, legislative leaders made a deal where their end of the bargain was simply to repeal HB2—an outcome that people all over North Carolina and the nation would have celebrated. They had one job during this special session.
Instead, the legislature failed North Carolina again. Just last week, it passed a shocking and completely undemocratic law to wrest a number of powers from Governor-elect Roy Cooper. And less than a week after they faced that international opprobrium, legislative leaders broke their HB2 promise and introduced a fake "repeal" bill that would have stripped North Carolina cities from passing their own nondiscrimination laws. When that failed, they came back with a modified version of the "repeal" bill that would have made it even worse.
RELATED: 'National Disgrace': LGBTQ Community Reacts to HB2 Repeal Failure
At the end of the day, the lawmakers adjourned without achieving anything except further embarrassment for their state. They failed at full repeal and failed at their halfway measure. As things stand now, all North Carolinians continue to suffer under this damaging, unjust law.
The National Center for Transgender Equality continues to stand with the people of North Carolina—in particular, transgender people. Our U.S. Transgender Survey showed that nearly half of transgender people nationwide were verbally harassed in the last year just for being transgender, and 12 percent were verbally harassed or even physically attacked while using a public restroom—all prior to HB2 being enacted. Being stigmatized by HB2 is making things even worse for transgender people in North Carolina.
It's obvious to so many that the North Carolina legislature needs to repeal HB2 immediately. But after all we've seen, who could have any faith in these lawmakers to do the right thing?
(Mara Keisling is the Executive Director of the National Center for Transgender Equality.)