An Oregon judge who, among several other offenses, refused to marry same-sex couples has been suspended for three years without pay by the Oregon Supreme Court.
The state's high court on Thursday upheld a decision by the Oregon Commission on Judicial Fitness and Disability that found Marion County Circuit Judge Vance Day had engaged in several counts of misconduct while on the bench. One of those counts related to his refusal to solemnize the marriages of same-sex couples.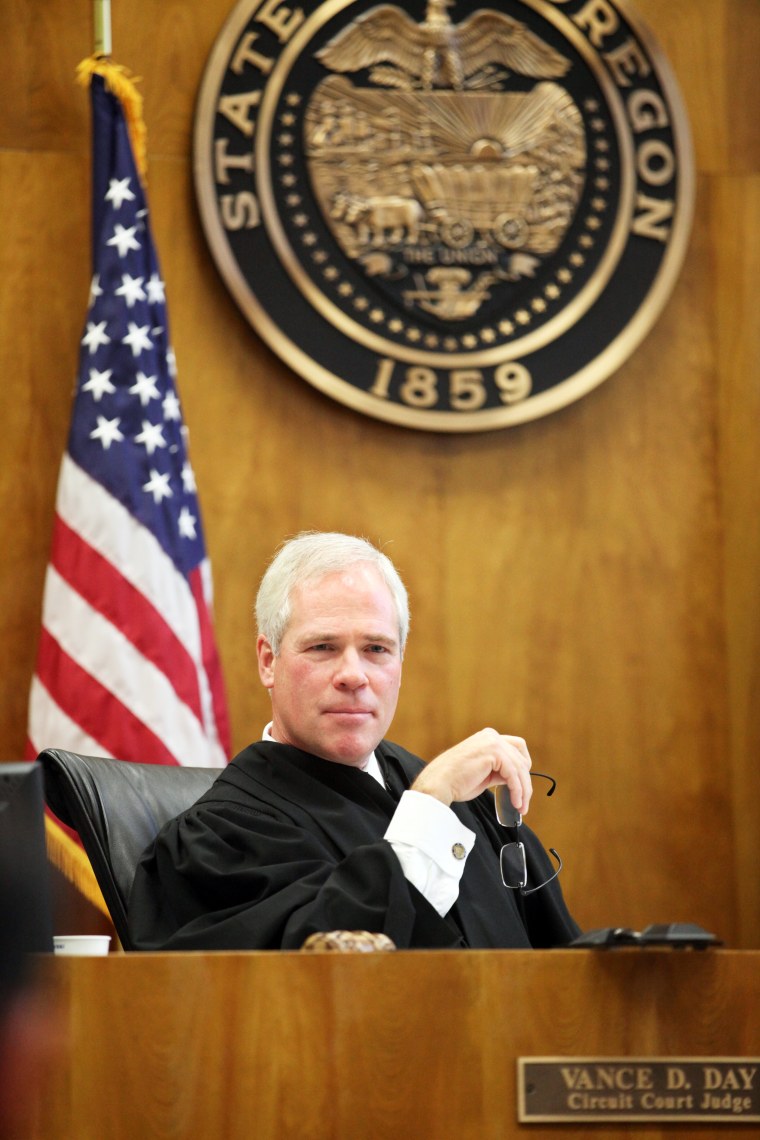 "We conclude that a lengthy suspension is required, to preserve public confidence in the integrity and impartial­ity of the judiciary," the ruling stated, noting that two aspects of his misconduct — providing false statements to the court and his handling of gun-related incidents — were sufficiently serious as to merit "one of the most significant sanctions that this court has imposed in a judicial fitness proceeding."
In his capacity as judge, Day instructed his staff to screen couples seeking to marry, according to court documents, and if they were of the same sex, his staff members were to report that Day was unavailable. Day's staff, the ruling states, knew he "thought that marriage should be permitted between only opposite-sex couples, based on his own sincere and firmly held religious beliefs."
The Oregon Supreme Court found that with these actions, Day "willfully manifested to his staff a bias against same-sex couples that undermined public trust in a fair and impartial judiciary."
Ethan Rice, an attorney with national LGBTQ civil rights organization Lambda Legal, which submitted a friend-of-the-court brief in the case, applauded the court's ruling.
"A judge is a public official, not a priest, and is required to perform the duties of the office without bias or prejudice," Rice said in a statement. "Judicial ethics rules that include anti-discrimination provisions on the basis of sexual orientation and gender identity are critical to ensuring fairness in the courts, and to maintaining public confidence in the impartiality of courts. The Oregon Supreme Court reasserted the importance of enforcement of these rules in its decision."
The Oregon Supreme Court agreed with the Oregon Commission on Judicial Fitness and Disability in finding that Day had manifested prejudice against same-sex couples, but it did not rule on the constitutionality of Day's defense of his actions.
Jenny C. Pizer, the director of law and policy at Lambda Legal, said it is not unusual for courts to avoid ruling on questions of constitutionality when a ruling can be determined on other grounds.
"There is a standard … maxim of deciding cases that prefers avoiding constitutional questions if there are other grounds for a decision," Pizer explained. "He had engaged in a series of other inappropriate behaviors, so we don't have rulings on the constitutional justifications that he had offered for his behavior" relating to same-sex couples.
RESISTANCE TO OBERGEFELL V. HODGES
Since the 2015 Obergefell v. Hodges Supreme Court ruling, which legalized same-sex marriage, there have been several examples across the U.S. of judges and other government employees pushing back against the landmark decision.
In Kentucky, Rowan County Clerk Kim Davis made national headlines when she refused to issue marriage licenses to gay couple — even after spending five days in jail for failing to follow court orders.
The failed Senate hopeful Roy Moore, in his capacity as chief justice of the Alabama Supreme Court, issued an order directing probate judges not to issue marriage licenses to same-sex couples. As a result, he was removed from the bench for a second time.
Texas Attorney General Ken Paxton, one day after the Obergefell decision, put out a statement saying county clerks could deny marriage licenses to same-sex couples on religious grounds — he faced an ethics probe as a result. There is currently, however, a bill in the Texas legislature that would allow county clerks and judges to recuse themselves from issuing same-sex marriage licenses on religious grounds.
Pizer said these cases "reflect the process of society as a whole recognizing what it means to treat same-sex couples equally." However, she stressed, you can't have "separate rules."
"It needs to be clear … that the courthouse doors are open to everyone," Pizer said. "If that's not true, how can any of us have confidence in the judicial system and our government?"
Aside from judges, court clerks and other government officials, Pizer said there are some "focused efforts" coming from national groups opposed to same-sex marriage. She specifically cited the Alliance Defending Freedom, a Christian legal organization that is linked to several efforts to stymie LGBTQ rights. Most notably, perhaps, is the group's representation of a Colorado baker who refused to make a wedding cake for a same-sex couple. The case, Masterpiece Cakeshop v. Colorado Civil Rights Commission, is now pending a decision by the U.S. Supreme Court.