Jacob Nelson, 14, planned to spend his weekend practicing bass for his jazz band. Instead, he awoke Saturday morning to a disturbing surprise at his home in Salem, Oregon.
Michelle Nelson, Jacob's mother, walked outside to find homophobic graffiti tagged on the family's car, driveway and house.
"I was just flabbergasted and in shock," Michelle Nelson said. "I was just not sure what to think."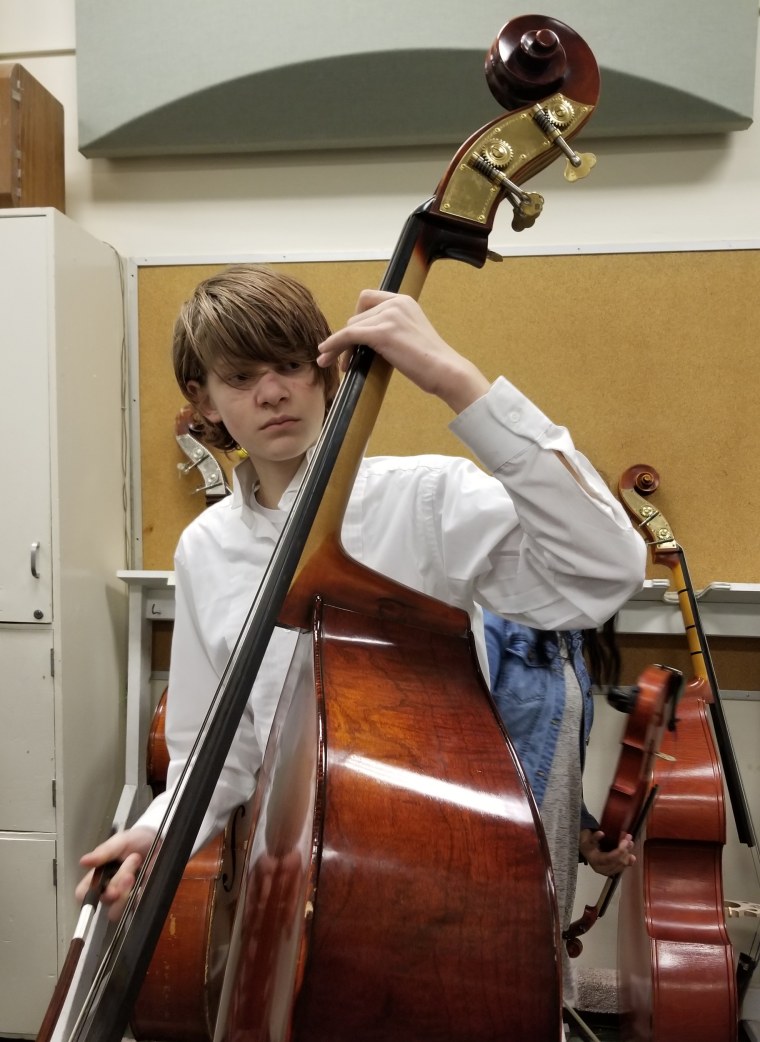 Jacob said he was confused as to why someone would do this. While he said the vandalism — which included his name and the slur "fag" being spray painted on his family's house and car — initially made him mad, he decided to turn the situation around and use chalk and spray paint to cope with the incident and display his family's pride.
On the family's driveway, where the letters "LGBT" were spray painted along with an arrow pointing toward the house, he added the letters Q, P and A — which stand for queer, pansexual and asexual — and drew rainbows and inclusive flags around the letters.
"It helped me calm down a little bit and have some fun with it," Jacob said.
Jacob said he has struggled with bullying at school ever since he confided in a classmate two years ago that he is bisexual.
"It just made it hard for him," his mother said. "He's been bullied ever since."
Michelle Nelson said she noticed a change in her son after his grades started dropping, and that it took him several months to open up about what he was going through.
"They take his stuff. They call him a girl," she explained. "Kids push and shove him around, threaten him physical harm."
She said while some measures have been taken by the school to help, such as having his locker near teachers, he continues to be bullied.
According to the Centers for Disease Control and Prevention's 2017 High School Youth Risk Behavior Survey, about one third of lesbian, gay and bisexual youth have experienced bullying at school.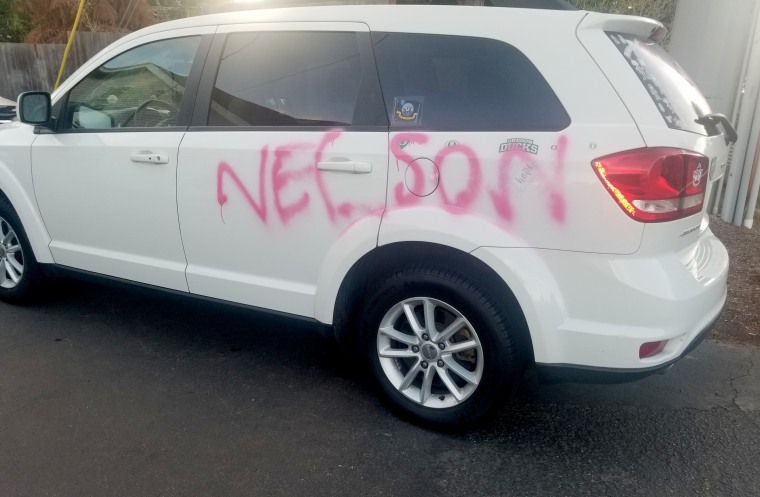 Hoping for answers, Michelle Nelson reached out to her community on Facebook about the hateful graffiti. In return, the family received an outpouring of support, including from two companies that helped remove the graffiti from the family's house and car at no charge.
"The community has really stepped up and shown us that we are still important and people are standing by my son," Michelle Nelson said. "They are letting us know that not everyone believes the same way as these people who vandalized our house."
A spokesperson from the Salem Police Department told NBC News in a statement that the "crime is still under investigation and is being investigated as a bias crime."
"This is wrong, it needs to stop," Michelle Nelson said of the vandalism. "Whoever did this needs to be caught."
Jacob said he hopes his new drawing on his family's driveway will inspire the community.
"I hope people realize they can just be themselves and show who they are instead of hiding," he added.