The holidays can be a difficult time of year for some LGBTQ youth, but fortunately there are a number of organizations across the U.S. -- both local and national -- that are working to provide them with the support and cheer they need this season.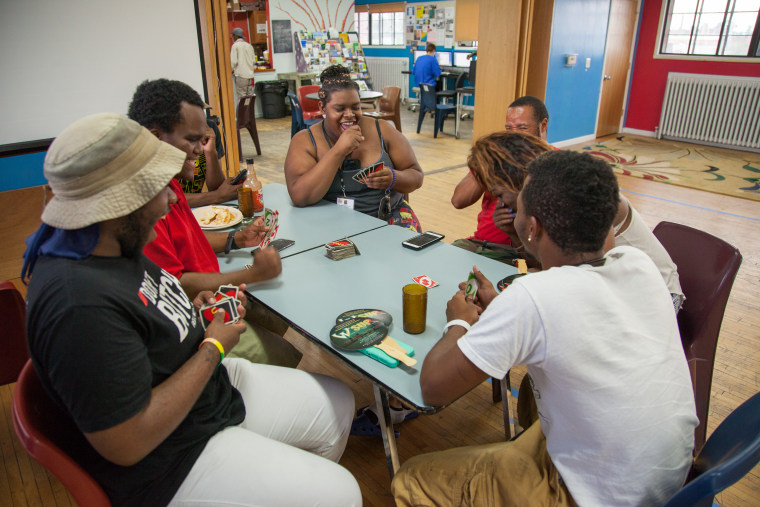 One of these organizations is the Ruth Ellis Center in Detroit, which assists youth and young adults ages 7 to 30. Incorporated in 1999, the social services agency's mission is to provide "safe space and support services for runaway, homeless and at-risk lesbian, gay, bi-attractional, transgender and questioning (LGBTQ) youth."
Jessie Fullenkamp, the organization's youth programs director, acknowledged this time of year is particularly hard for her clients.
"Sometimes there is ambiguity for an LGBTQ young person about where they are with their family and their ability to be themselves. This often results in conflict when youth go home over the holidays," she told NBC Out.
"Some youth might not be out to their family at all, so they have to go back into the closet while they visit with family and/or friends. Other youth are out to their families, but it might not be an option to go home for the holidays because of this," Fullenkamp added.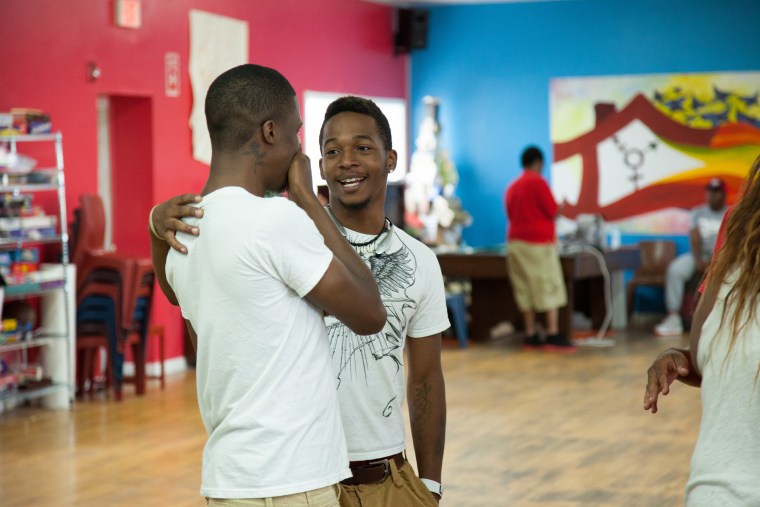 Regardless of what her clients decide to do over the holidays, the Ruth Ellis Center's staff is there to support them, according to Fullenkamp.
"We always respect the decision the individual makes, knowing that it has to be their decision," she said. "If appropriate, we might help a young person do a cost-benefit analysis of going home to facilitate their reflection on the subject. If they do decide to go home, we might review triggers, safe people and a safety plan depending on the situation."
Many LGBTQ youth, Fullenkamp said, have built alternative -- or "chosen" -- families with whom they spend the holidays.
Detroit's Ruth Ellis Center is just one of the many organizations across the U.S. that serves LGBTQ youth in need.
In Atlanta, the community has Lost-N-Found Youth (LNFY), which "assists homeless youth from 13-25 in stabilizing their lives" and has a "specialized expertise on and dedication to the needs of LGBTQ homeless youth." LNFY's services include case managers, a crisis hotline, a street outreach program, a drop-in center and a six-bed transitional housing program, among other services.
LNFY is the only resource of its kind in Georgia, according to Brittany Garner, the nonprofit's deputy director of programs. She, like Fullenkamp, told NBC Out this time of year is particularly difficult for her clients.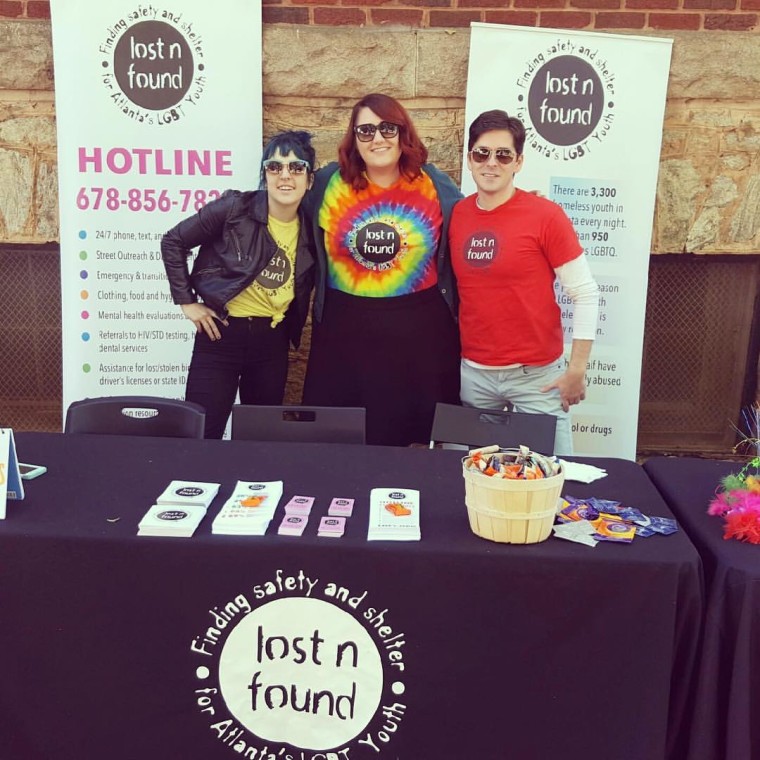 "We see a lot of youth at our organization around this time who are feeling alone and lost," she said. "I believe there are two challenges serving LGBTQ youth during the holidays: one is trust, the second issue is the cold."
"A lot of people offer help during this time, but sometimes they don't stick around after," Garner added. "There is [also] a huge problem with the amount of beds that are available to homeless youth -- it is even less when you are an LGBTQ youth."
PFLAG, a national LGBTQ nonprofit, works to ensure its local chapters are equipped with the necessary supporting materials and resources to assist LGBTQ youth during the holiday season. Elizabeth Kohm, the organization's interim executive director, told NBC Out PFLAG begins to think about its holiday strategy as early as September.
"We all have this romanticized image of the holidays. We all pick our best memories and forget about all of the other stuff -- family fights, etc. When our families fall short, that leaves so many LGBT kids feeling vulnerable," Kohm said.
"We are highly invested in our youth feeling safe," she added. "We put out a lot of materials during the holiday seasons where we know there will be moments of vulnerability for LGBT youth."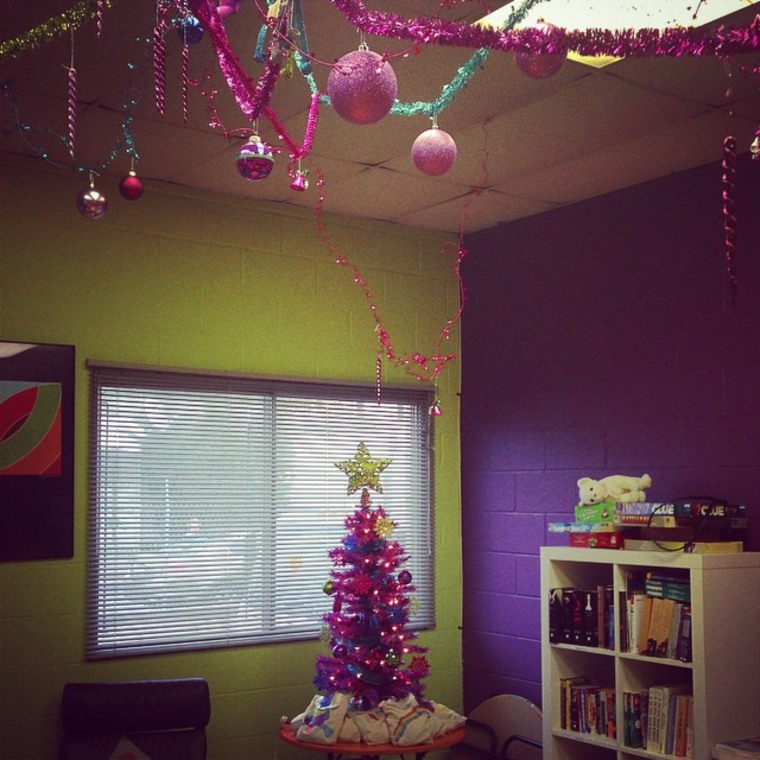 Garner of LNFY stressed that helping LGBTQ youth -- during the holidays and year round -- is a collective effort and pleaded for everyone to do their part.
"If you have LGBTQ youth you are working with, ask them what they need. Ask them what you could be doing better, what would make them more comfortable, what would be the most helpful. Empower their voices. Let them be heard," Garner said. "Give them the tools and the space to advocate for themselves. Just support them and care for them in the way they want to be cared for."
Here are just some of the other resources available for at-risk LGBTQ youth and young adults:
Trevor Project (National)
TrevorSpace (National)
True Colors Fund (National)
New Alternatives (New York)
Ali Forney Center (New York)
Larkin Street Youth Services (San Francisco)
Lifeworks at the LA LGBT Center (Los Angeles)