Hundreds of thousands of people gathered around Lake Eola in Orlando, Florida this weekend for Come Out With Pride. Exactly 5 months after the largest mass shooting in American history, the event gave the LGBTQ community and its allies an opportunity to unite, reflect and honor the 49 lives lost at Pulse Nightclub—a gay bar just down the street.
Come Out With Pride, founded in 2005, is a nonprofit organization made up of an all volunteer board and production team inspired to make an impact in Orlando's LGBTQ community.
"Two decades ago there were politicians that said we don't want any kind of Pride in our city," Jeff Prystajko, Director of Marketing and Communications for Come Out With Pride told NBC OUT. "In 2005, there was a group of people that finally said you know what we need to have Pride in Orlando. Every year since then it has started to grow and grow and grow."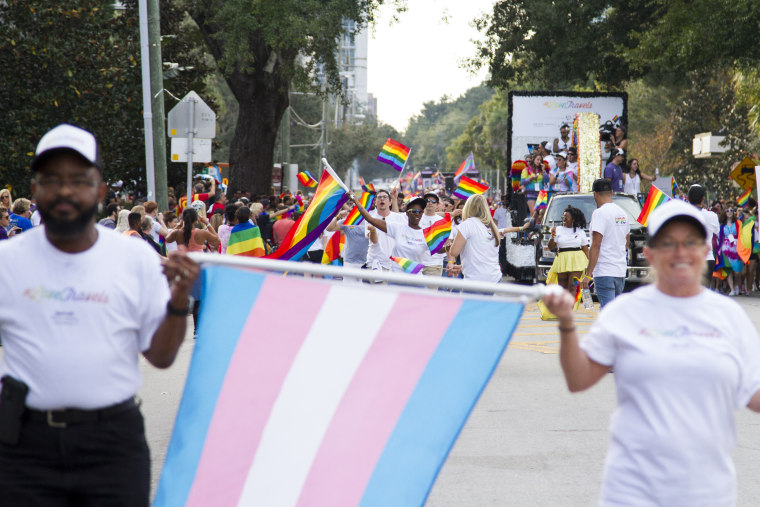 An estimated 150,000 people across all ages, ethnicities and gender and sexual identities packed the rainbow-colored area surrounding Lake Eola on Saturday. But as one might expect, emotions were mixed -- a celebration of the community on one hand and the lingering struggle to make sense of June's tragic shooting on the other.
"The people of Orlando are all coming together once again to support one another," Cat Ridgeway, an Orlando native and University of Central Florida student, told NBC OUT. "We're celebrating what we learned from our loss. We're celebrating our resilience. We're celebrating one another. But most of all, we're coming together and celebrating our love. All love."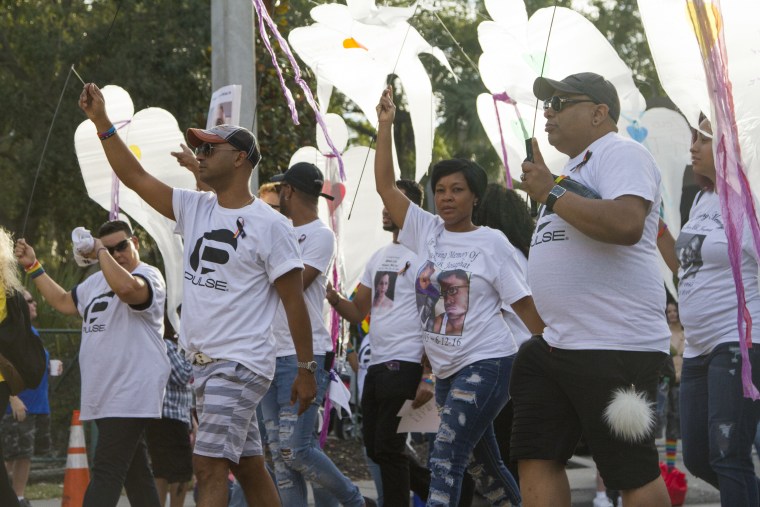 Saturday's Pride parade, which was just part of the city's celebration of the LGBTQ community over the weekend, was led by a float full of Pulse survivors and family members of the 49 deceased victims. Immediately behind this float were 49 people carrying 49 kites that resembled angels.
Following the parade, crowds gathered for a vigil and fireworks. Prior to the fireworks being set off, the names of the Pulse victims were read over a loud speaker as 49 floating lanterns rose up to the sky.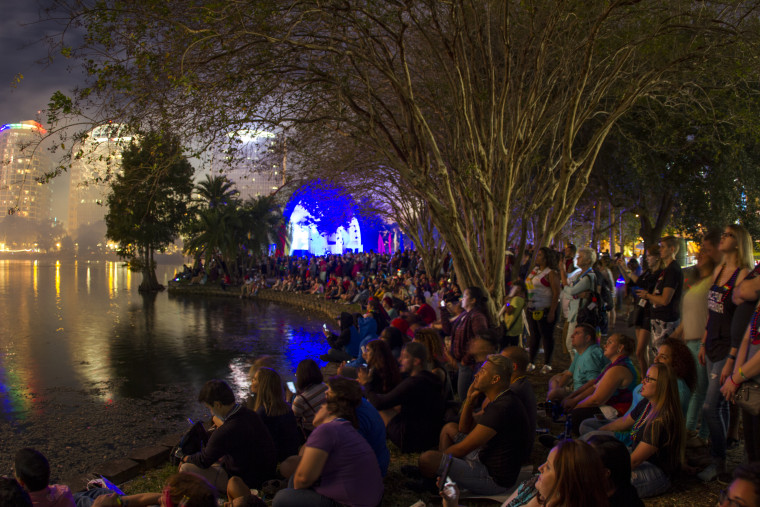 "Pride is more than a week. It's a feeling, an emotion and a sense of empowerment for all who participate," onlooker Kevin Edgecomb told NBC OUT following the day's events. "I'm seeing that feeling personified in the form of transgender youth and the parents who proudly supported them, I'm seeing that in the emotional survivors of the Pulse tragedy and the friends who are uplifting them, and I'm even seeing it within myself."
"Our community is keeping its unspoken promise to lend support during a time of need, and I'm inspired to see how our community continues to strengthen in the months to come," he added.