SINGAPORE — A tragedy half a world away has created an unlikely opening for a repressed community in Singapore.
The mass shooting at a gay club in Orlando, Florida, has galvanized LGBT people in Singapore, where a candlelight vigil was held Tuesday to express solidarity with the victims. In the process, they highlighted the predicament of their own largely underground community.
Although there is little fear of gun violence in Singapore, "we must remember that violence takes many forms, not only physical," said Lynette Chua, an assistant professor of law at the National University of Singapore. The gay, lesbian and transgender community is "still unprotected by the law from discrimination on the basis of their sexuality or gender identity," she said.
In Singapore, sex between men is banned by a law, a holdover from British colonial days. Over the years, however, the small Southeast Asian city-state has loosened up and homosexuality is now quietly tolerated. Singapore's leaders have even said the anti-gay law, known as Section 377A, will not be enforced. But discrimination remains rife, although it is subtle and often masked under the need to protect a pro-family Asian culture.
RELATED: Ukrainians March for LGBT Equality in Peace
"I felt that a show of solidarity, no matter how small a group would go a long way as a silent statement that the shooting is inherently wrong," said Nicholas Lim, 36, the administrator of GLBT Voices Singapore, a Facebook page that organized the vigil. The page has more than 48,000 followers.
At the evening gathering of about 400 people, attendees held hands and sang songs in remembrance of the Orlando shooting victims. The victims' names were read, and some people hugged, overwhelmed with emotion. The crowd raised multicolored glow sticks above their heads and displayed them in the shape of a heart on the ground. The glowing sticks were used instead of candles since open flames are banned in Singapore parks.
A 36-year-old teacher, who only wanted to be identified as Jonathan, said: "It is important to show solidarity with the LGBT community around the world. An attack on one of us is an attack on all of us. There is little fear of gun violence in Singapore, but discrimination is discrimination around the world."
"I am afraid that Singaporeans have forgotten what it took to make Singapore special, which is to live side by side, accepting and respecting our cultural differences."
Not all attendees were members of the LGBT community. "I felt that it was important as the tragedy took place during pride month and there have been negative comments on the Internet," said social media executive Donna Louisse, 24. "As allies, we are not going to stop fighting for our LGBT friends. Just showing up is a sign of support."
Public meetings in highly regulated Singapore can be held only with police permits. Politically and socially sensitive meetings can only be held in a designated area, Hong Lim Park, for which no police permit is needed but have to be approved by park authorities. Lim had planned to hold the vigil on Monday, to coincide with similar events in the U.S., but couldn't get the necessary approval.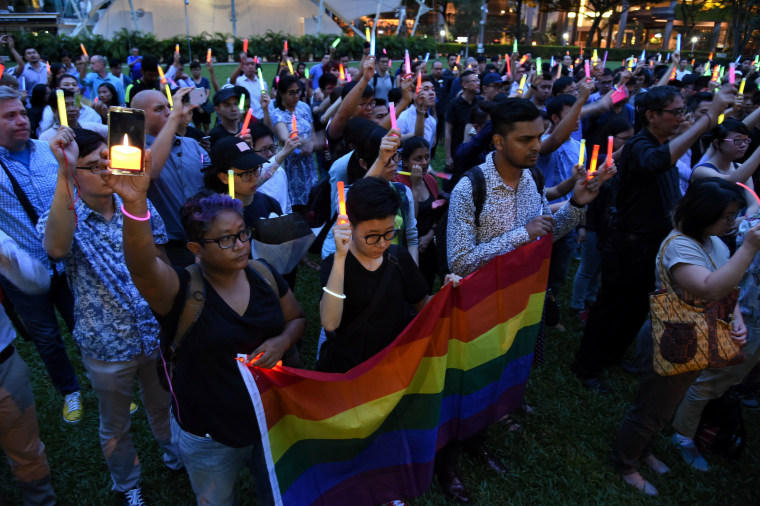 The fact that approval was given, even if a day later, shows how far Singapore — a contradictory crucible of modernity and industry under the thumb of a virtual one-party rule — has come in shedding its image as an all-work-no-play country.
While open display of same-sex affection such as holding hands or kissing is not common, it is also an open secret that there are several gay bars in the Tanjong Pagar district that come alive on Friday and Saturday nights. One such is DYMK, which stands for Does Your Mother Know.
Official space for LGBT people, however, is far more restrictive.
RELATED: Pride Events to Balance Security and Resilience
Before enlistment to the compulsory military service, all men must declare if they have gay inclinations. Gay marriages, including those solemnized overseas, are not recognized here. Accounts of being thrown out of homes or being discriminated against in the workplace are rampant on the GLBT Voices Singapore page, where many members remain anonymous for fear of further discrimination.
In 2014, the National Library Board removed three children's books including "And Tango Makes Three," based on a true story of two male penguins in a New York zoo who hatched an egg. Earlier this month, following complaints from the public, a kiss between two male actors was removed from a production of the musical "Les Misérables."
"There is little fear of gun violence in Singapore, but discrimination is discrimination around the world."
"I am afraid that Singaporeans have forgotten what it took to make Singapore special, which is to live side by side, accepting and respecting our cultural differences," Lim told The Associated Press, referring to the huge economic strides the country's ethnically diverse 5.5 million people have made since independence in 1965.
Singapore's leaders have long emphasized that its prosperity — it is the third richest nation in the world on per capita income basis — depends on social, racial and religious cohesion. Of late, they have also had to maintain an increasingly uncomfortable balance between conservatives and gay rights supporters.
In June, the Ministry of Home Affairs said it will "take steps to make it clear that foreign entities should not fund, support or influence" the annual Pink Dot event, that advocates the freedom to love.
Yet, the ministry said it will not pursue action against 18 sponsors, including Google, Facebook and Goldman Sachs, of Pink Dot's latest run on June 4. Organizers said attendance increased from 2,500 in 2009 to 28,000 last year. Numbers this year were not tracked.
RELATED: LGBT Pride Mixes with Deep Sorrow Over Orlando at Puerto Rican Day Parade
While it is apparent that Singapore's government is not fundamentally opposed to homosexuality, it is reluctant to remove Section 377A from the books for fear of angering conservatives. But making it clear that the law won't be enforced appeals to the gay community.
Last June, Prime Minister Lee Hsien Loong said "there is space for the gay community but they should not push the agenda too hard because ... there will be a very strong pushback. Where we are I think is not a bad place to be."
In 2014, a survey of 4,000 Singapore residents by the Institute of Policy Studies found that 78.2 percent of respondents felt that a same-sex relationship is wrong, and a similar percentage was against gay marriage.
The government's dilemma was clear from Lee's condolences to President Barack Obama on Monday following the Orlando shooting. He condemned the attack as "brutal and senseless," and said it resulted "in the loss of many innocent lives."
"They condemn the attack without even mentioning the fact that gay men were the target. Even when we are being persecuted they deny us our identity," said writer Ng Yi-Sheng, 35, who plans to attend the vigil.
He said he knows of people in Singapore who have refused to condemn the Orlando attack, and even praised it. "So yes, it has been traumatic and people need a space to come together."