Friday marks one year since former Defense Secretary Ash Carter lifted the ban on transgender military service, allowing active-duty troops to come out of the closet as trans. But while Carter set a July 1, 2017 deadline for the military to begin enlisting new transgender service members, the Department of Defense looks unlikely to meet its deadline.
While currently enlisted trans troops can continue to serve, recent graduates and new recruits have to wait to serve their country openly.
The Associated Press reported last week that the chiefs of the Army, Navy, Air Force and Marine Corps met with the Trump administration's Secretary of Defense James Mattis to negotiate an extension to the July 1 deadline set a year ago. Some joint chiefs reportedly want to take another six months to prepare for enlisting transgender service members. Others reportedly want up to two more years.
NBC Out contacted to the Department of Defense to ask whether it would meet the July 1 deadline and whether the Associated Press's reporting on the delay could be confirmed. A spokesman told NBC Out, "I don't have anything additional to provide at this time."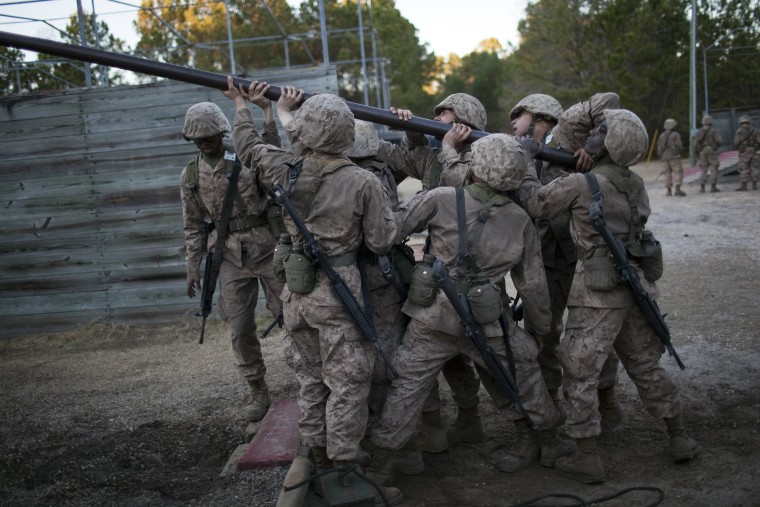 Transgender people already stationed in the military told NBC Out they understand the careful preparation but said delaying enrollment for another year does not make sense.
"We're trying to up our manning at each branch of the [Department of Defense], and they're denying people who are able to serve," Air Force Staff Sergeant Logan Ireland said. "It blows my mind that they are denying people this basic right to serve their country."
Ireland had the unique experience of coming out as transgender before the ban was lifted. In 2015, he and his then-fiancée (now wife) Laila Villanueva shot a short documentary for the New York Times. Villanueva, who is a trans woman and was a corporal in the U.S. Army at the time, got pushback from her superiors after coming out in the video.
"I felt like I was being targeted because I was different, and the environment was hostile," Villanueva told NBC Out. The leadership at her post in Hawaii had changed; Villanueva went from having a supportive LGBTQ advocate as her superior to "a complete 180" when that supervisor was transferred and replaced.
Related: Trans Service Members Discuss Military Life Post-Ban
Around a year and a half ago, Villanueva realized she had a choice: take a medical retirement or risk things getting worse. She left the Army.
Meanwhile, her husband's Air Force unit was more than supportive: they sent Ireland to the White House on official orders, in dress blues, to meet President Barack Obama and talk with him about transgender service members.
"Technically they should have reported me, because being trans would bar you from serving. But my leadership saw that I'd deployed with no problem, performed my duties with no problem," Ireland said.
In the year since the ban was lifted, Ireland has been working with the LGBTQ service member group SPART*A on its Future Warriors project — helping mentor around 100 eager transgender recruits who are waiting for the military to let them in.
"They meet all the qualifications to enter the military and are ready to be on the doorsteps of the Military Entrance Processing Station (MEPS)," Ireland said. "They've already taken their Armed Services Vocational Aptitude Battery (ASVAB) or Officer Qualifying Test. They've already arranged to get out of school or their jobs, ready for that July 1 date."
"We have nurses, flyers, valuable people who are chomping at the bit to serve in the military," Ireland said of SPART*A's Future Warriors. "And it can be like pulling teeth these days to get people to serve."
Villanueva stressed that regardless of one's gender, "the mission stays the same" in the military.
"My genitals do not do the job or dictate how I perform. I know a lot of women who can do a better job than some infantrymen, and I know men who can be better nurses," she said. "A job has no gender — as long as you have my back when we're in battle."
According to a RAND research study released in 2016, there were anywhere between 1,320 and 6,630 active transgender service members before the ban was lifted — with another approximately 1,500 on reserve.
In the year since the ban was repealed, Pentagon officials told the Associated Press roughly 250 service members have applied to change their gender in the personnel system. Once a gender is changed in the official record, that person is assigned into different housing.
"We are completely housed with the males or the females of our respective gender. Not given any sort of privileged treatment," said Ireland, who added that he was happy transgender troops weren't segregated into some sort of separate "gray area."
As currently active transgender troops have begun to come out to their colleagues over the past year, all military branches have simultaneously undergone training designed to help everyone adjust.
Related: In a First, Openly Transgender Service Member Promoted
Blake Dremann, the president of SPART*A and a Navy Lieutenant Commander stationed in Virginia, described the training as "basically a PowerPoint presentation."
Dremann, who also successfully came out as transgender to his superiors in 2015 before the ban was lifted, said he doesn't think the deadline extension is motivated by discrimination — but rather, it would give the branches more time to train and prepare troops for new transgender colleagues.
"I don't think we're going to see a delay of two years," Dremann said. "I think it will be a couple months. It's just about making sure that everyone is comfortable in terms of deployments, showers, all those things they're scared of."
The trainings are for everyone, Dremann said, and are geared toward making it clear to all that the transgender policy is about standards, dignity, and respect — not about changing people's personal opinions.
"It's not currently serving members they're concerned about, it's the 18 year old kid coming into boot camp who may have never met a transgender person. You have to do that education piece," Dremann added.