When queer black activist DiDi Delgado heard a group of right-wing demonstrators, including some white nationalists, were planning a "free speech" rally in her hometown of Boston last Saturday, she was ready to fight.
Delgado joined forces with fellow community activists and began mobilizing through social media a massive counter protest. On Saturday, 40,000 counter-protesters descended on the city, overwhelming the "free speech" demonstrators. Since then, right-wing rallies planned in 36 states have been canceled.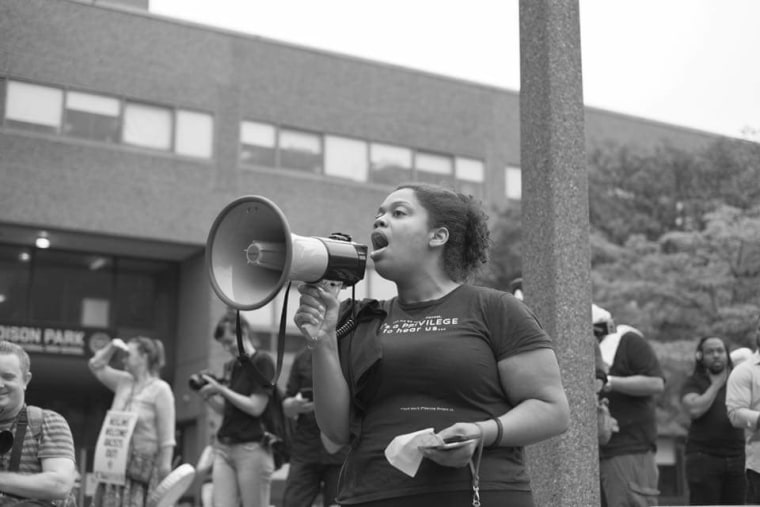 While it gives Delgado hope that tens of thousands of people showed up, she believes there is more work to do.
"I want us to not just come together collectively to say, 'Hey, overt racism has got to go.' I want internal racism to go," Delgado said.
"I would be happy to see 40,000 mobilized around legislation," Delgado continued. "I would be happy to see 40,000 people mobilize around someone going to jail unjustly, or just being out of cash and in jail because they couldn't afford a cash bond [of] 40 bucks."
When Delgado isn't taking her activism to the streets, she is confronting racism through her poetry. The award-winning poet has been performing her craft since 2014. It doesn't matter if her audience is white or black: She doesn't hold back from addressing race and racism in her work.
"I think we have the ability to use our words to be transformative," she said.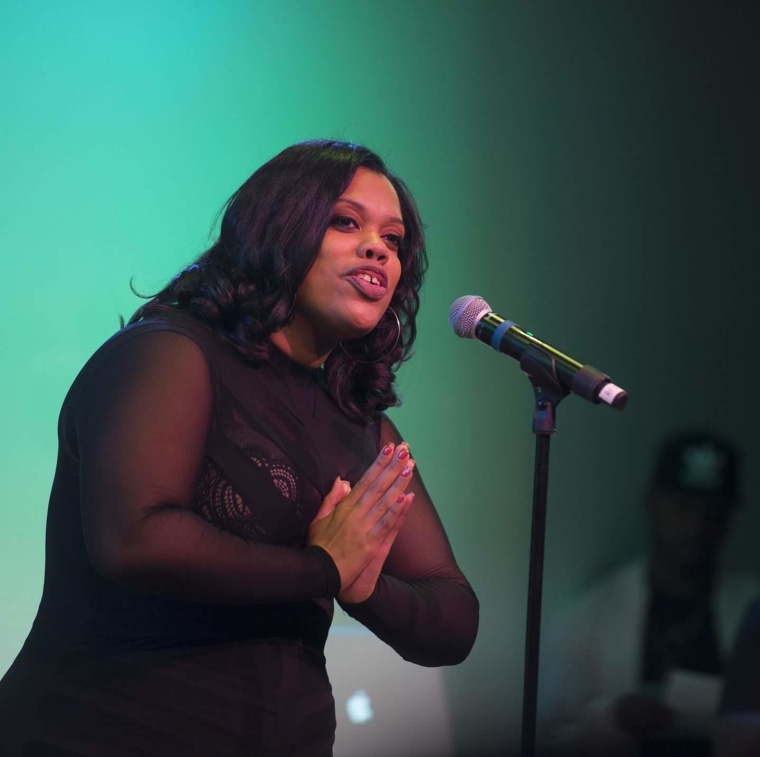 She recalled performing her poem "Pennies" — an ode against racism, particularly in Boston — at one racially mixed venue. At multiple points throughout the performance, Delgado's verses confront the racist attitudes she regularly encounters:
"I read a Boston Globe article that said 'Gorilla Escaped From the Franklin Park Zoo,'We so post-racial but it's the comment section online that be the best indicator of what racism still looks like today,Comment section be like 'Monkey escaped from the Franklin Park Zoo,Must be a black kid on the yellow bus heading to Lexington'"
She said someone at the event later accused her of making white people in the audience uncomfortable.
"I just remember asking him, 'Don't you think it was necessary then to have that conversation ... if you have an establishment and you're afraid of offending not your black patrons but your white ones?'" she recalled.
She pointed to an incident in May where Baltimore Orioles center-fielder Adam Jones said a Boston Red Sox fan called him the N-word.
"People tried to explain it away, like 'Oh, it was just one person,'" said the 33-year-old, who has spent most of her life in the New England city. "And even with the 'free speech' rally, I think about what the implication is. It's not for [the white nationalists] to have free speech — it's so they can be free from consequence of saying the things that they say."
Related: MTV Invites Transgender Service Members to Video Music Awards
In addition to addressing racism through her poetry, the outspoken advocate is also bringing LGBTQ visibility to black activist spaces. A member of the Cambridge, Mass., chapter of Black Lives Matter, she regularly speaks up on behalf of the transgender and gender-nonconforming community.
In 2015, some members asked if Delgado would stand during a meeting and speak on behalf of black feminism and black trans women. So she did and has not stopped since.
"I was explaining to people like, 'Listen, black trans women are women,'" she recalled.
Delgado said it's important for LGBTQ people to be represented in activist spaces, since most activists are not LGBTQ.
"When black folks get involved in organizing and activism, it's usually not with a black queer feminist lens," she explained.
The poet said she envisions the fight for justice as a highway where people are in their own lanes, fighting for causes they feel most strongly about, but without conflict, headed toward a common goal.
"If we're all in our lanes, we can still get to the same destination without causing accidents or crashes," Delgado said. "I think that would be the vision I see for 40,000 people using tools or whatever vehicle they're using to get to freedom."
OutFront is a weekly NBC Out series profiling LGBTQ people who are making a difference in the community.