Army Staff Sergeant Patricia King woke up last Wednesday to the beeping of multiple notifications on her phone. Fellow transgender soldiers were texting her about the trio of tweets President Trump released that morning, which detailed plans to reinstate the trans military ban that was lifted in 2016.
"I was bleary-eyed reading these messages that were coming through and seeing the missed calls," King told NBC News. After watching the news, she thought: "Did I just get fired via a tweet?"
The sergeant gathered her courage, laced up her boots and went to work. When she got to her base in Fort Lewis, Wash., she explained the news to her commanders. It was their first time hearing about the president's tweets, she said. "They didn't know that was going to happen or had happened."
The Pentagon has yet to issue official guidance detailing a ban on transgender soldiers. The chairman of the Joint Chiefs of Staff told subordinates last week the U.S. military will not make any changes to its policy until President Trump clarifies what he meant in his surprise tweets.
King said the president's claim that trans soldiers pose a "tremendous cost" to the military is untrue. She pointed to a 2016 study from the RAND Corporation that concluded the cost of covering trans soldiers' medical needs would be minimal. Until the Pentagon issues new guidance, King said she will remain in the military. The sergeant is worried, but trusts military leadership will "do the right thing and stand by their soldiers."
"For the last 18 years, service to my country is the only thing I've known," she said.
King received a Combat Infantry Badge for one of three deployments in Afghanistan, where she hunted al-Qaeda and Taliban insurgents through the twisting tunnels and caves of Shahi-Kot Valley in 2002. She recalled that first deployment: The helicopter pilot couldn't land in the mountains, so he backed the chopper against a steep ridge. King slid down the side of the chopper and started to climb what seemed, to her, a giant wall of a mountain. When darkness fell, she huddled with her brigade on the mountain's face. It was in the dark, wintry terrain — picking through cave after cave — where the solider learned her unit had her back, and she theirs.
"The amazing thing is at a time like that, something like race or religion or gender just didn't matter," she said. "What mattered is that this team of people had a mission to do and that your battle buddy had your back."
When a fellow soldier tumbled down a ledge during that 2002 mission, King and her team slid down after him, gathered up the injured man, and carried him to a flat surface where a rescue chopper could land.
"The most frightening experience for me was wanting to get this soldier to safety and make sure that we got them there before it was too late," she recalled.
Related: Justice Department Ordered to Release 1950s Gay 'Purge' Documents
During her most recent deployment in 2013-2014, King served as a platoon sergeant for a personnel security detachment. She led a platoon in charge of protecting the commanding general and other dignitaries, including the secretary of defense, she said.
"After 12 months in Afghanistan, after planning and executing countless missions driving through Afghanistan, I was able to bring all of the soldiers and everybody we escorted back safely," King said. She was awarded the Bronze Star Medal for a job well done.
In all her years of service, the 35-year-old said she was never afraid.
"Yeah, you know that the job is dangerous, but you also know it needs to be done, so you just do it," King said. "And I would say my transition was very much the same way."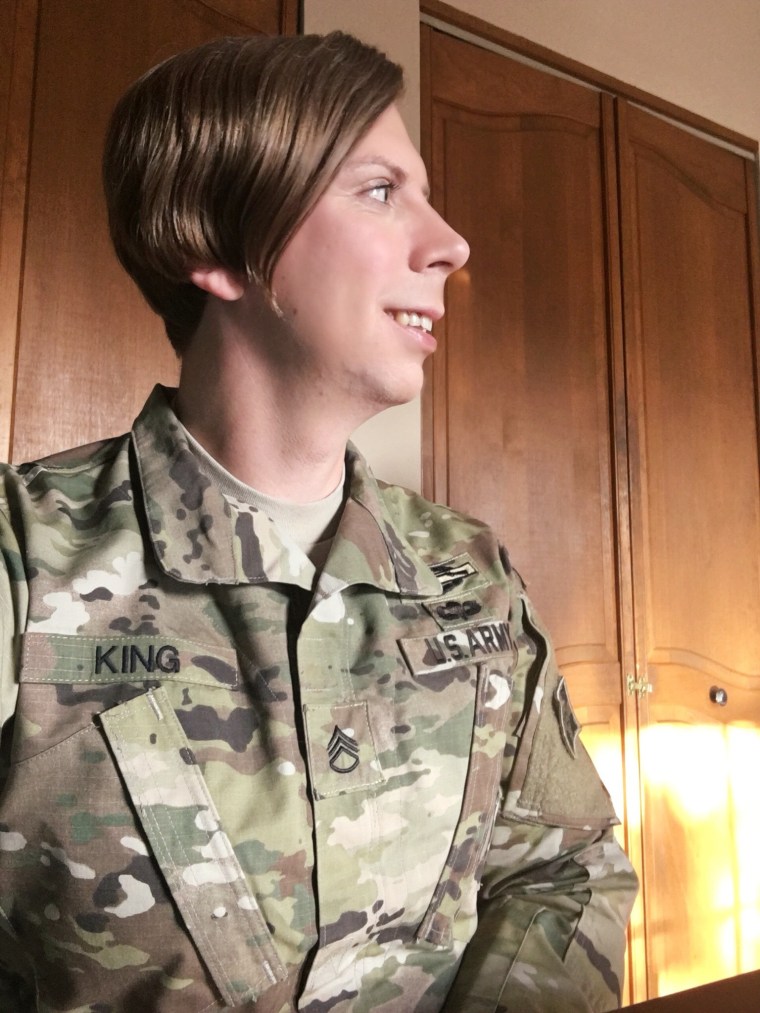 In 2015, the combat veteran became the first infantry soldier to come out as transgender. Assigned male at birth, she identified as female for the nearly two decades she spent in the Army, but fear kept her from coming out.
"When I finally made that decision to transition, it was because I finally decided that I wasn't going to be afraid to be myself anymore," she said. "And from that point, I never looked back."
But since Trump's July 26 tweets, the sergeant admits she's been a bit nervous.
"I have dedicated myself to giving to this country," King said. "I have done so proudly and with dignity. There's going to come a time, whether it be sooner or later, when it's time for me to leave the military. I would prefer it to be later, because I love serving my country."
When that time comes, King said she will do what soldiers do: lace up her boots and look for the next opportunity where she can give back.
"I love helping others — it's one of my favorite things about this job," she said.
OutFront is a weekly NBC Out series profiling LGBTQ people who are making a positive difference in the community.