Hurricane Irma ravaged Key West, Fla., less than two weeks ago — leveling buildings and knocking out the island's power. But that didn't stop the owner of a local gay bar, Jim Gilleran, from going to work. With the help of two small generators and a few grills, he and his staff have been cooking thousands of free meals for people stranded in Irma's wake.
"The storm is a tragedy on many levels, but on some levels, it's a great indicator of how people can get together," Gilleran told NBC News.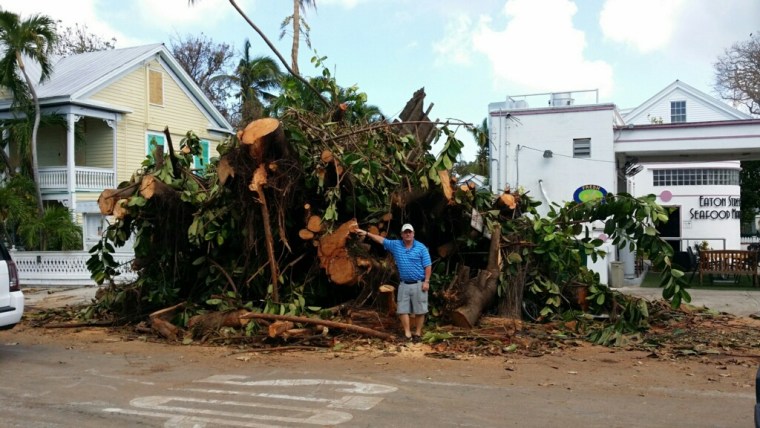 He said the popular motto on the small island — famous for its gay nightlife — is "One Human Family."
"The storm has demonstrated an amazing amount of love and care for your neighbors, whether you're straight, gay, black, white," he said. "People just came together and all pitched in and helped each other."
Gilleran, an LGBTQ ally, has run 801 Bourbon Bar — a beloved gay watering hole — since 1997. He said feeding his stranded neighbors, the majority of them LGBTQ, was his way of giving back to a community that has always embraced him.
"I certainly wanted to give back to the LGBT community in particular, because it's been great to me," he said. "A lot of great experiences — a lot of love shared."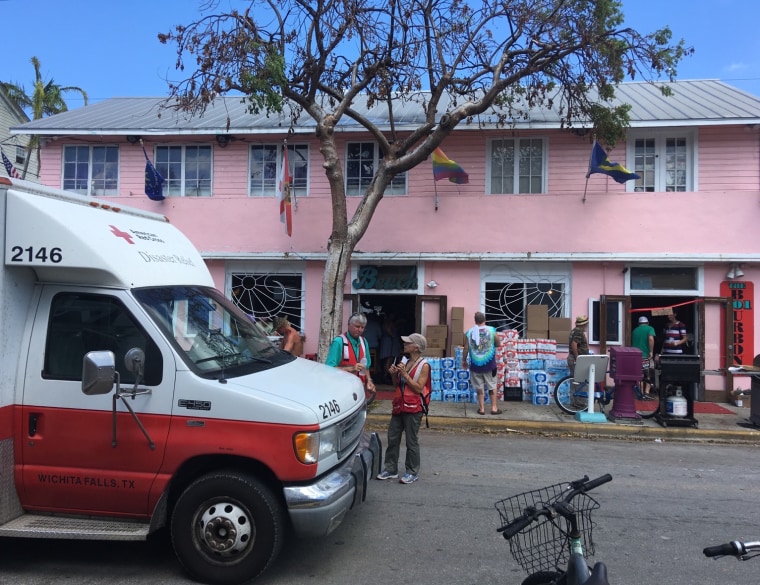 On the eve of the hurricane, Gilleran battened down his bar and waited it out in his concrete-reinforced house. When the winds and rain died down, he ventured out onto the island's sand-covered streets to check on his business. He found the pink, two-story building untouched by Irma's wrath. The power was out, and the bar had no running water.
"I got my generator going right away and got some lights going on — cleared the sidewalk as best as I could," Gilleran said, adding that he also began taking down the bottles of water he had stockpiled.
Neighbors started to wander in.
"They were fearful — a lot of people were fearful of what their families were thinking," he recalled. Cell phone service was down. Gilleran had a satellite texting device in his bar, he said, which people used to message their families.
He handed out water and spirits to the weary passersby who started to congregate at 801 Bourbon. Soon, he said, it turned into a de facto community center. Local restaurant owners who had lost electricity started showing up at his door with loads of food.
"A whole bunch of restaurants in town were like 'Wow, we heard about what you're doing, and we want to help.'"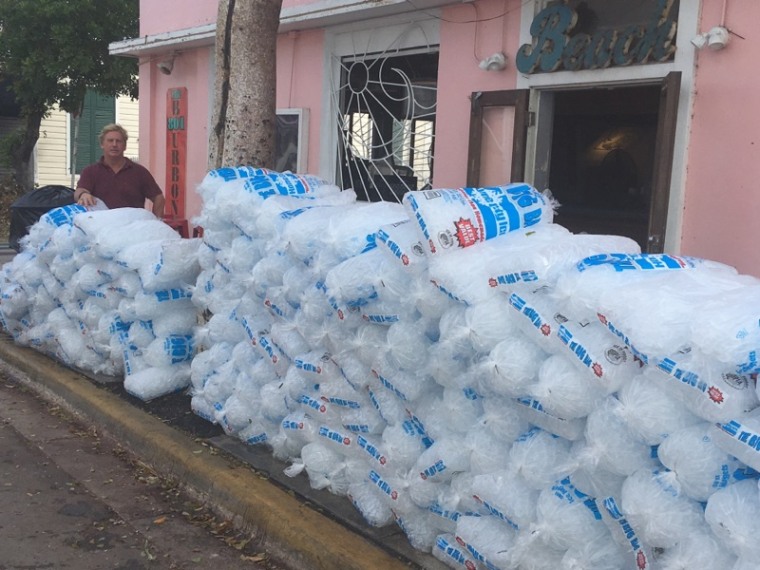 Gilleran put a sign outside that said the bar would serve hot meals at noon and 7 p.m. every day. Every time he thought they had run out of food, he said someone would show up with a new load from another restaurant.
"It was pennies from heaven, I have to tell you," he said.
Gilleran, 55, said his bar has prepared at least 3,500 meals since the storm hit. He said the Red Cross began using the bar as a food distribution center, which added about 6,000 more meals. Stores have since started to reopen in Key West, but free meals are still being served from 801 Bourbon Bar.
"We have people coming through of all races and creeds being taken care of," he said. "So that stuff is just incredibly touching."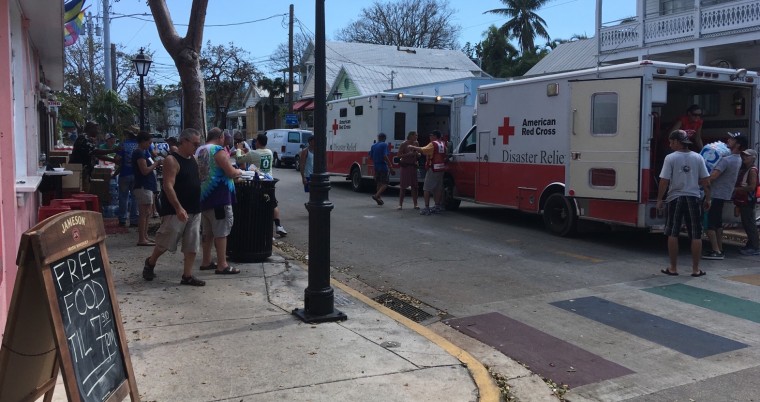 The father of three said he felt blessed to be able to help his community.
"I'm Catholic, so I believe God has a plan, and there's a higher power, and I just feel blessed to give back to the community," Gilleran explained. "To me there's nothing more spiritual than breaking bread with a neighbor in need."
"It really touches your heart," he added.
Gilleran said the community is already rebuilding fast.
"We had a grab-your-broom party, and we swept out main street for a couple of blocks, and that was kind of cathartic to be out there."
Related: Houston Drag Queen Raises Thousands for Hurricane Survivors
Gilleran said he is confident Key West will continue to be a popular destination resort for gay and straight visitors alike.
"Who doesn't love Key West?" he asked.
"We provide — much like P-Town or some other resort areas — an area where people can come, be themselves, relax, have a good time, be gay, be straight, be a pirate, be whatever you want to be without any pretense or whatever," Gilleran, using the nickname for Provincetown, Mass., said. "So I'm very confident Key West is going to bounce back."
OutFront is a weekly NBC Out series profiling LGBTQ people and allies who are making a difference in the community.