He was a country boy from Driftwood, Texas who loved stories, but Nathan Manske's idyllic childhood was missing a deeper connection.
"I knew I was gay but … I knew no one else who was like me," he told NBC OUT.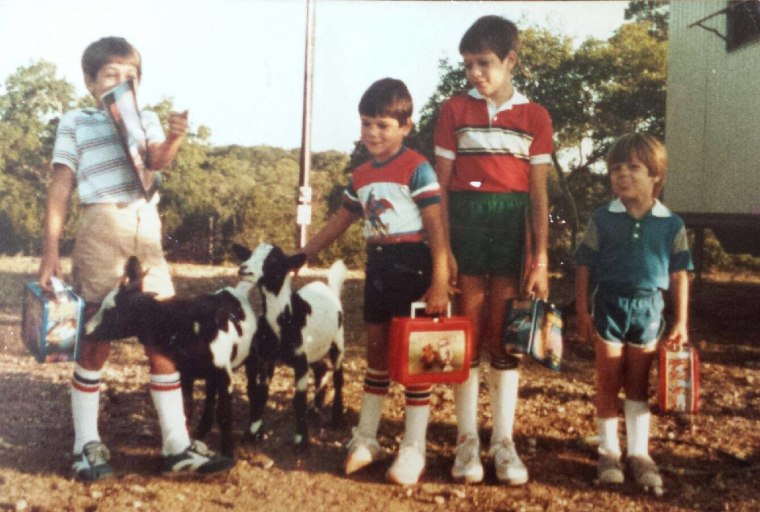 It was a loneliness that left Manske deeply depressed, despite his loving family with three supportive older brothers. He said it followed him throughout college and even after making New York City his home, where he landed his first job as a copywriter in advertising.
"I loved my job but… at the end of the day, I [was] working really hard for something that doesn't benefit anyone. There was no purpose in my life," Manske said.
One day in 2009, Manske was suddenly laid off — not a bad thing, according to him. It gave him the opportunity to do what he always wanted — tell stories, and help LGBT people do the same.
"I look at I'm From Driftwood as an Impressionist painting. Every single story we share is a speck of paint. The more that is added, the more of a complete picture it paints of the LGBT community."
"I was thinking about a photo of Harvey Milk [where] he's holding a sign in the San Francisco Pride March that reads 'I'm from Woodmere, New York.' And I was like, 'Why is Harvey Milk — the first openly gay elected official in the country — known for being in San Francisco, saying he's from this town that no one has ever heard of?'
"To me, that meant [LGBTQ] people are everywhere. They're not just in San Fransisco or New York or Chicago — they're everywhere, and they're even from Driftwood, Texas. And that would have meant so much to me as a gay teenager," explained Manske.
That's what gave him the idea for I'm From Driftwood, an online storytelling platform for the LGBTQ community.
Manske dumped all of his savings into the project and launched the site only a few months after losing his job. He began with written stories from friends, and gradually expanded into video stories. The following year, with the help of his brother and a friend, Manske traveled to all 50 states, collecting interviews from LGBTQ people all over the country.
Eight years later, the platform hosts more than 1,000 narratives from the community - from Hawaii to New York and everywhere in between.
"The main message we started with was to help LGBT youth in small towns realize they're not alone," he added.
It was a message that struck a nerve. Manske began receiving emails — one from a young man who said he was contemplating suicide until he discovered I'm From Driftwood, and another from a man who said hearing other people's stories helped him come out at the age of 50.
Manske sees I'm From Driftwood as more than just a storytelling platform. It serves as an archive that will give the LGBTQ community a sense of past, present, and future, and which he plans to expand into other media, including podcasts and even graphic novels.
"I look at I'm From Driftwood as an Impressionist painting. Every single story we share is a speck of paint. The more that is added, the more of a complete picture it paints of the LGBT community," he said.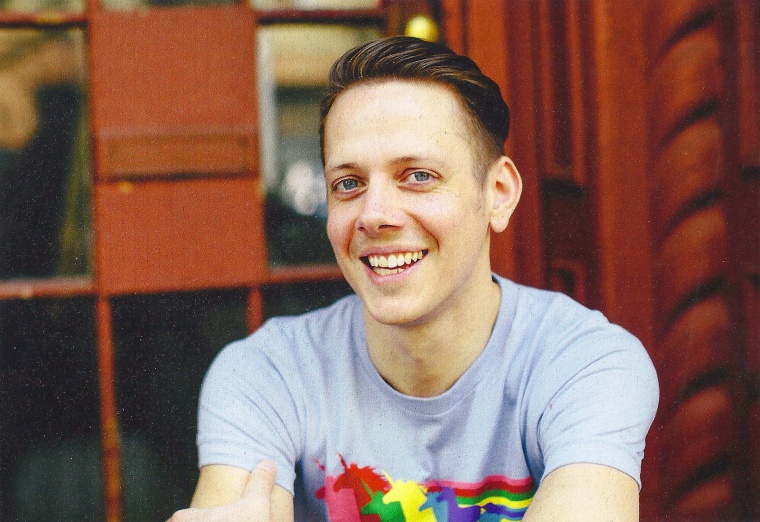 The 35-year-old is restless with a childlike enthusiasm that betrays his age. He sleeps with his laptop beside him and starts working as soon as he wakes up. He's busy fundraising and writing grants, but more importantly, finding the next great story to tell.
When asked where he gets his enthusiasm from, he answered: "Maybe it's just all going back to helping me as a child or as a teen. [I'm From Driftwood] is what would have helped me."
But I'm From Driftwood isn't just about helping individuals. It's about providing a sense of community across the LGBTQ spectrum — diverse groups that don't always understand each other, according to Manske.
"Every week people don't know what [story] they're going to get, but no matter what, it's a story from their own community and it helps them realize … how big their community is, even if they don't relate to the story," he added.
"I hope it increases a lot of understanding about [the LGBT] community, not just yourself."