Conversion therapy survivor Samuel Brinton wants to cure the world of the controversial practice aimed at changing a person's sexual orientation or gender identity.
Brinton said different conversion therapists use different techniques. From purely psychological methods to less common but more extreme techniques like electroshock therapy, the practice can take many forms, according to Brinton.
"[Conversion therapy] terrifies me, and it reminds me that the work never stops," said Brinton, who identifies as gender-fluid and prefers the non-binary pronouns they and them.
In December, Brinton helped launch 50 Bills 50 States, a grassroots campaign that aims for 2017 to be a year in which "every single state in the country submits a bill to protect LGBT youth from conversion therapy," according to its website.
Conversion therapy for minors is already banned in California, New Jersey, Illinois, Oregon, Vermont and Washington, D.C. So far, Brinton's campaign has raised more than $11,000 from donors across the country to encourage lawmakers to submit bills in the 45 states where it remains legal. Brinton said their motivation is to spare others the pain they endured.
"Conversion therapy for me was nothing short of hell on earth," Brinton told NBC Out.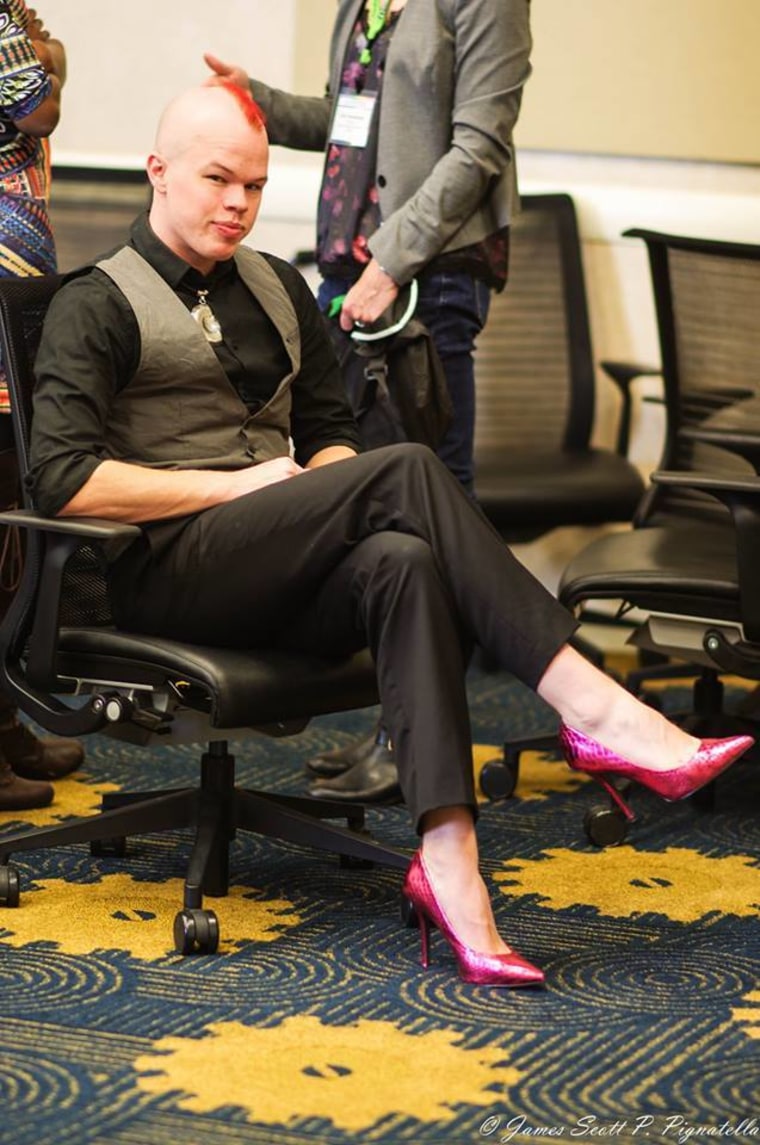 The 29-year-old activist said they are the child of Southern Baptist missionary parents who believed homosexuality is a sin.
"I came out without realizing I was coming out," Brinton said. "My friends had found a Playboy [magazine] ... and it didn't even really affect me. I told this to my dad, like, 'Wow, I'm so proud I'm not having these thoughts and feelings [about women], but sometimes I do have those feelings when I think about Dale,' [who] was a really good friend of mine … and I came out without realizing that I was doing it."
Britton said they were 11 years old when their parents sent them to see a conversion therapist.
"There were seven King James Bibles on a stack on the coffee table," Brinton said, recalling the conversion therapist's small office in an Orlando, Florida strip mall.
Brinton said the so-called therapist used extreme and abusive techniques, including covering Brinton's hand in ice, wrapping it in conductive wires to apply heat, and even electroshock therapy, while forcing Brinton to look at images of men touching. Brinton said the therapist stopped the techniques when he showed Brinton images of men with women.
"First you're supposed to learn that it's painful to touch men, then you're supposed to learn that it's not painful to touch women. Then you're supposed to learn that it's excruciating if you're have sex with men," Brinton explained.
But none of this did anything to change Brinton's attraction to men.
"My parents and my therapist would tell me the reason I wasn't changing was because I didn't try hard enough, I didn't want it hard enough," Brinton said.
RELATED: Trans Woman Spreads LGBTQ Awareness in Hasidic Community
After two years of trying to change with no results, Brinton said they climbed to the top of the apartment building where their family lived and looked over the edge.
"I was going to jump off the roof, and my mom had found me, and I told her that God had changed me. That I was OK. I was going to be OK, because I basically just wanted the pain to stop," Brinton said.
"I knew it was a sin to lie, but I knew it was a greater sin to commit suicide, and I had to make that decision," Brinton explained.
Brinton stayed closeted until they went to Kansas State University, where Brinton made friends with a lesbian couple.
"They took me in," Brinton said. "And I started realizing no, I'm not alone. It's OK to be who you are."
But coming out had a price: Brinton's parents forbid Brinton from coming home.
"I'm sure they did what they did because they loved me, and I'm hoping that in the end it will all be OK," Brinton explained, adding that the relationship is "slowly on the mend." Brinton forgives them but still suffers the side effects of conversion therapy.
"I puked after about 15 seconds of my first gay kiss because … My mind had so specifically associated what I was doing as wrong," Brinton explained, adding, "I still have pain every single time my boyfriend kisses me."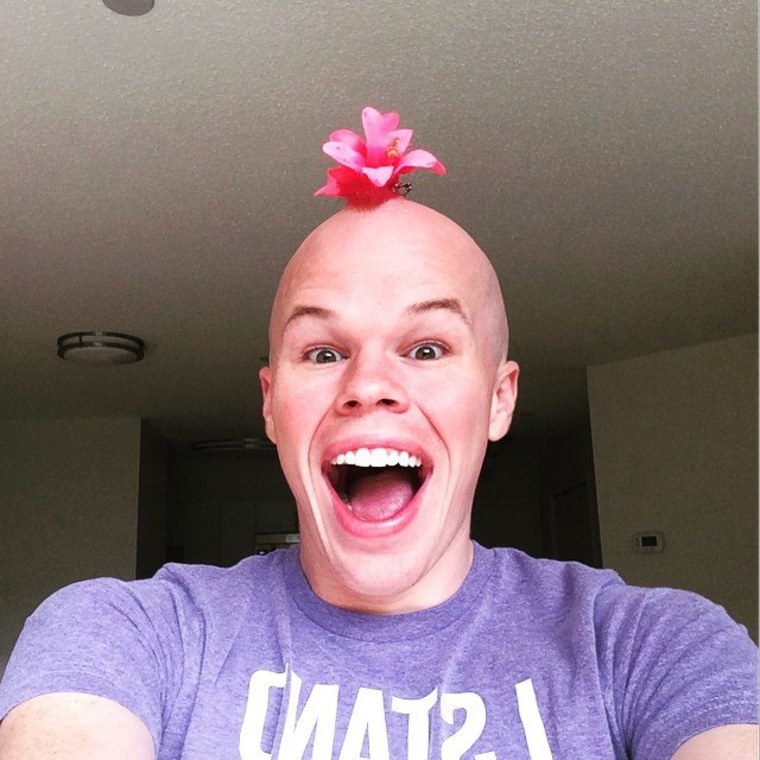 Brinton doesn't let the trauma stop them from being out and proud. The non-binary activist and MIT grad is an engineer and a senior policy analyst in Washington D.C. who advises Congress on nuclear power issues. Brinton is known around the nation's capitol "as the red mohawk guy in stilettos."
"It is not uncommon to see me in a Congressional hearing with my stilettos," Brinton said. "People from both sides of the aisle take me quite seriously, because they know I'm good at what I do regardless of how I look."
When Brinton is not advising Congress on nuclear policy, they are fighting to end conversion therapy through 50 Bills 50 States. The activist realizes the fight to end the practice won't be easy, but is determined.
"I'm here to make sure no child has to go through that again," Brinton concluded.
OutFront is a weekly NBC Out series profiling LGBTQ people who are making a positive difference in the community