Photographer Dese'Rae L. Stage survived a suicide attempt after a bad breakup in 2006, but she didn't get much sympathy.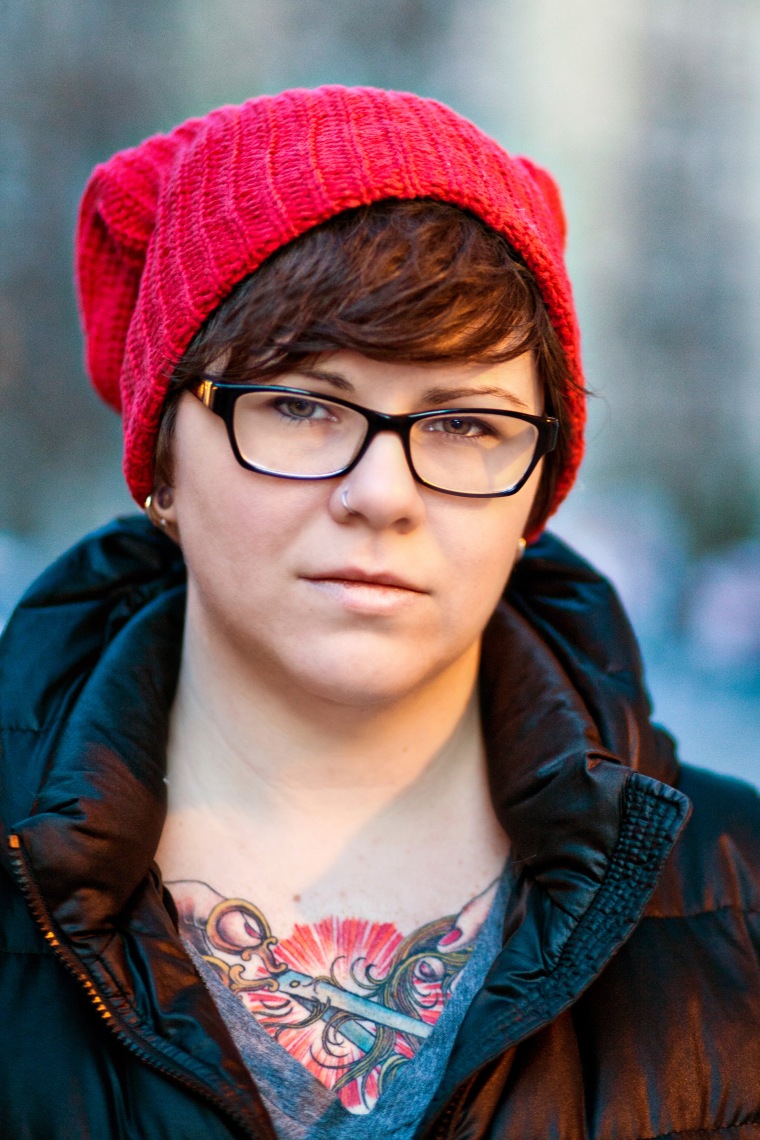 "I'm in the hospital in this little room, and I'm alone," Stage recalled. She said a nurse entered and gave her a cold look. "I felt like she was resentful, because there were other people in the ER who were hurt and in pain who didn't do it to themselves," she told NBC Out.
The nurse pulled out a syringe to take Stage's blood. "I remember being like, 'Can you be gentle, because I'm afraid of needles?'" said Stage, who was 23 at the time.
She said the nurse inserted a large syringe into her arm. And as she filled vials with her blood, she placed them on Stage's stomach instead of a table. "That was really terrifying and seemed cruel," Stage said.
It was a glimpse at the negativity she said suicide attempt survivors often experience, and a meanness that made her feel worse.
Stage said she suffered from depression long before her suicide attempt, but it worsened after she moved from Miami to Tennessee to live with her then-girlfriend. She said the woman she loved became physically abusive. After her girlfriend knocked her out and gave her a black eye, Stage started hitting back.
"I still haven't found the right words to explain how devastating that was to me, because it really made me question everything about who I was," Stage said.
"I started to look around, and I realized there were no stories out there of people like me — people who attempted to die and lived. I wanted to know what happened to them afterwards. I wanted to know that they existed."
She soon found out that her girlfriend was seeing someone else. "I suffered and I suffered for several weeks and then finally we got into this fight, and then she left with the person she had been cheating on me with, and that was the day where the switch flipped I guess," she said.
When it was clear her ex-girlfriend wasn't coming back, a devastated Stage attempted to take her life. The next thing she knew, her small apartment was filled with men yelling: "Who are you, and what have you done?" Her ex-girlfriend had called the police.
"It was really degrading and humiliating," Stage said. "They put me in the back of the ambulance, and they drove me to the hospital. No one really talked to me."
After Stage was released from the hospital, she stayed with a friend in Texas who looked after her.
"I was loved, and I was taken care of, and I was supported, and I think that was what saved my life in the end," she said. She moved to New York City in 2007, where she got a job photographing concerts for music blogs. She was enjoying life again but felt plagued by her past.
"I started to look around, and I realized there were no stories out there of people like me — people who attempted to die and lived. I wanted to know what happened to them afterwards. I wanted to know that they existed," Stage said
She said survivors rarely tell their stories for fear they will be stigmatized, which exacerbates the problem.
"If you talk about it, you're also giving people permission to talk about it, and there's a great weight lifted when people are able to talk about this stuff without judgement," she explained.
In 2011, the photographer began an online portrait series featuring suicide attempt survivors called Live Through This. She raised $23,000 for the project through Kickstarter and traveled around the country to photograph survivors and collect their stories. To date, she's collected 180 portraits from people in 33 cities across the U.S.
Stage said almost 30 percent of her subjects are LGBTQ. According to the Trevor Project, the rate of suicide attempts is 4 times greater for lesbian, gay and bisexual youth, while 40 percent of transgender adults in a national study reported having made a suicide attempt. But Stage is quick to point out that suicide doesn't just impact any particular group, nor does it only affect those with mental illness. She said one of her goals is to break down those stereotypes.
"We are all susceptible," she said.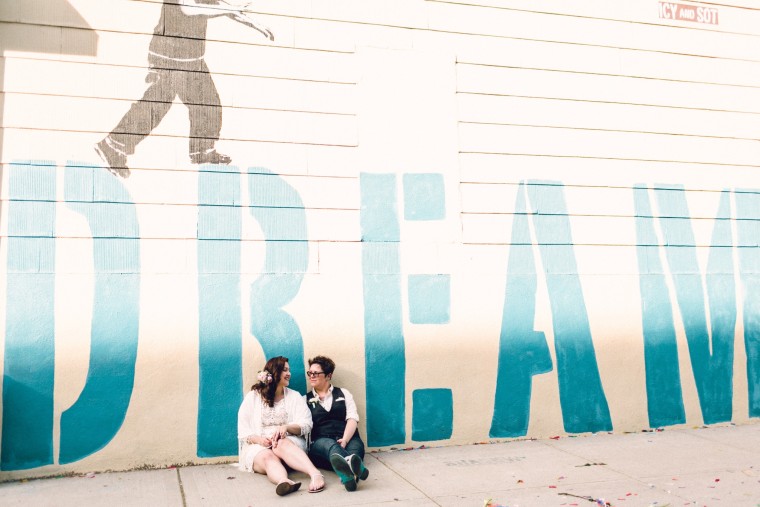 The 33-year-old now lives in Philadelphia with her wife, two dogs and two cats. She speaks regularly at suicide prevention conferences and universities, and educates mental health professionals on how to better understand survivors. She created a Facebook group for the people who participated in the project, who often provide support to each other. Stage said the group also helps her, because she still struggles.
"I want to help save people's lives. I want people to know they're not alone, and I want people who don't really get it to get a better sense of why people die by suicide."
OutFront is a weekly NBC Out series profiling LGBTQ people who are making a positive difference in the community.