Gay comedian and social media star Randy Rainbow is casting a bright light over this year's contentious political season. His latest viral hit "Braggadocious"— a video that parodies the first presidential debate—racked up nearly 30 million views on Facebook and got lots of laughs from those on both sides of the deeply divided political aisle.
"Everyone's at each other, everyone's on opposite teams," Rainbow told NBC OUT. "I think that comedy is a great unifier."
The hilarious Rainbow inserts himself into political debates and newscasts as a wisecracker who says whatever he wants. He's been making satirical videos since 2010, with hits like "Randy Rainbow Is Dating Mel Gibson" and the musical parody "Kim Davis Cell Block Tango."
"I do it all by myself in my tiny little apartment with my cat staring at me," he said. His only tools are a computer, a green screen and a wicked sense of humor.
"Once I have sort of an idea then I watch the source material over and over again and think of a way to plug myself into it," he said. "If there's a song then I'll record the song, and then I film it. Then I stay up all night editing it."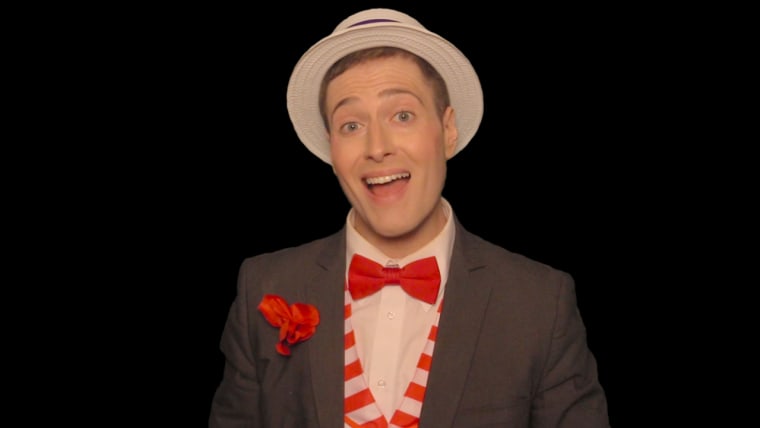 "Randy Rainbow" may sound like a stage name from a gay-themed cabaret, but the provocateur insists it's what's on his birth certificate.
"If you think about it, it's the worst stage name that anybody can possibly think of, because it sounds ridiculous, but it's my real name."
The surname made for a difficult childhood, Rainbow said, but it's working out for him now. And while the character he portrays may seem outlandish, Rainbow is just being Rainbow.
"I think the character per se is sort of elements living deep inside of me, or maybe not so deep," he said. "When I plug myself into interviews and stuff, I sit in the actual position of interviewing people, and things that I say in these fake interviews are sort of what I wish I could say."
The 35-year-old said his mother got him interested in musical theater, which influences much of his work.
"She turned me on to musical theater and made me watch 'Funny Girl' a hundred times. All those stereotypical funny things that Jewish mothers do to make their kids gay," Rainbow said jokingly.
He described his family as "a really liberal, really open Jewish family" that accepts his sexuality.
"[My mother] sat me down once when I had my first boyfriend and said, 'I just want to let you know I know. I've always known.' And told me before I told her."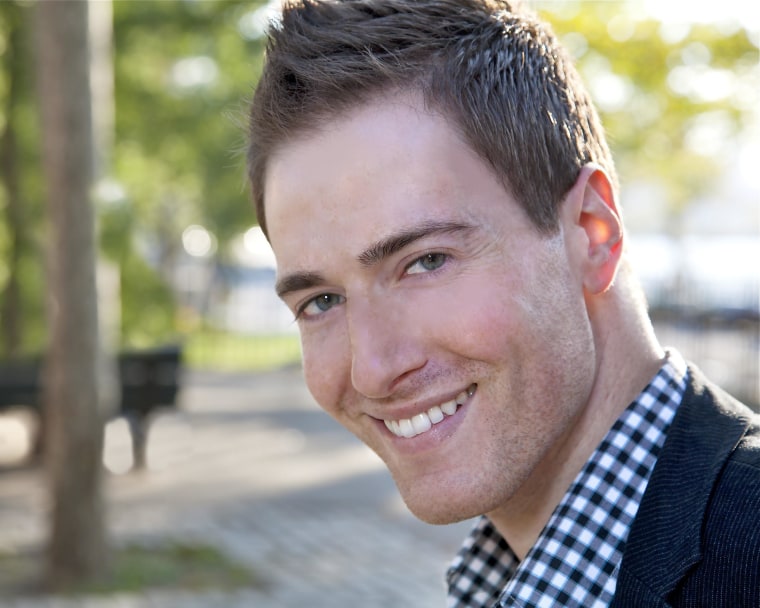 Rainbow, who grew up in Florida, credited his upbringing for the free and open person he is today. He acknowledged he's a bit of a "ham" who likes to get attention, but his work is ultimately about making people laugh.
"I like the idea of sort of being able to stick a pin in something and deflate it with humor and just get a laugh, otherwise we'll cry," he said.
"Any comedic-type person will tell you there's no greater high in the world than someone to laugh at a joke or tell you, 'I haven't laughed so hard' or 'You made my day' with comedy. It's an absolute high. That's the only way to describe it," he added.
Rainbow got his first taste for entertaining audiences as a child, when he started performing in community theater. He recently made his off-Broadway debut in a show called "White Rabbit, Red Rabbit" and is working on a web series for Broadwayworld.com.
He also has a side business making ruby slippers, which he sells online. He said he thought only drag queens and a few gay men would buy them, but to his surprise, a large number of his customers turned out to be brides.
"I'm doing the stuff that I always loved, which is musical comedy and ruby slippers, and I'm somehow making a living," Rainbow concluded.
OutFront is a weekly NBC OUT series profiling LGBTQ people who are making a positive difference in the community.