In 2012, Abby Stein sat alone in a busy mall — the only place she knew that had Wi-Fi. Bearded with long sidelocks and wearing a dark three-piece suit and black hat that are the traditional garbs of Hasidic men in the ultra-Orthodox Jewish community, Stein searched the internet on a tablet. She had borrowed the device from a friend, because the internet was forbidden in her sect.
Stein nervously searched the phrase "boy turning into a girl." She saw the word "transgender" for the first time and started to shake.
"It just made me realize, oh my God, all this craziness that I was convinced forever that I'm the only person, [and] there's thousands and millions of people out there who feel the same way … It actually made me freak out even more," Stein told NBC Out.
Stein is the first known openly transgender person from the Hasidic community. Assigned male at birth, she said she felt like a girl since the age of four. But others saw her differently.
"I remember thinking 'Hey, why does everyone think that I'm a boy?'" she recalled.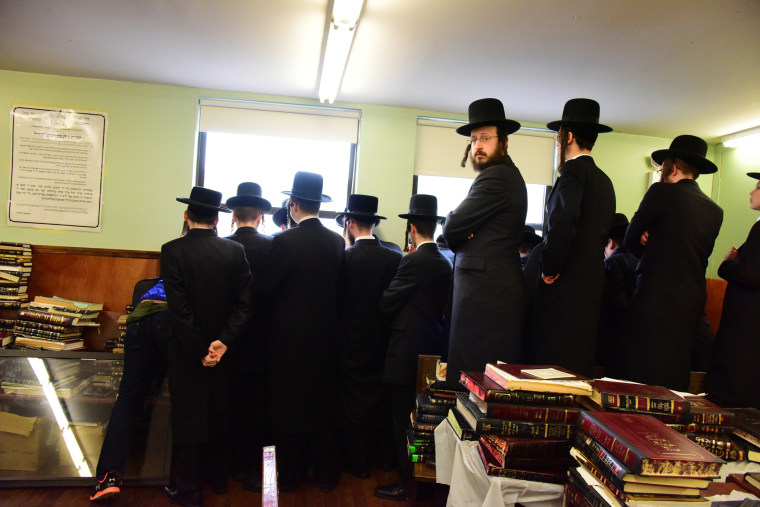 The 25-year-old grew up in Williamsburg, Brooklyn, a neighborhood with a large enclave of Hasidic people. She described the community as "cult-like" and insular. Internet and television were forbidden. Men and women were largely segregated. LGBTQ people were not spoken of. She learned only Yiddish and Hebrew and was not taught English until she was an adult. She was sent to a remote all-boys Yeshiva school in the Catskill Mountains where many books were forbidden. She became convinced there was no one else like her and kept her gender identity a secret.
"There's a traditional prayer that everyone says in the Orthodox community before you go to bed every night. I added to that a prayer that I would just wake up as a girl," she said.
When she was 7, Stein began to collect Yiddish newspaper clippings about organ transplants. "In my head, I was like, probably at some point in my life I can do a full body transplant," she said.
Transitioning from male to female was an idea that continued to haunt her even after she found herself in an arranged marriage with an infant son at just 19 years old. But she never thought it was possible. That is, until she saw the word "transgender" on the tablet she borrowed from her friend.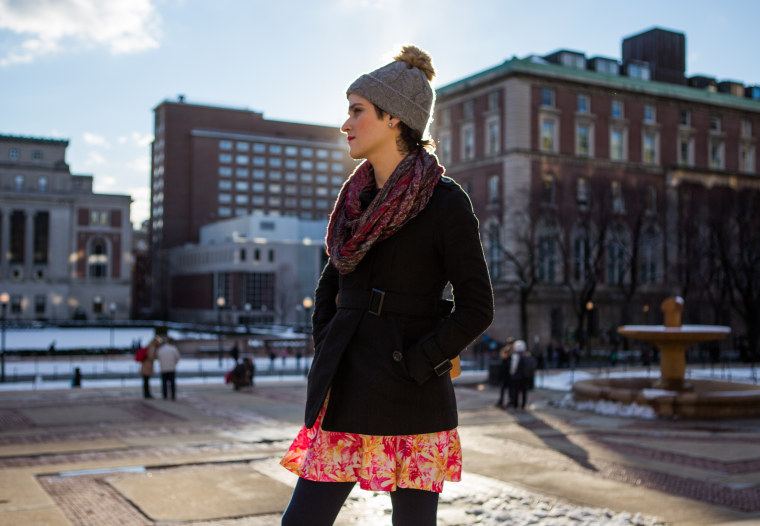 "So I been reading so much about it, but at the same time, I made a decision like I'm not going to go down that road," Stein said in her Yiddish accent. But she slowly changed her mind. Within three years, she left the Hasidic community, divorced her wife and enrolled at Columbia University to pursue a degree in gender studies and political science. After talking to psychologists, she started taking female hormones in late 2015.
"It feels right. It feels like who I am," said Stein, who is 14 months into her transition. She loves feeling free to dress up and wear makeup.
"I haven't looked back," she said.
With the support of a sympathetic rabbi, she built up the courage to come out to her father shortly after she started to transition.
"My father's response was 'I'm never going to be able to talk to you,'" she said. Stein has not seen her immediate family since. She said an hour doesn't go by where she does not think about her son, but she has no regrets.
"I say to a lot of people who struggle [with coming out] — they're always afraid how it's going to affect their family — and to me it's always family is really important, but there has to be a 'you' that can be part of a family. If there's no 'you,' [you can't] be part of the family," she explained.
Stein, who lives in Manhattan, now works as an educator and an advocate and chronicles her experiences in her blog, The Second Transition, which grew in popularity as she transitioned. She said one post received 20,000 hits. Emails and Facebook messages pour in daily from LGBTQ people all over the world, many who are Hasidic.
"A big part of it was realizing this is a story that's never been told, and there are so many other people [like me]," she said. Stein also started the first support group nationwide for transgender people from the Orthodox community and has told her story at more than 20 universities around the world.
She said her story has grown so much that even the Orthodox community seems to be taking notice. She said a friend who works at an Orthodox school told her a girl there asked a teacher about whether it's possible for "a boy to become a girl." Stein thinks the girl probably heard about her.
"It's a success because people know about it, but also…[it] could just be an innocent question from that girl, but it could be the girl herself is struggling with something like that," she said.
Stein said if people within the Orthodox community are talking about her, she is making an impact.
"It's definitely something they have to grapple with right now, because people knew me. People know my family. And because I keep on talking about it, it's something they can't just declare that it doesn't exist," Stein said.
Stein said she wants to make sure her son grows up in "a better Jewish world and a better world altogether" than the isolated community she remembers.
"[I want] to make his life better, but in the limited capacity that I have," Stein concluded.
OutFront is a weekly NBC Out series profiling LGBTQ people who are making a positive difference in the community