For transgender people who want to medically transition, hormones and surgeries can cost more than a college degree, with some surgeries costing upwards of $100,000. That's why trans activist Jacob Rostovsky started Trans United With Family and Friends (TUFF) in 2013, when he was still an undergraduate student.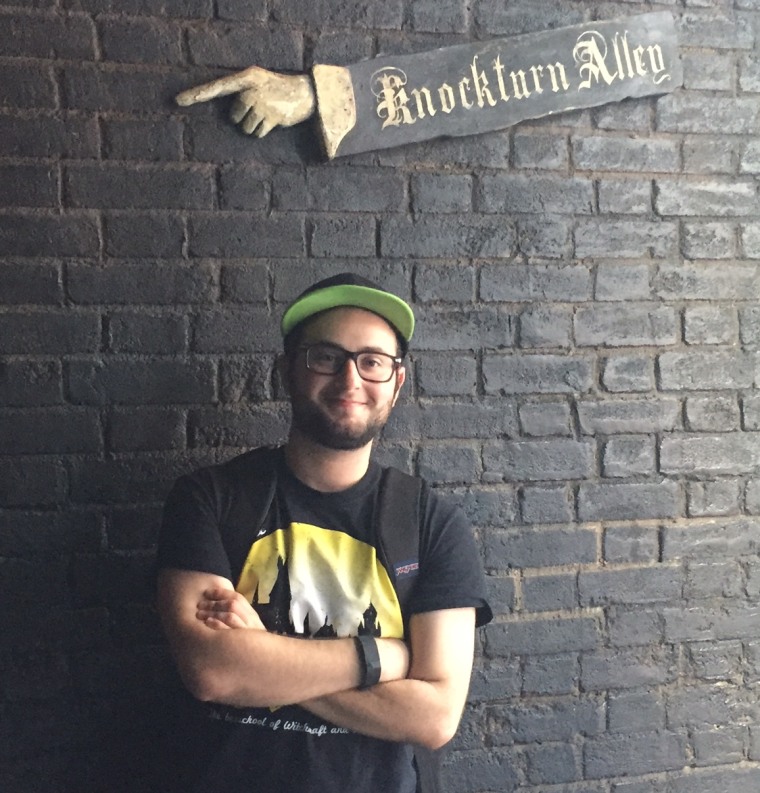 TUFF is a nonprofit that subsidizes surgeries and hormones for transgender people. However, the organization can't afford to help everyone. So it operates like a scholarship program in which only a few people at a time are selected.
"It's really heartbreaking, because I hate to turn people down, and I hate to judge or be biased … But you can't give money to everyone, and you have to make decisions based on what you think will help the community in a greater sense in the future," Rostovsky told NBC Out.
The application process is based on an expectation that those who are selected will go on to do great things. To qualify, applicants are asked to write three short essays on their past contributions to the transgender community, future goals and leadership qualities.
"I have one [transgender] guy that I gave money to get his top surgery, and now he's like a completely different person," Rostovsky said. That guy is now an activist raising money for transgender youth and fighting anti-transgender bathroom laws," he said.
"It makes me feel good, because I helped him [and] now he's helping others," he added.
RELATED: Gay Jamaican Refugee Helps Others Flee Persecution
Rostovsky, who lives in Los Angeles, said his parents are supportive and even paid for his surgery and hormones when he was a teenager.
"I didn't really fully appreciate it when I was a kid, because I was raised in an upper middle class white family, so it took me a really long time to realize that not everybody in the world got everything that they wanted," he acknowledged.
But Rostovsky's experience was far from easy. He was in the 9th grade when he transitioned from female to male. He said he was ruthlessly bullied at school—jeered at, slammed into lockers and beaten —to the point where he started skipping entire days and even attempted suicide. His parents enrolled him in a progressive liberal arts high school where no one cared that he was transgender.
"I was stealth for a while, no one knew I was trans. Then I came out by accident and everyone was like 'OK,'" he said.
Rostovsky said his mother, who is a psychologist, was especially supportive. She's also one of TUFF's board members.
"I owe so much to her, and she knows that," he said.
RELATED: Lesbian Officer Builds Community Bridges in Detroit
When Rostovsky was an undergrad at American Jewish University in Los Angeles, he realized many of his transgender friends were not as lucky as he had been. Not only did they not have the money, he said, but many were unable to find employment because they were transgender.
"So I just started thinking, I'm really fortunate … Who says they don't deserve to have someone to help them? So from there I just decided that I was going to create a scholarship for surgeries and hormones," he said. Rostovsky used his own money to start his nonprofit in 2013. Now he holds fundraisers regularly to raise money.
The organization subsidizes the cost of surgeries and can typically fund a person's first year of hormone therapy, Rostovsky said. He wants to give more but fundraising has been a challenge.
"A lot of the time, people don't want to give money, they don't want to donate, they don't understand," he said.
Rostovsky carefully reviews as many as 50 applications a month. He said many applicants live in rural areas where the closest LGBTQ center is as far as three hours away. If he can't provide financial assistance, he'll point them to other resources, such as local shelters and charities near their homes.
"A lot of these people are living on the street, and they just simply need help," he said.
According to the National Transgender Discrimination Survey, 41 percent of those surveyed reported they had tried to kill themselves. Rostovsky said supporting a transgender person's transition can save his or her life and give that person a chance to make a difference in the world.
"This person could be a future doctor … that cures cancer. This person can be someone who writes your favorite movie or your favorite song," he said.
The 26-year-old is currently working on a master's degree in clinical psychology. After he graduates, he plans to expand his nonprofit into an inclusive transgender clinic where transgender people can get all the resources they need under one roof. He said the need to help others has always been with him.
"I was just born with the drive to stand up for people who can't stand up for themselves," Rostovsky said.
(OutFront is a weekly NBC Out series profiling LGBTQ people who are making a positive difference in the community.)