The Atlanta Dream's Layshia Clarendon doesn't keep her identity on the sidelines. She's "biracial, black, gay, female, genderqueer and Christian" on and off the court.
Clarendon said the intersection of those identities has caused tension for her in the past. She especially had difficulty reconciling being gay and Christian. But by the time she was drafted into the WNBA, she had embraced them.
"I burst out of the closet doors and was like 'I'm gay, I'm Christian!' It's amazing," she told NBC OUT.
"A lot of who I am and my identity and being so out is wrapped up in my faith and my belief in God … [It's] hurtful when people use religion [against me], because my sexuality and my identity and my faith - it's all one. I don't think I would be the Christian I am if I wasn't the gay person I am, because so much of it is intertwined."
The 25-year-old point guard played for the Indiana Fever for three seasons before Atlanta drafted her this year. An outspoken advocate for LGBTQ rights, Clarendon was named 2015 Outsports Female Hero of the Year.
In a recent editorial, she urged the lesbian, gay and bisexual communities to do a better job of embracing transgender people. She also took a stand against bathroom bills, which regulate access to public restrooms on the basis of a person's biological sex. Clarendon said enforcing strict rules around gender are hurtful to those who don't fit neatly into categories.
"[There's] this rigid mold of what looks like a girl or what looks like a boy, [and] not being able to be safe in that space between," she said.
Clarendon isn't transgender but identifies as genderqueer. She knows what it's like when people misidentify your gender in public restrooms.
"I just want to pee in peace and people [are] like, 'Hey, get out of here!' It was really upsetting. I just want my civil freedoms to use the restroom like everyone else," she said.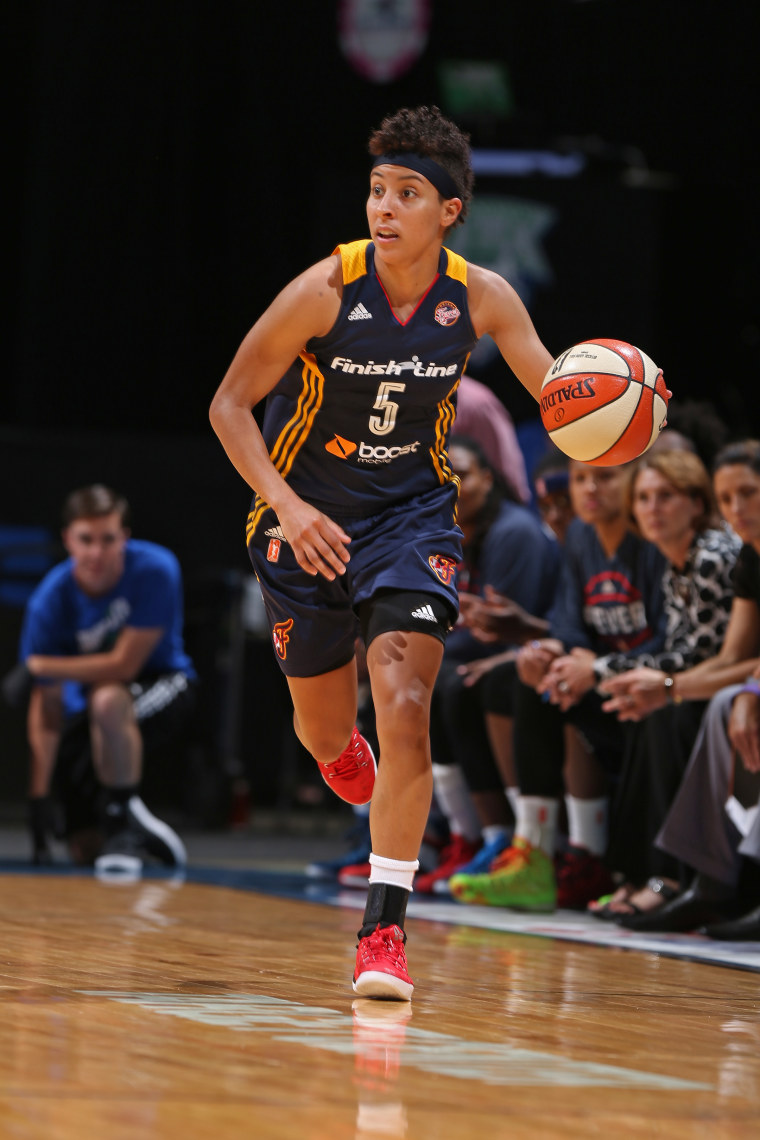 Clarendon has found a welcoming home in the WNBA. She said it has a large LGBTQ fanbase and was the first sports league to directly market to the community with a Pride campaign.
"They've done a good job of being vocal and giving LGBT issues space like they would any other issue," she added.
But homophobia is occasionally an issue, according to Clarendon. She said in 2014, the WNBA gave warm-up shirts with rainbow basketballs on them to each team as part of its Pride campaign. Clarendon said some players - including some in leadership positions - refused to wear them, and the shirts were canceled. "It was heartbreaking," she said.
Another issue, according to Clarendon, is the WNBA is often seen as a "lesbian league."
"I think a lot of [players] haven't come out because of this perception that we are all lesbians in the league. So when one of us does come out, it's like, 'Oh, God, you're fulfilling this stereotype."
"To live my journey and speak my truth and see people care to give me a bigger platform, is just awesome. Because at the end of the day, I do it because I want to make a difference."
Clarendon pointed out that some players who are LGBTQ worked hard to get where they are and want to be known for their skills on the court, not their sexuality. "They don't want to be a poster child. They just want to play the sport. I definitely respect that."
Clarendon, however, has no qualms about being out, or making some people uncomfortable. She plans to stay in the WNBA and continue working as an LGBTQ advocate for as long as she can.
Dubbed "The Blonde Mohawk" for her signature hairstyle (which is no longer blonde), she calls herself a "rebel with a cause."
"I don't rock the boat for the sake of rocking the boat … If I'm rocking [it], it's because I believe in something, and I'm fighting for something," she said.
For Clarendon, it's also fulfilling to see the work she's doing be acknowledged.
"To live my journey and speak my truth and see people care to give me a bigger platform, is just awesome. Because at the end of the day, I do it because I want to make a difference."