In a majority of U.S. states, it's legal for a business to put a sign in the window saying "no gays allowed."
While such a scenario seems unlikely in 2017, it could happen. That's because lesbian, gay, bisexual and transgender people are not included in the nondiscrimination protections provided by the federal Civil Rights Act, and in 30 states, there are no state laws that protect LGBTQ Americans from discrimination.
But a bipartisan federal bill introduced Tuesday could change that. If passed, the Equality Act would add sexual orientation and gender identity to the Civil Rights Act of 1964 — which currently bans discrimination based on race, color, sex, religion and national origin.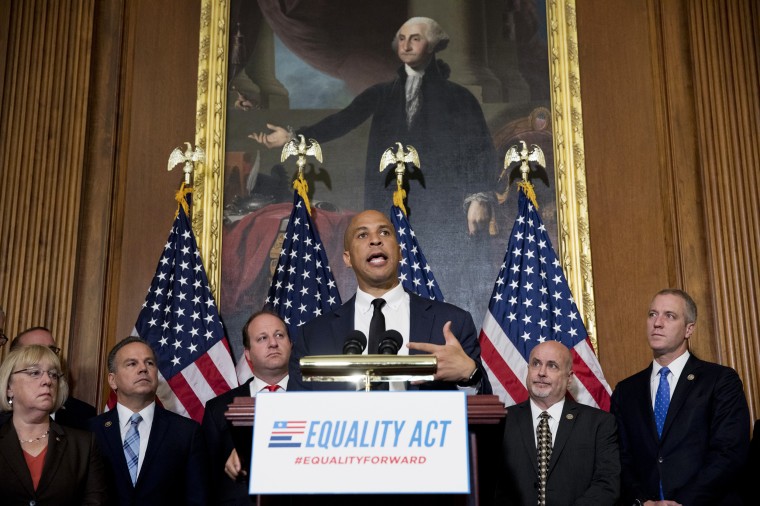 Forty-six Democratic senators led the charge to propose the legislation on Tuesday, along with 194 members of the House. An introduction ceremony in Washington, D.C., was led by Oregon Senator Jeff Merkley, openly lesbian Wisconsin Senator Tammy Baldwin and New Jersey Senator Cory Booker, along with House Minority Leader Nancy Pelosi, Senate Minority Leader Charles Schumer and a slew of LGBTQ advocates.
"People will still discriminate if it's illegal. But it should not be legal to discriminate," said Rep. Sean Patrick Maloney, the first openly gay congressman from New York. "We are the last group of Americans for whom it is legal to discriminate against."
The Equality Act introduction was streamed live on Sen. Merkley's Facebook page.
The legislation could face a tough uphill climb, though, in a congress controlled by Republicans. The bill's sole Republican co-sponsor, Rep. Ileana Ros-Lehtinen of Florida, announced her impending retirement on Sunday. Ros-Lehtinen is notable for her LGBTQ advocacy in connection with her transgender son Rodrigo — but she's an outlier, even in a Trump administration that has professed some support for LGBTQ rights.
"It is clear this White House will be an obstacle, not an advocate, in the fight for full LGBT equality — including trans equality," Pelosi said at Tuesday's introduction ceremony. She cited some of the administration's recent moves that raised the ire of LGBTQ advocates, including withdrawing protections for transgender students and a series of cabinet appointees with strongly anti-LGBTQ records.
"Democrats will fight with our full strength to secure full equality for LGBT families," Pelosi pledge.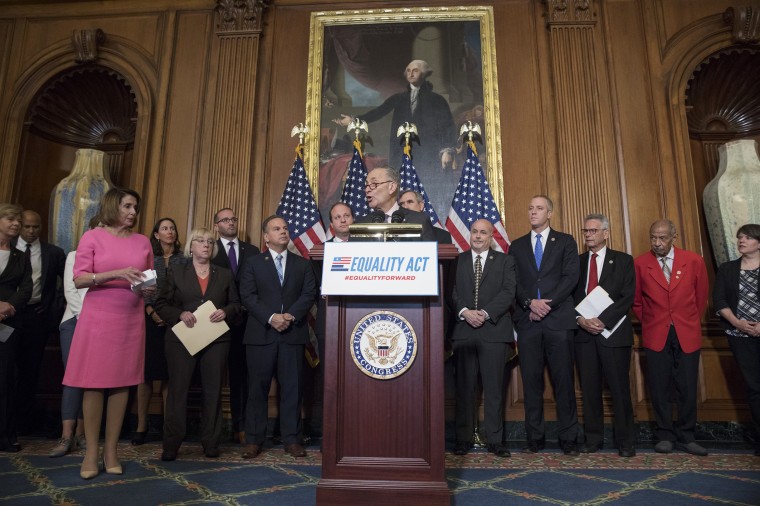 Also on Tuesday, rumors began to surface that Trump could be planning to sign an executive order on "religious freedom" this Thursday that would enshrine protections for those who engage in anti-LGBTQ discrimination. Politico cited two "senior administration officials" who confirmed Trump's plans to issue such an order during Thursday's National Day of Prayer observance. NBC News has not yet independently confirmed these reports.
A presidential order giving the nation a free pass to discriminate against LGBTQ people is hardly a stretch of the imagination. In September, a campaigning Trump pledged to sign the First Amendment Defense Act (FADA), an anti-LGBTQ bill that closely resembles a draft executive order that leaked in February.
If the executive branch decides to shy away from explicitly encouraging discrimination, LGBTQ advocates say there will still be a need for a law that bans bias in services, employment and housing.
A report released Tuesday from the Center for American Progress found that more than half of lesbian, gay, bisexual and transgender people have experienced discrimination at work, and 68.5 percent of respondents said that anti-LGBTQ discrimination impacted their mental health.
"Today, in most states, you can get married on Saturday, post your wedding photos on Facebook on Sunday and get fired from your job or kicked out of your apartment on Monday just because of who you are," openly gay Rep. David Cicilline, a Democrat from Rhode Island, said on Tuesday. "This is completely wrong."