Daine Grey, a 22-year-old transgender student at the City College of San Francisco, took his life on July 2. Two weeks later, after finding out his body had not been claimed by his estranged parents, Grey's friends and fellow members of CCSF's LGBTQ community stepped in.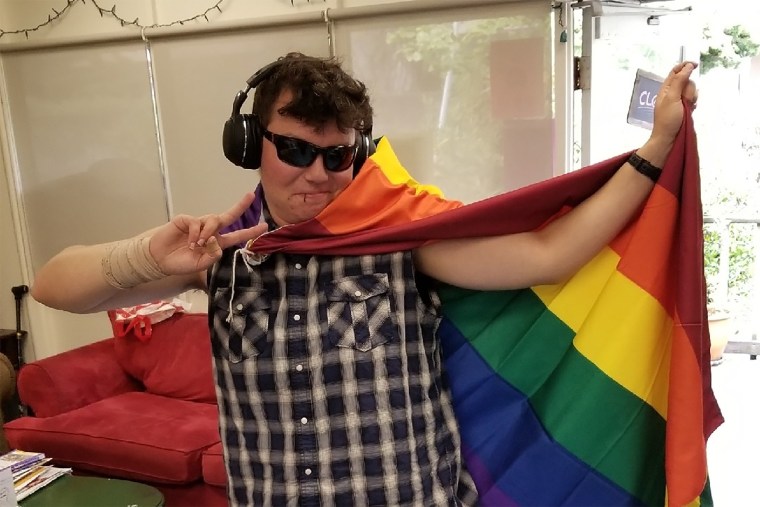 "Our Queer Community lost one of their bright stars," Lady Katerina, manager of the school's Queer Resource Center, wrote on a GoFundMe page created to raise money for Grey's funeral costs. "We need help in providing Final Dignity Rites for Daine. As you know funeral expenses are expensive especially when someone had nothing. Please help share the love and give Daine his Dignity."
As of Wednesday evening — less than 48 hours after Lady Katerina created the fundraising page — more than $20,000 had been raised, surpassing the $17,000 goal.
"HOPE THIS DOESN'T LOSE ME … FRIENDS AND FAMILY"
The past few months had been rough for Grey, according to Lady Katerina and others who knew Grey. CCSF's Queer Resource Center, where he spent much of his time during the school year, was closed for the summer. He had a summer job on Treasure Island in the San Francisco Bay, but those who knew him said he was feeling down.
Grey had only just come out publicly as transgender last September, and he expressed worry in a public Facebook post that he would not be accepted.
"I'm transgender … This means I identify as a gender different from the sex I was assigned at birth," he wrote. "Hope this doesn't lose me too many friends and family."
After coming out as transgender, however, Grey told friends at CCSF that his family had disowned him, according to Lady Katerina.
Knowing about his fraught family relationship, Lady Katerina said she decided to contact the coroner's office on July 16, two weeks after Grey had died. She said she was told no one from Grey's family had collected his remains. That's when she decided to turn to GoFundMe for help.
"As of of July 16th his parents, who have disowned him, have been notified have yet to claim the body," Lady Katerina wrote, in part, on the GoFundMe page. "Tomorrow is day 10 of parents not responding to SF Coroner and as a community we can claim the body."
NBC News contacted Grey's parents, Stephanie and Peter Haught, who are separated from each other and estranged. Stephanie Haught said she hadn't talked to her son since he was 16 and only found out he was transgender through Facebook days before he died. She claimed Grey's father told her he would claim their son's body. Peter Haught declined to provide NBC News with an on-the-record comment.
Following a call from NBC News, Stephanie Haught contacted Lady Katerina, and the two are now working together to plan a funeral service for Grey at the Chapel of the Chimes in Oakland, California.