On Wednesday, as women's rights advocates rallied and marched around the world, families sat quietly in the office of Education Secretary Betsy DeVos to ask whether she would protect their kids from sex discrimination in schools.
Parents of an elementary school child, a high school student and a 14-year-old victim of suicide each took about 20 minutes to speak with DeVos about their transgender children and how they are impacted by the federal government's guidance on Title IX protections.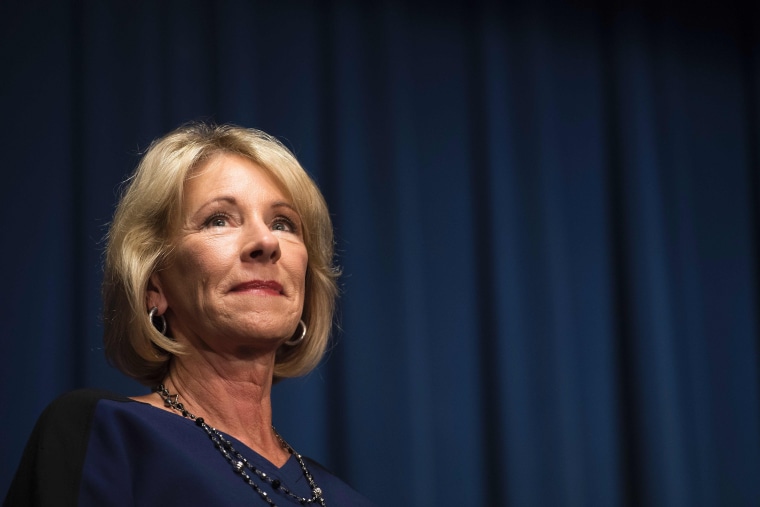 On February 22, DeVos signed on to a Department of Education and Department of Justice letter changing the federal government's stance on whether Title IX, which prohibits discrimination "on the basis of sex," protects transgender students from discrimination in schools. The move caused panic among parents and transgender students, and it resulted in the Supreme Court's sudden decision not to hear the high-profile case of Virginia trans teenager Gavin Grimm — whose hearing had been set for March 28.
LGBTQ advocacy groups criticized DeVos in particular after the administration's Title IX guidance was rescinded, saying that she had never responded to their many requests for meetings. But on Wednesday, DeVos met with leaders from Equality Michigan, the National Center for Transgender Equality and GLSEN, in addition to the three families.
Katharine Prescott was one of the parents who spoke with DeVos on Wednesday, sharing the story of her transgender son Kyler, who committed suicide at 14 after complaining of discrimination at school and at a hospital, which Prescott later sued.
"My story is just an example of just how vulnerable these kids are," Prescott told NBC News. "We're putting lives on the line."
Prescott said the meeting between DeVos and the three sets of parents lasted about an hour, during which the Education Secretary "mostly listened."
"She gave us lots of time to tell her what our experiences were like," Prescott said. "I very much appreciated that she listened to us about what the kids' experiences in the schools are like, how the guidance had helped them and how rescinding it has thrown everyone into confusion."
"We told DeVos about the immediate impact of withdrawing the [Title IX] guidance, and discussed ways that she might be able to mitigate the pain, fear and confusion that decision has caused."
After the listening session with parents — where DeVos also met Ellie, a spunky 5-year-old trans girl — leaders from three prominent LGBTQ groups explained to DeVos that the Trump administration's guidance withdrawal had caused chaos for the community.
The National Center for Transgender Equality (NCTE) gave DeVos nearly 4,500 testimonials from trans people, families, teachers and supporters who opposed rescinding the guidance. NCTE Executive Director Mara Keisling said the group was using "every tool at our disposal" to convince the Department of Education to change its stance.
"While we appreciate the time Secretary DeVos took to meet with families today, she must recognize the incredible harm inflicted when they took away this critical guidance," Keisling said in a statement emailed to NBC News. "She must recognize the human impact this has, and understand her legal and moral responsibility to protect transgender students, and to tell every school in the country to do the same."
GLSEN, an organization that fights for LGBTQ-inclusive school environments, told DeVos it "will not budge or compromise" on demands for transgender student protections.
Eliza Byard, GLSEN's Executive Director, said in a statement that several years of "experience, research and careful policy-making" went into the Obama administration's guidance on transgender students issued in May 2016, and rescinding the guidance frustrated the school administrators and educators who had originally asked the federal government to clarify what Title IX does and does not do.
"We told DeVos about the immediate impact of withdrawing the guidance, and discussed ways that she might be able to mitigate the pain, fear and confusion that decision has caused," Byard said.
Following Wednesday's meeting, Secretary DeVos said she was "grateful for the opportunity" to speak with LGBTQ families and advocates about their "concerns, thoughts, fears and suggestions."
"Every school and every school leader has a moral responsibility to protect all students and ensure every child is respected and can learn in an accepting environment. I remain committed to advocating for and fighting on behalf of all students. Today's meeting was compelling, moving and welcomed, and part of an ongoing dialogue with families and students throughout the country," DeVos said in a statement emailed to NBC News.
Ultimately the Title IX issue could be settled in the courts. While Grimm's case was remanded back to a lower court because it had been decided based on the Obama-era guidance, several similar lawsuits on behalf of other transgender students also seek clarification on Title IX protections.
LGBTQ advocates say Title IX automatically protects transgender kids, but the federal government backing off from enforcing that sends a message to schools that they can decide how to treat students on a case-by-case basis.
For parents like Prescott, that's an unacceptable policy that leaves already marginalized kids in the lurch.
Prescott told NBC News that transgender children and teens are at "very high risk for depression, self-harm and suicide." A 2015 survey of more than 27,000 transgender Americans found that 40 percent of trans adults had attempted suicide in their lifetimes — and 92 percent of them tried to take their own lives before the age of 25.
When Prescott's son Kyler passed away in May 2015, he was the third transgender teen in San Diego alone to die by suicide over a three-month period.
"We need to protect them and make sure they know they are welcome and respected at school, that they will not be outed as trans by being sent to some separate bathroom facility or by teachers using the wrong pronouns," Prescott said.
"They just want to fit in. They do not want to stand out," she added. "We as a society need to have their backs. These are our children."