A Methodist minister at Northern Virginia's George Mason University, the Rev. Drew Ensz, could face punishment for officiating the same-sex marriage of two parishioners, the latest chapter in an ongoing debate within the United Methodist Church over how inclusive to be of gay unions and LGBTQ clergy.
"I know Drew well enough to know that he made a pastoral decision for a couple that he was in a pastoral relationship with," Beth Givens, a Richmond-area reverend, told NBC 4 Washington. "I think he did it faithfully, and he did it out of his heart of love for the people he knows and the people that he serves."
Ensz did not respond to request for comment.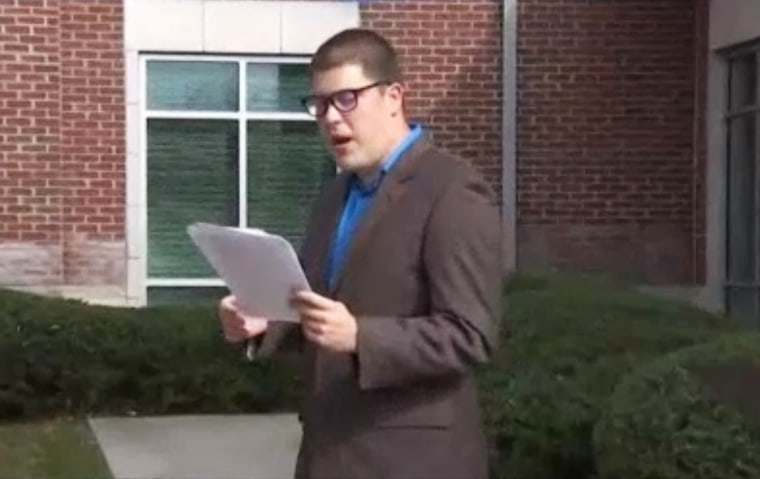 A spokesperson for Bishop Sharma D. Lewis, the UMC leader who oversees Ensz' congregation, said Lewis was "prayerfully reviewing this situation."
"She has met with those involved and is evaluating all relevant information," the spokesperson, Terri L. Biggins, said. "Now is a time for prayer, reflection and deeply respectful dialogue among all in The United Methodist Church."
Ensz' fate is uncertain, because the United Methodist Church, America's second-largest Protestant denomination, is deeply divided over whether to allow same-sex marriages and gay clergy. In February, the UMC held an extraordinary session and voted to uphold its ban on both, even as its U.S. congregations increasingly move toward LGBTQ inclusion.
That's why Lewis has a decision to make: punish Ensz' violation of the church's recently reinforced gay marriage ban or follow the lead of those in progressive parts of the country who have for years ignored church law on human sexuality and welcomed LGBTQ clergy, members and marriages.
As leader of the UMC's relatively conservative Southeast Jurisdiction, Lewis has to balance these factors as she decides what to do about Ensz, according to LGBTQ Methodist advocate J.J. Warren. Warren said his hope is that, as the church's first black female leader, Lewis "would be on the side of the oppressed, and continue to advocate especially for the LGBTQ community."
But, Warren added, "no one really knows" what her decision will ultimately be.
After February's vote to reinforce the church's opposition to same-sex marriage and gay clergy, Warren said "it was a great wake-up call."
"We have seen over 1,000 people around the world joined the Reconciling Ministries movement," a group dedicated to including LGBTQ people in the church, Warren said.
Another reason why Lewis' decision on whether to prosecute Ensz for performing a same-sex marriage is fraught is because February's Special Session of the General Conference — called to address the issue of LGBTQ inclusion — was an extraordinary session. The UMC's regularly scheduled conference will occur in May 2020, setting the scene for what advocates say will likely be another vote on same-sex marriage and gay clergy. This time, Warren said, LGBTQ advocates and those who sat on the sidelines in February are getting more involved.
"The hard thing for Bishop Lewis is she is in the Southeast Jurisdiction, where her colleague bishops lean toward exclusion" of LGBTQ people, Warren said.
"Her colleague bishops are the only ones that could challenge her," he continued. "They could overturn her decision," he continued.
On the other hand, in the UMC's Western Jurisdiction, which includes Bishop Karen Oliveto's Mountain Sky Conference, "a majority of their bishops have said they won't do trials [on human sexuality], and that's how Bishop Oliveto is still a bishop, because her colleague bishops in her jurisdiction have decided not to press charges."
Oliveto, the first out lesbian elected bishop in the UMC, told NBC News that, "We here in the Mountain Sky Conference are continuing our ministries of love, inclusivity, helping our neighbors and welcoming all to the table."
"As we prepare for the 2020 General Conference of The United Methodist Church, we hope and pray for the best outcomes for our denomination," Oliveto said in an email. She also pointed to a news article showing that LGBTQ-inclusive Methodist caucus groups are organizing in advance of next year's conference both to prevent breakup of the UMC and to prevent LGBTQ parishioners from being pushed away from the church.
Importantly, though, U.S. delegations "elected a significantly different slate of delegates to make the big decisions in 2020," according to the UMC's own news site. This means at the May 2020 conference, different people will vote on whether LGBTQ faithful will be included.
"Most recently, the Filipino College of Bishops 'intensely' opposed dissolution of The United Methodist Church and called for regional autonomy to deal with divisive issues like homosexuality," according to the church's news site.
With conservative African churches threatening to leave over LGBTQ inclusion and liberal American churches threatening to leave if LGBTQ people are excluded, the May 2020 vote is expected to be contentious yet again.