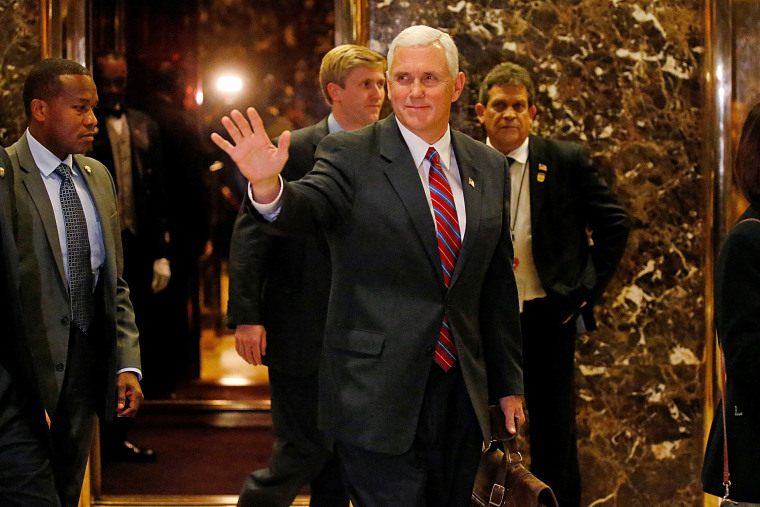 Joanna Pratt has spent more than 35 years in her home in the upscale Chevy Chase neighborhood of Washington, DC. So she was surprised to discover last week that the Vice President-elect Mike Pence had moved into the house catty-corner from her own.
"We look out our front window and have a good view of their entire house," Pratt told NBC Out, noting that while the Secret Service had visited the house right next door to the new Pence home, no one had contacted her family.
But Pratt soon realized that Pence's arrival on her quiet, close-knit block was an opportunity. She told her husband that she wanted to hang a rainbow flag, in order to show the controversial politician that his new neighbors opposed his anti-LGBTQ policy record.
"When I think of Mike Pence, the first thing I think about is his stance on the LGBT community," Pratt told NBC Out. "What bothers me most are his statements that he supports conversion therapy, which is completely outrageous. I find it abhorrent."
During Pence's 2000 congressional campaign, his platform included a statement supporting anti-gay conversion and said that HIV funding should be redirected to such programs.
"Congress should support the reauthorization of the Ryan White Care Act only after completion of an audit to ensure that federal dollars were no longer being given to organizations that celebrate and encourage the types of behaviors that facilitate the spreading of the HIV virus. Resources should be directed toward those institutions which provide assistance to those seeking to change their sexual behavior."
Pence also gained national notoriety for the passage of Indiana's Religious Freedom Restoration Act (RFRA) while serving as that state's governor. The state's RFRA inspired boycotts by political leaders and companies who said the law was a thinly-veiled attempt at codifying anti-LGBTQ discrimination into law.
The Vice President-elect has also received vehement opposition from the LGBTQ community for other anti-LGBTQ statements and policies over the years. Most notably, Pence insinuated that gay couples would bring on "societal collapse," published a scathingly homophobic article that claimed "30 percent of homosexuals admitted to having 'showered' in the urine of others," opposed the addition of sexual orientation to the federal hate crime law and tried to alter Indiana's state constitution to ban same-sex marriage after a court decision legalized it.
Notably, the neighbors hanging the rainbow flags are almost all heterosexual. Pratt, 66, said that she didn't think there were any LGBTQ families on the block. But there was a gay tenant who recently rented a room in one of the homes there—and when he heard about what the neighbors were doing, said Pratt, he sent a note of appreciation.
"It's a great neighborhood, very family-friendly," Pratt said. "Our kids grew up together. We have an annual block party. It's really nice."
Pratt's two children, aged 29 and 32, loved the idea of hanging LGBTQ Pride flags down the block—in fact, she said, her son sent her a link to an Amazon store where rainbow flags are sold before she even told him about her plan. So the family sent out an email to neighbors offering to purchase the flags for any households that wanted to participate. On Thursday, she told NBC Out that about six flags were already hung—and expected to see about a dozen by week's end.
Ilse Heintzen is one of the neighbors who agreed to hang a rainbow flag. An 82-year-old woman originally from Germany, Heintzen was shown hanging the flag next to her front door in a video shot by
local news station WJLA
. She told NBC Out that she'd received the email from Pratt and enthusiastically agreed to take part in the effort.
"This is my respectful way of disagreeing with the Vice President-elect Pence's thinking," Heintzen said. "I think they are people just like you and I and I don't think they should be discriminated against. I have many LGBT friends, so I feel strongly about this."
When asked which of Pence's LGBTQ-related policies she disagreed with, Heintzen said "It's the whole thing."
On Thanksgiving weekend, the neighborhood was relatively quiet; Pratt said she thought Pence and his family, who have rented the house on her block temporarily until they move into the Naval Observatory, had gone home to Indiana. But on Thursday, she saw Secret Service bustling around outside her house once again. She told NBC Out that having the rainbow flags hanging on her block helped with the frustration she feels about the results of the election, and that she hoped the neighborhood effort would "give Pence a message."
"We're all in this scary situation, and it feels like there's nothing we can do about it," Pratt said. "But here's something I can really do. There are ways to speak out and make our feelings known."
NBC Out reached out to Vice President-elect Mike Pence for comment but did not immediately receive a response.