Pioneering lesbian activist and civil rights giant Phyllis Lyon died Thursday, officials said. She was 95.
Her cause of death wasn't immediately known.
Lyon, who was born in Tulsa, Oklahoma, moved to San Francisco and co-founded one of the first lesbian organizations in the country — Daughters of Bilitis — in 1955. She and another co-founder, Del Martin, also started The Ladder, a nationally distributed lesbian publication.
Martin, whom Lyon later married, died in 2008.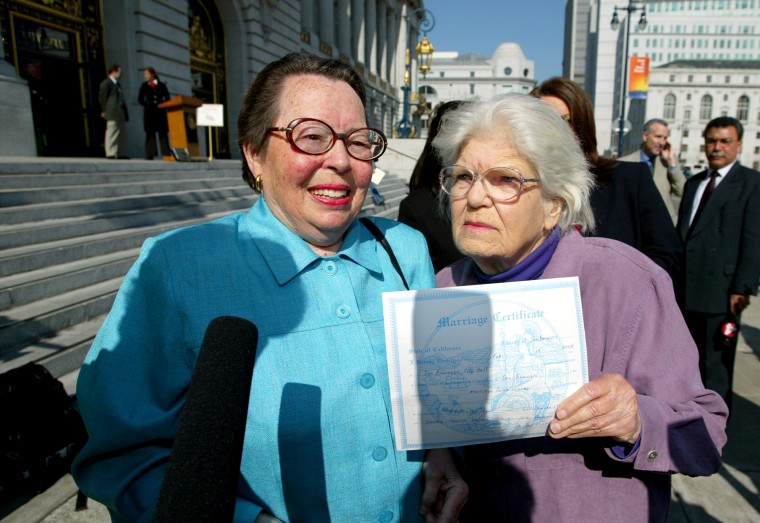 The couple first wed in 2004 in a marriage that was later voided by the courts. Four years later, after the Supreme Court legalized same-sex marriage, they became the first gay couple to marry in San Francisco.
On Thursday, California Gov. Gavin Newsom, who was mayor of San Francisco from 2004 to 2011 and officiated at the couple's wedding, called Lyon one of his heroes. The couple's relationship, he said, was the "manifestation of faith, love and devotion, and yet they were denied on the basis of their sexual orientation the right to say those extraordinary words — 'I do.'"
Sen. Dianne Feinstein, D-Calif., also a former mayor of San Francisco, recalled Lyon as a fearless trailblazer who worked at the city's first gay political organization, the Alice B. Toklas Democratic Club, and successfully advocated for an anti-discrimination ordinance in San Francisco.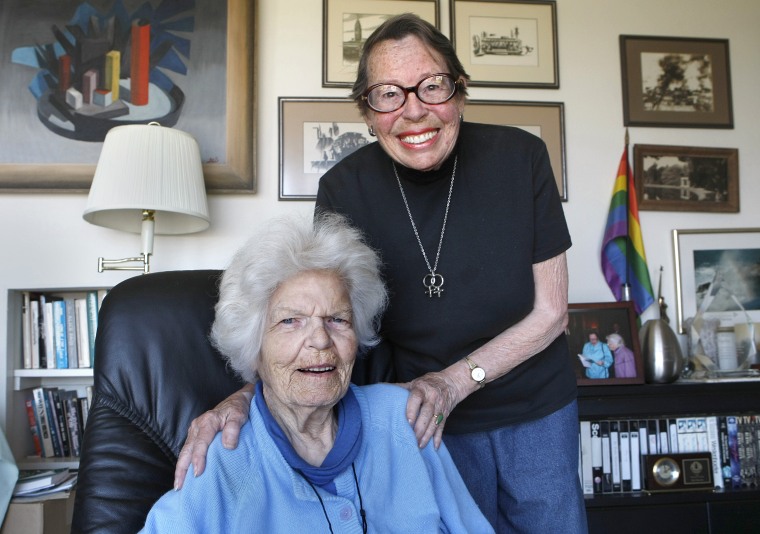 The law, which banned workplace and housing discrimination against gays and lesbians, was the first of its kind in a major U.S. city, Feinstein said. "It was largely because of the tireless work of Phyllis," she said.
"She had the energy of 10 people and got the results of 100," Feinstein added.
Download the NBC News app for breaking news and politics
Imani Rupert-Gordon, executive director of the National Center for Lesbian Rights, called Lyon a "giant," adding: "Her activism changed what we thought was possible, and her strength inspired us. Her vision helped forge our path and made organizations like NCLR possible. And although the path is lonelier without her, we know the way because of her."