LOS ANGELES - Older, but certainly not wiser, Will, Grace, Karen and Jack return in television comedy "Will & Grace" this week, aiming to again test social and political boundaries but mostly to make audiences laugh.
The 1998-2006 Emmy-winning series about a gay attorney who shares a New York apartment with his straight female friend was credited with bringing gay men and women into mainstream culture long before gay marriage became law across the United States in 2015.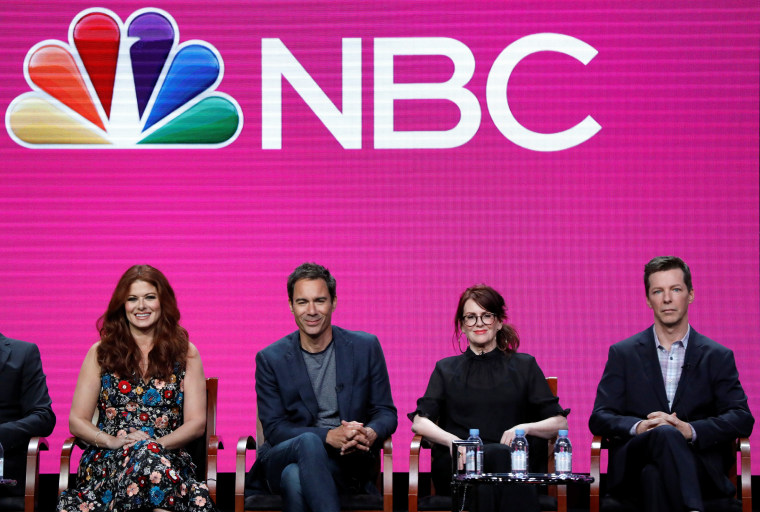 Making a comeback in fraught social and political times, the 16-episode revival starts on Thursday on NBC 11 years after the show went off the air, and actor Eric McCormack (Will) says it's "going to be as progressive and offensive as we can be."
When it started "there was a novelty about seeing this kind of (gay) relationship on network television," said David Kohan, who created the series with Max Mutchnick.
Now, having Donald Trump as U.S. president, "makes the show a little more interesting," said Mutchnick.
Set firmly in 2017, the show sees Will and interior designer Grace (Debra Messing) back living together in the same New York apartment after the breakdown of their respective marriages. Flamboyantly gay friend Jack (Sean Hayes) and wealthy Martini-guzzling socialite Karen (Megan Mullally) live across the hallway.
Related: Fans Petition to 'Make Wonder Woman' Bisexual in Movie Sequel
Trump, first lady Melania Trump, Caitlyn Jenner, Newt Gingrich, Tinder, pussy hats, power gays and political activism all provide fodder for jokes in Thursday's first of 16 episodes, where Karen's friendship with Melania Trump gives Grace the chance to redecorate the Oval Office.
Messing says the revival aims to "shine a light on what's happening in politics and pop culture, like we always did, and make it very current, provocative and sassy, and to make people laugh out loud."
She said the flaws of the four main characters are fully intact. "They have not evolved or become less self-involved," she said.
Related: Comedy Duo Cameron Esposito, Rhea Butcher Embark on New Tour
Just having two gay lead characters, or showing a gay kiss on television was considered risky in the late 1990s.
But since then TV shows like "Transparent," "Modern Family" and "This Is Us" have brought transgender actors, bisexuals, and gay parents into American living rooms.
Messing said she hopes "Will & Grace" will embrace the entire LGBTQ community, "trans, queer and all of these new conversations about gender identity."
For Hayes, the emphasis will be firmly on comedy.
"We're going to do the same thing we always did. Funny first," said Hayes.