A woman set the facade of a Manhattan restaurant ablaze Monday, in what police are investigating as a possible anti-LGBTQ hate crime. 
Surveillance footage of the incident, released by the New York City Police Department, shows a woman exiting a white SUV before walking up to the restaurant and setting its rainbow pride flag on fire with what appears to be a cigarette lighter.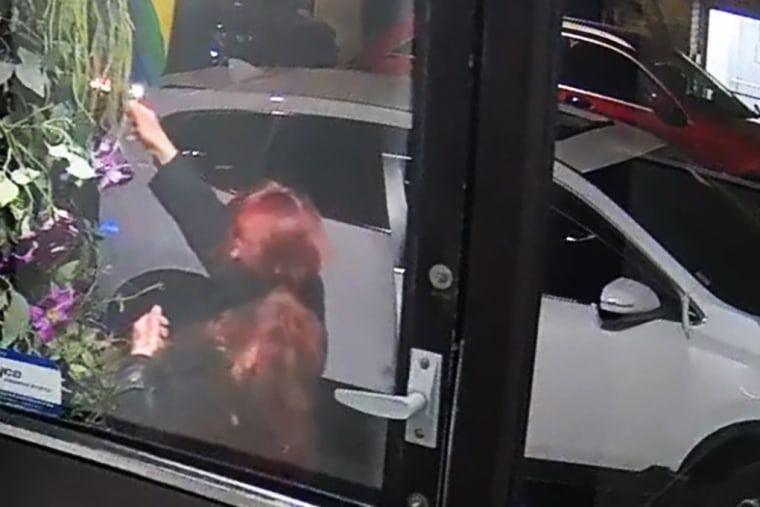 Police said no one was injured and that the restaurant, Little Prince in Manhattan's tony Soho neighborhood, only suffered exterior damages. 
The NYPD added that its Hate Crime Task Force is investigating the incident and asked the public for help to identify the suspected arsonist, whose face is visible in the released security footage. 
The restaurant's owner, Cobi Levy, declined NBC News' request for comment. However, in an Instagram post shared Monday, which has since been deleted, Levy wrote, "The NYPD saved the day putting out the fire before it spread inside. Facade is burnt, inside is smoky but we will be fine".
Several hours after the incident occurred, New York City Council Member Erik Bottcher — who represents large swaths of lower Manhattan and is gay — came into the restaurant and raised a new pride flag, which he said is five times larger than its predecessor. 
"The person who did this, the plan has backfired and backfired badly," Bottcher said during the act, flanked by television cameras.
New York state Attorney General Letitia James also addressed the incident on social media, writing on Twitter: "New York will not allow blatant acts of hate against our communities. Anyone with information about the individual that committed this crime should contact NYPD immediately."
The incident at the Manhattan restaurant is among a slew of violent attacks against that LGBTQ establishments, figures or symbols in New York City within the year.
In April, a Brooklyn bar serving LGBTQ New Yorkers closed after an arson attack left the establishment unrecognizable. A man was arrested in November after throwing bricks at the window of a Hell's Kitchen gay bar several times within a matter of days. And in December, two people were arrested after a group of protesters vandalized Bottcher's office and apartment building with graffiti containing homophobic slurs.