Tori Cooper spends her days working to help the trans and HIV communities through her advocacy work. She is currently a prevention specialist at Positive Impact Health Centers in Atlanta and travels across the country to consult with organizations to help these communities.
Sarah Kate Ellis, president and CEO of LGBTQ media advocacy group GLAAD, nominated Cooper for this year's #Pride30 list and applauded Cooper's "invaluable work" for the community.
"Tori Cooper is shining a spotlight on the too often unseen and unspoken epidemic of HIV and AIDS in the U.S. South," Ellis told NBC News. "By raising visibility and educating about the lives and narratives of those most impacted by HIV and AIDS, Tori is helping to ensure that transgender people, people of color, and people in rural communities are included in HIV and AIDS conversations and resources in the United States."
Cooper talked to NBC News for NBC Out's #Pride30 special about being an out trans woman in the South and representation within advocacy.
Why did you start working in HIV advocacy?
"I started volunteering with the trans and HIV communities over 20 years ago. Nine years ago, I moved to Georgia, and when I saw how my trans sisters were being treated — and that so much of the inequities was obvious in ways that they weren't in other places I've lived — I made a conscious decision to ramp up what I was doing as a volunteer and become a full-time advocate."
What has your experience been like being an out trans woman of color in the South?
"Being out and trans in the South for me is as much political as it is personal. It is something that I feel I have to do to stand in solidarity with my trans sisters and brothers. Visibility often times adds credibility. People often feel comfortable to tell you how they don't like someone when they don't realize that you're trans, so being an out trans person immediate gives me license to check bad behavior and to educate in a healthy way."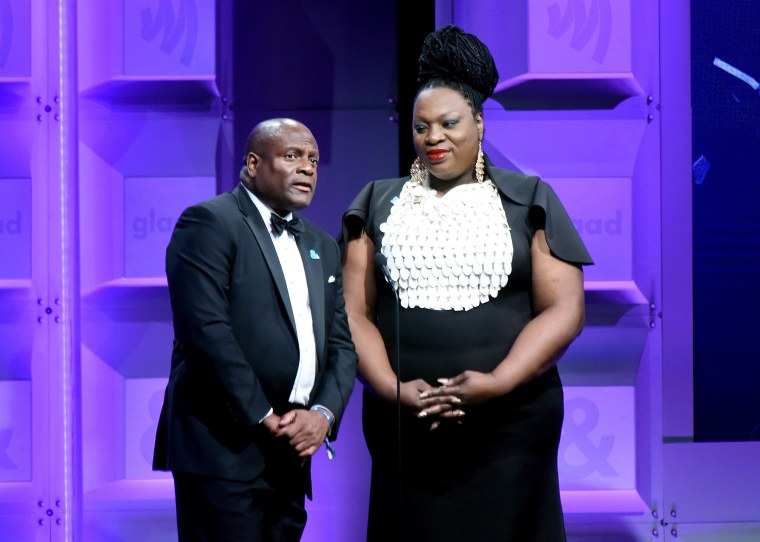 In the past, you have discussed the lack of trans representation within advocacy? What do you believe is the current state of representation and are there ways agencies can do better?
"I don't think that agencies can do better. I think agencies need to do better. First and foremost, it's just the right thing to do. Trans people are one of the most marginalized groups of people on the face of the Earth. We're also the single most impacted group by HIV. Statistically speaking, black trans women have the same rates of infection as black MSM (men who have sex with men). However, because the black trans community is smaller than the black MSM community, it impacts our community more.
"It is vitally important that there is trans leadership in these organizations. There are people that can assist us and people who can speak along with us, but there are very few people who can speak in place of us. Our voices need to be heard, and we need to be the ones in positions where we can make decisions. I'm not seeing enough trans leadership, but it is probably better than it ever has been. There certainly need to be more. Agencies, especially agencies that service diverse populations and are in metropolitan areas, need to do more, not just should do more."
Are there specific things you want to help the trans community achieve through your work?
"The first is health equity, which does not mean the same thing for everybody. It means even if we're not getting the same care, we're getting the same level of care based on our circumstances. It means I have access to new medications and clinical trails. It means as a person who is at a high risk of HIV there are targeted preventative campaigns that speak directly to me. All of those are part of health equity in my opinion.
"And then when we're looking at financial equity, we need to stop trying to figure out what a person has between their legs when hiring, and hire the best person for the job. It means not having as many cisgender (non-transgender) people running trans programming and ensuring everyone who wants to work is able to work and provide for themselves because a certain level of financial equity helps with health equity."
What does "pride" mean to you?
"Pride is a sense of accomplishment. It also means who I am as an individual and my community is being honored."
View the full NBC Out #Pride30 list & follow NBC Out on Twitter/Facebook/Instagram