What does it mean to be the first openly transgender black woman elected to office in the U.S.?
To Minneapolis City Council Member Andrea Jenkins, it is a momentous opportunity to create change.
"It means that I have the opportunity to represent my community in spaces that we haven't historically had access to," Jenkins told NBC News.
"It means that when I say things they tend to have a much broader impact on people's ideas and analysis around what it means to be a trans-identified person in American life," she continued. "I'm happy to hold down that role and be a part of that conversation."
Jenkins took office in January 2018 after winning 73 percent of the vote. Previously, she worked for two different city council members for more than a decade. The Democrat said a number of factors inspired her to run.
"Having worked in the community for 12 years, I'm really familiar with the issues and the people and the neighbors — all of that," she said. "Plus, I have deep and strong networks and relationships within the city, and I think relationships is kind of how you get work done."
She said winning felt "absolutely incredible." She credited her victory to her almost all-women of color campaign team.
"When we show up, it's all women of color and that's a very powerful statement," said Jenkins.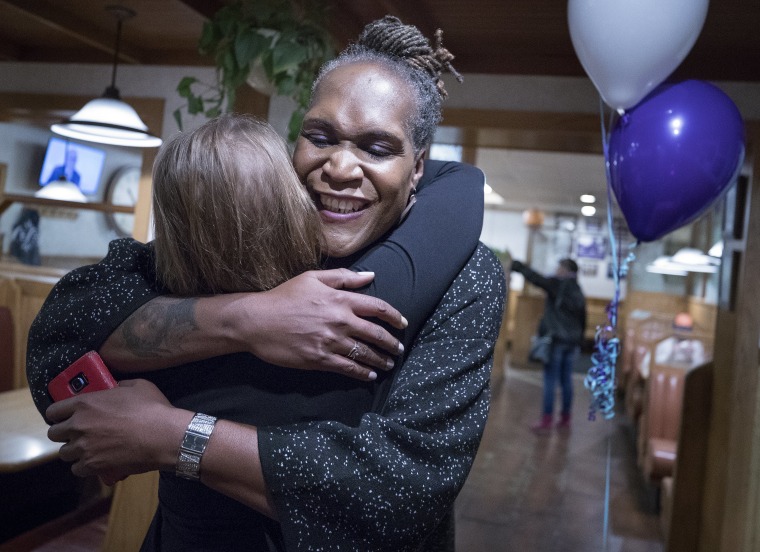 In just six months, Jenkins established herself as a harbinger for change. On her first day, she was elected Vice President of City Council. She is also the chair of the Race Equity Subcommittee.
"I'm really proud to be leading that work," she said.
The subcommittee established the first-ever Race Equity Community Advisory Committee in the history of Minneapolis. Jenkins said it will advise the city on issues related to improving race equality in the city.
The councilwoman has some simple advice for trans people who want to run for office: Be yourself and take it seriously.
"Really, if you want to be involved in public service at the elected level, I think you need to be involved in public service at the community level, so get involved in your community and really try to understand the issues and go for it," she advised.
For Jenkins, Pride Month is a time to reflect and recognize that "we still have a lot of work to do."
She said the LGBTQ community has had many victories, but there are others that have yet to be won, especially around workplace discrimination. Currently, there is no federal anti-discrimination law that protects employees who are LGBTQ. That's something Jenkins hopes the community will fight together to change.
"It's important that we come together and reflect on our accomplishments, but not get complacent," said Jenkins, "and really strategize about, 'How do we continue to move this grand experiment we call America forward?'"
View the full NBC Out #Pride30 list & follow NBC Out on Twitter/Facebook/Instagram