Hollywood producer Greg Berlanti proved that audiences would head to the theaters for an LGBTQ movie when "Love, Simon" debuted in March. The coming-of-age film, based on Becky Albertalli's 2015 book "Simon vs. the Homo Sapiens Agenda," was given substantial promotion and backing by 20th Century Fox. The result was the 14th highest-grossing teen romance since 1980, according to Box Office Mojo.
While Berlanti impressed viewers and critics alike with "Love, Simon," which he directed, he is best known as a powerhouse television producer. He currently has 14 series on air, breaking a record previously held by Aaron Spelling and Jerry Bruckheimer, according to Variety. His current stable of shows includes "Black Lightning," Riverdale" and "The Flash."
Berlanti's record-breaking TV run doesn't seem to be ending anytime soon, as he recently signed a massive new deal with Warner Bros. TV valued at more than $300 million, which will have him making shows for the studio until 2024.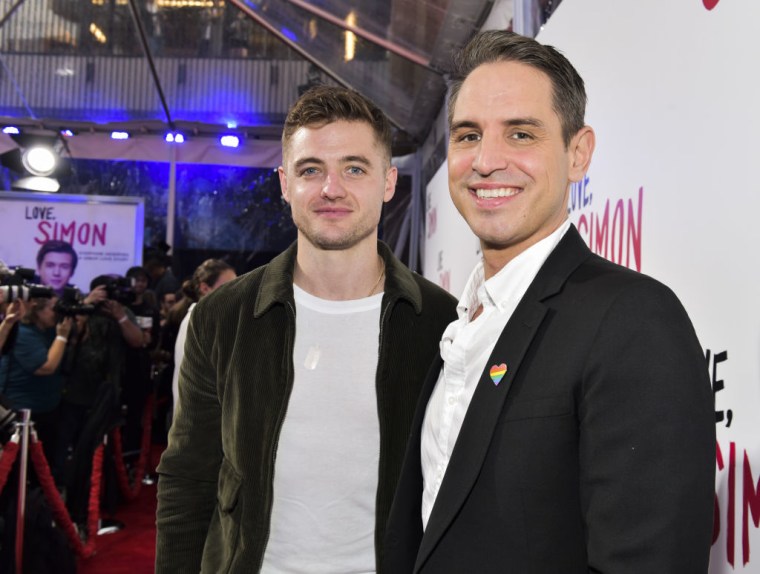 Berlanti has been committed to telling LGBTQ stories over the course of his career. A number of his current series, including "Riverdale," "Legends of Tomorrow" and "Supergirl," currently have LGBTQ characters, and that tradition goes back to the early days of his career when he brought television its first "passionate" gay kiss in the third season of "Dawson's Creek."
NBC News talked to Berlanti for NBC Out's #Pride30 special and asked him about his start in TV, "Love, Simon" and LGBTQ representation in media.
What drove you to begin your career in the entertainment industry?
"I had always loved storytelling and studied playwriting and theater in college. I had a play that I had worked on and was going to potentially be down in Los Angeles, so I came out here for that. The play actually never got done, but I stayed in LA and just started reading a lot of TV and film scripts. I fell in love with it that way."
How have you seen LGBTQ representation change in film and TV since your early career?
"In TV in particular there's a lot more representation than there certainly was when I was younger, but I think the world is a lot more open and aware now. I think TV and film need to continue to step up their game in terms of representations, so that the show and films we are making reflect the audiences that are watching."
What was it like to bring "Love, Simon" — an LGBTQ film with support and backing from a major studio — to audiences?
"It was a real special thing to be a part of, because it was a real passion project for everyone that worked on it. It was a great group of people, and everyone was making the movie for the right reasons. They wanted to be involved creatively, but also because it was filling a void. I think something we all realized bringing the film around subsequently, and based on the response we got on it, was just how great a yearning there still is for content and stories that are in the LGBTQ space … As rewarding as it was to make 'Love, Simon,' I think it also made many of us realize that there is still a lot of work to be done."
What advice would you give people from underrepresented communities wanting to break into the industry?
"The most valuable thing you have aside from your talent, which you can continue to work on, is who you are and your identity. Most successful people in the arts would tell you that they started seeing recognition and success the more comfortable they became with expressing or representing who that are in their art. Working on yourself and being more comfortable with yourself and finding your voice as a person and an artist is really integral to having the kind of success you want to have in the business."
What does "pride" mean to you?
"Pride for me was the moment I realized I was proud to be a gay person. It was the moment I realized I would not have changed that about myself. I couldn't imagine my life without being gay, and I think that's true of many of the attributes that make us who we are that we can be proud of -- elements for your life that you couldn't imagine your life without."
View the full NBC Out #Pride30 list & follow NBC Out on Twitter/Facebook/Instagram