Danica Roem, 33, is a lifelong resident of Virginia's 13th District and has been deeply committed to her community. For nearly a decade, she worked as a journalist for the Gainesville Times, reporting on stories about Virginia's Prince William County. Now, Roem is serving her community in a whole new way as a lawmaker representing her home district in the Virginia House of Delegates.
When she assumed office in January, Roem made history as the first openly transgender person to be seated in a U.S. state legislature.
NBC News talked to Delegate Roem for NBC Out's #Pride30 special about her political career, getting a call from former Vice President Joe Biden and being one of the first trans lawmakers in the U.S.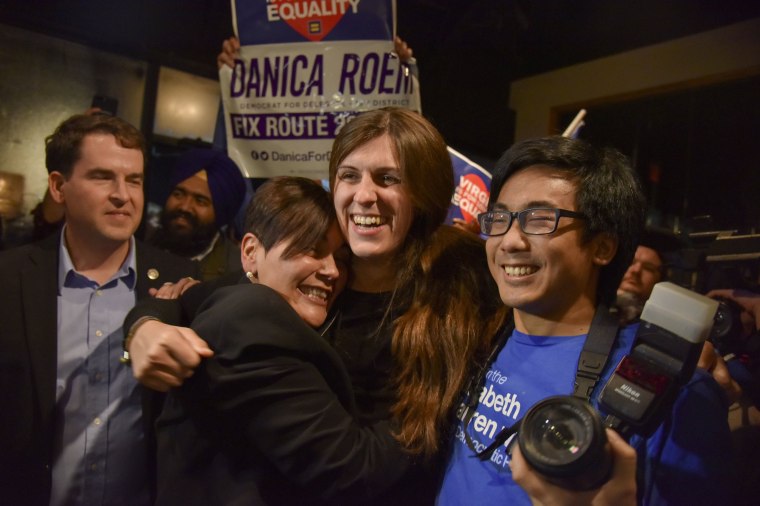 Why inspired you to enter politics?
"Well, I was asked. The 2015 Democratic nominee asked me in an email if I'd consider running and said that I would be a good candidate. The next day, I got a phone call from State Delegate Rip Sullivan (recruiting chairman for the Virginia House Democratic Caucus) and told me the same thing.
"I already knew what my number one issue would be having lived in the district my entire life, which was Route 28. My mother has been commuting up and down Route 28 since 1979 to get to her job, and I was born in 1984 and know how backed up it is. I remember being in sixth grade and waiting until 7 o'clock at night for my mom to pick me up, because she was battling it out in Route 28 traffic for hours. I knew getting into the race, I knew I had a top issue I wanted to campaign on and address. At the same time, I have gone to Richmond four times to fight nine anti-LGBTQ bills, two of which were authored by my then-delegate, so obviously I had my differences with him as well. The voters of the 13th District spoke in 2017, and I am very proud to represent them."
What was your reaction upon finding out you won the election?
"The immediate feeling was very overwhelming, because I had received a phone call from Vice President Joe Biden congratulating me on my victory. By that point, 19 out of 20 precincts were reporting, we were just waiting on absentee ballots to come in. I had held off on declaring victory, but when Joe Biden gives you a call, it's when you know it's time. But very quickly that overwhelming feeling turned into a sense of duty."
Compared to expectations you may have had, what has the job been like?
"Actually doing the job has been constant contact with my constituents. I don't have any empirical data to base anything on in terms of comparisons, but I have to imagine I am one of the very few legislators from Northern Virginia in their freshmen year to have their constituents drive down an hour and a half to testify for three minutes on six consecutive bills.
"I make sure that as a legislator I am very, very accessible to me constituents. Yes, I understand I have a national profile, but I am a local delegate, and I make sure that I balance both. And, when I'm home in the district, my constituents know that whenever they need to talk to me, or when they need to see me, I'm here for them. That to me has been really important, and in doing so I've been able to help the city become a little bit more inclusive. I think my service in the Virginia General Assembly is a testament to show that it doesn't matter what you look like, where you come from, how you worship or who you love — you have a right to be part of the legislative and political process as much as anybody else."
Are there specific issues LGBTQ candidates, or trans candidates specifically, face when trying to obtain office?
"Speaking specifically for trans candidates, prior to 2017 there were very few that had successfully run for office. While there were trans folks elected prior to me, and eight of us last November, basically with the elections in 2017 it gave a lot more trans people potential roadmaps to follow for a successful campaign.
"Also, just demonstrating to people across the country that we can win, because we are civically minded just like everyone else, and we have issues unique to our community, but we probably have issues that are unique to you as well."
What does "pride" mean to you?
"Pride means public acknowledgment that we are here. We are part of your community. We have had to deal with a lot of stigmatization and violence for generations in this country to have a seat at the table in this country, and we're not done, and we have a lot left to get done. At the same time, we demonstrate that when we are in office, we are inclusive leaders who have empathy and do a great job of representing our constituents. What pride means in that regard is the freedom to 'be who we are and be that well,' in the words of Saint Francis de Sales.
View the full NBC Out #Pride30 list & follow NBC Out on Twitter/Facebook/Instagram